Recipes
Seaweed Brown Butter Pasta
'A gateway recipe for seaweed skeptics,' according to Hetty McKinnon, this easy weeknight dish packs a briny, umami punch.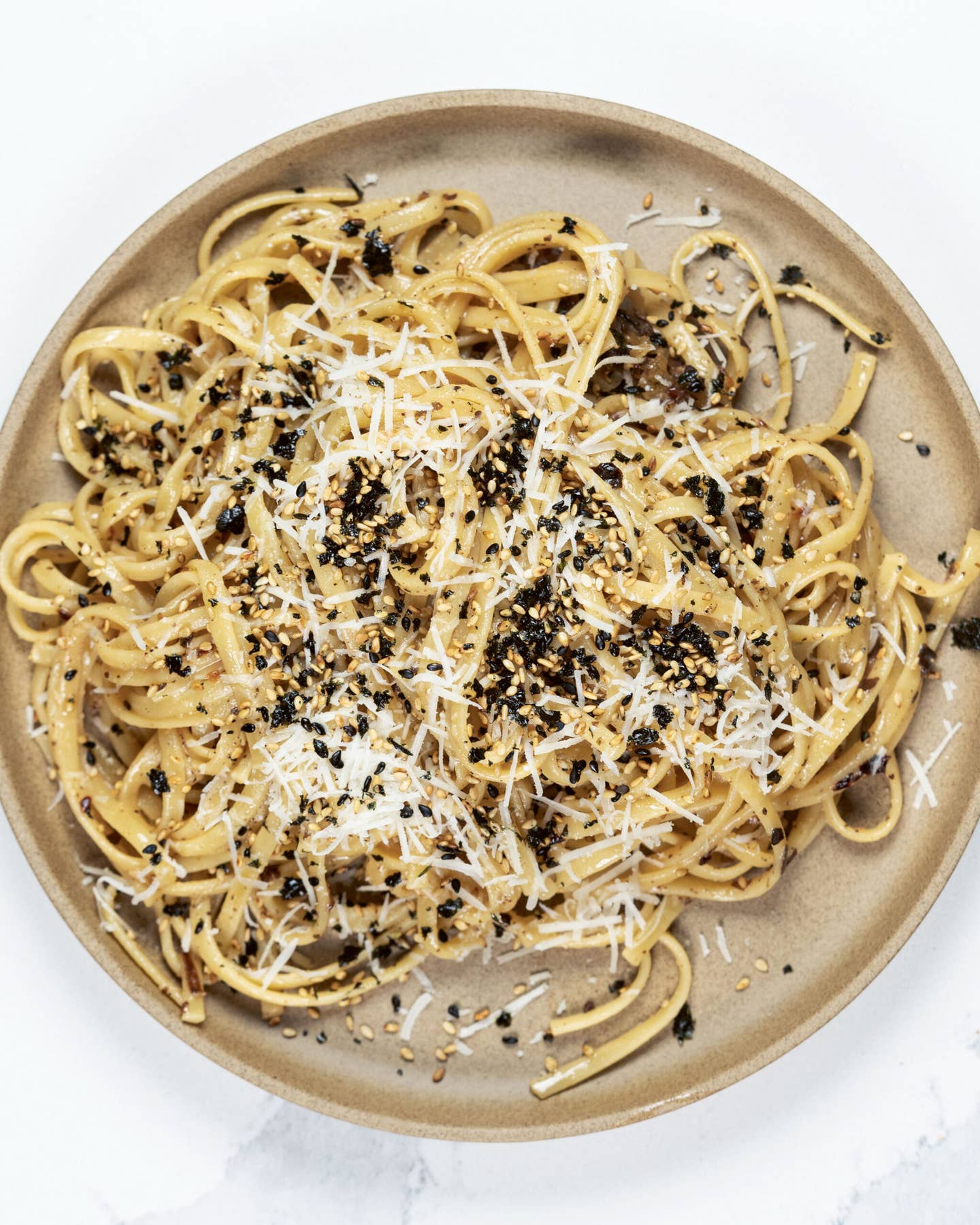 This recipe is brought to you by SAVEUR Cookbook Club, a passionate community of food-loving readers from around the globe featuring our favorite authors and recipes. Join us as we cook through a new book every two months, and share your food pics and vids on social media with the hashtags #SAVEURCookbookClub and #EatTheWorld.
Ingredients
⅓ cup dried dulse flakes
8 Tbsp. unsalted butter, or vegan butter, at room temperature
½ tsp. fine salt, plus more to taste
¼–½ tsp. crushed red pepper flakes
1 lb. linguine, or other long pasta
1 Tbsp. extra-virgin olive oil
2 medium shallots, or 1 medium yellow onion, thinly sliced
2 garlic cloves, finely chopped
3 Tbsp. white (shiro) miso
Grated Parmesan cheese and vegan furikake, for topping (optional)
Instructions
Step 1
In a small skillet set over low heat, toast the dulse, stirring frequently, until crispy and very dry, about 10 minutes. Transfer to a food processor and pulse until coarse crumbs form, 4–5 pulses. Add the butter, salt, and crushed red pepper and pulse until combined (but not completely smooth), 4–5 pulses.
Step 2
Bring a large pot of salted water to a boil and add the pasta. Boil, stirring occasionally, until al dente, according to the instructions on the package. Reserve 1 cup of the pasta water, then drain and set aside.
Step 3
Meanwhile, to a large skillet set over medium heat, add 1 tablespoon of the oil and the shallots and cook, stirring occasionally, until very soft, 8–10 minutes. Add the garlic and cook until fragrant, about 1 minute, then add the seaweed butter and continue cooking until it's melted and smells nutty, 2–3 minutes. Whisk in the miso paste. Add the pasta and ½ cup of the pasta water and toss until combined. If the pasta looks dry, add more pasta water. Season with salt to taste, then top with the cheese and furikake if desired.