Recipes
Smoky Spanish Pork Rib Stew with Potatoes and Pimentón
One of Spain's great unsung comfort foods is patatas con costillas. Here's how they make it in the rugged, landlocked region of Extremadura.
Serves

6

Cook

1 hour 50 minutes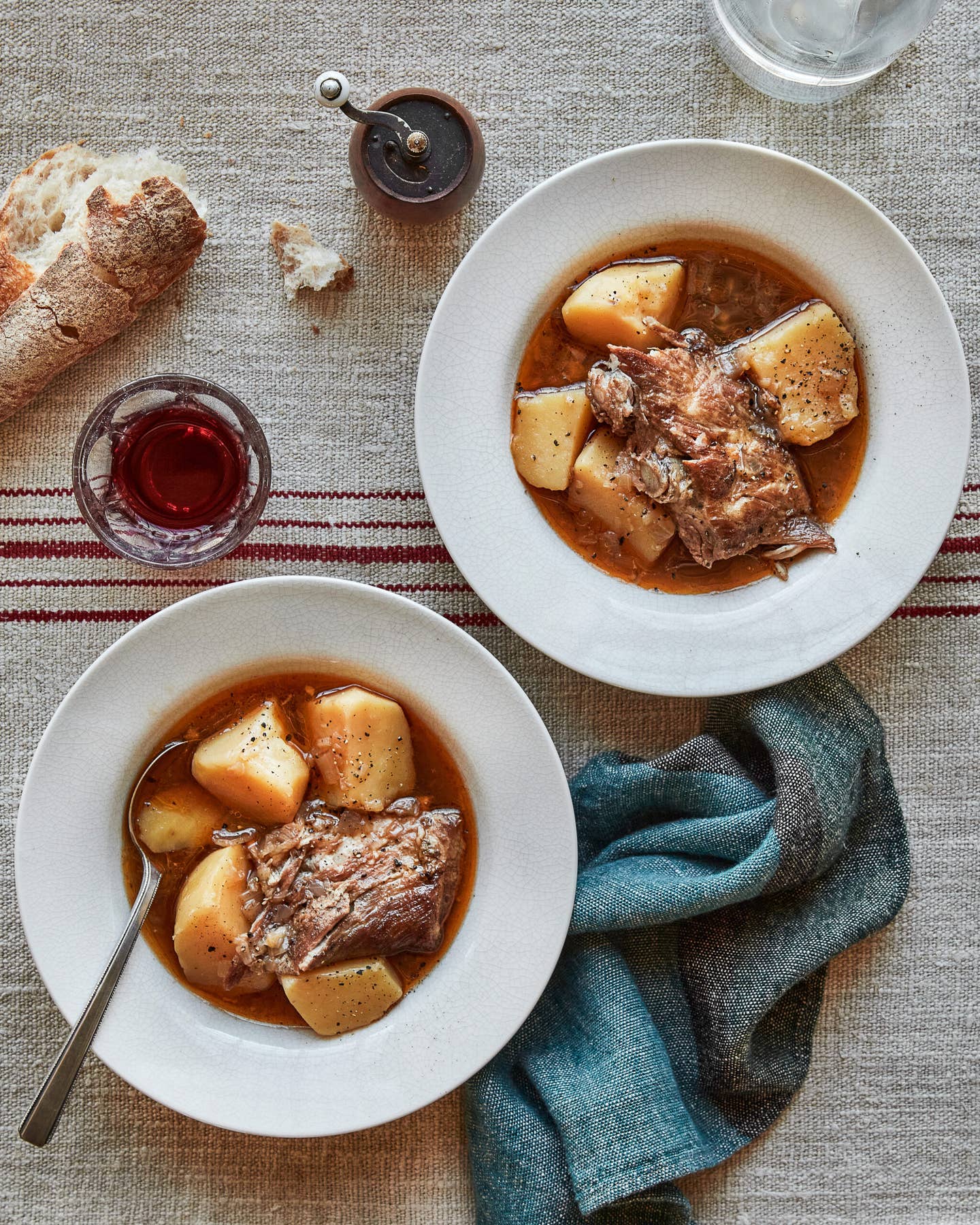 On a cold, blustery day, few dishes satisfy like patatas con costillas, the Spanish pork rib stew that marries pork ribs, potatoes, and smoky pimentón (Spanish paprika). Have a butcher cut the ribs for you, as attempting to do this at home—unless you're a pro with a cleaver—could land you in the ER. If you can't enlist a butcher, using whole ribs is fine; simply add 15 minutes or so to the cook time.
Ingredients
2 Tbsp. extra-virgin olive oil
2 lb. pork ribs, cut crosswise into 4-in. lengths (see headnote)
Kosher salt and freshly ground black pepper
6 garlic cloves, coarsely chopped
2 large red onions, coarsely chopped
3 lb. Yukon Gold potatoes, peeled and cut into 2-in. chunks
2 Tbsp. pimentón (smoked Spanish paprika), hot, medium, or mild
Instructions
Step 1
To a large pot set over medium-high heat, add the oil and ribs. Season very generously with salt and cook, stirring occasionally, until lightly browned, about 7 minutes. Using a slotted spoon, transfer to a plate, leaving any juices in the pot.
Step 2
Turn the heat to medium and add the garlic and onions. Cook, stirring occasionally, until translucent and beginning to brown, about 10 minutes. Add the potatoes, reserved ribs, the pimentón, and enough water to just cover the meat. Bring to a boil, then reduce the heat to maintain a strong simmer and cook until the meat is soft and falling off the bone, about 1 hour 25 minutes. Season to taste with salt and black pepper.
Step 3
Using a fork, mash a few potato pieces against the side of the pot, then stir to thicken the sauce. Serve hot.