Recipes
Zabar's Latkes
Hand-grated and shallow-fried to perfection.
Serves

makes 18 Latkes

Cook

35 minutes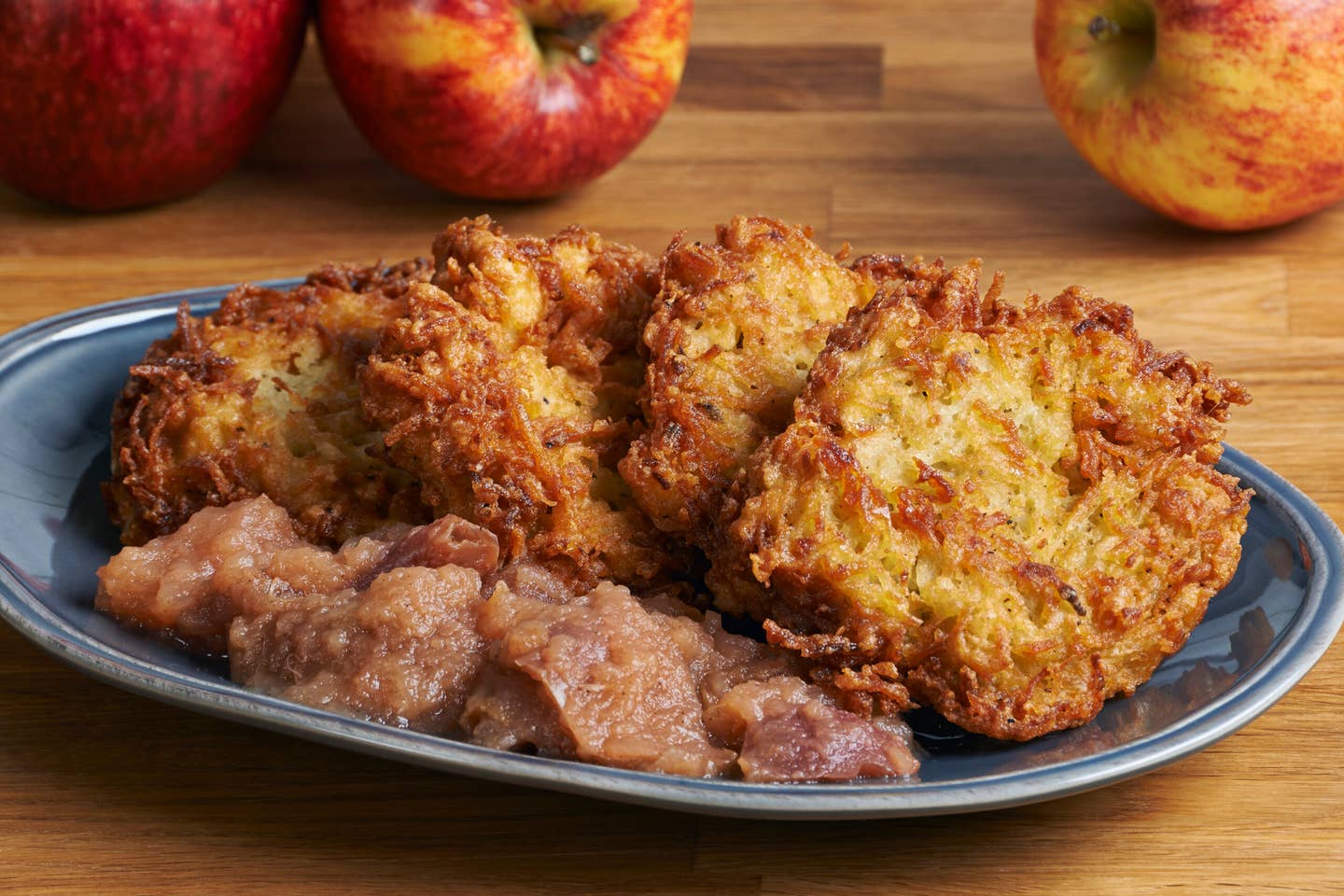 This classic, crispy potato latkes recipe comes to us from New York City's beloved appetizing store, Zabar's. Don't overmix your batter and remember: The thinner the latke, the crisper the fry. Adjust the thickness of your potato pancakes to your own preference by using the back of a fork to press them down directly into the hot oil.
Ingredients
2 medium yellow onions, peeled and cut into quarters (about 10 oz.)
4 medium Idaho potatoes, peeled and cut into eighths (about TK lb.)
3 large eggs, lightly beaten
1 tbsp. kosher salt
1½ tsp. freshly ground black pepper
¼–½ cups all-purpose flour, divided
Vegetable oil, for frying
Applesauce or sour cream for serving
Instructions
Step 1
Using a box grater or food processor fitted with the fine grater blade, grate the onions; transfer to a colander set over the sink to drain and discard the liquid, then transfer to a large bowl. Repeat with the potatoes, then drain them as well, pressing to extract as much liquid as possible. Add the drained potatoes to the bowl along with the onions, then stir in the eggs, salt, and black pepper until thoroughly combined.
Step 2
Mix in ¼ cup of the flour, then slowly add more flour a tablespoon at a time until the mixture has the consistency of thick oatmeal (you may not need it all).
Step 3
To a deep, heavy-bottomed skillet, add oil to a depth of 1 inch. Cook over medium-high heat until the oil is hot and shimmering (about 325° on a deep-fry thermometer). Line a large rimmed baking sheet with paper towels and set it by the stove.
Step 4
When the oil is hot, drop in a scant ¼ cup of the mixture. Press down slightly with the back of a fork to form an even latke, about ¾ inch thick. Cook until the bottom and edges of the latke turn a deep golden brown, 2–3 minutes. Using a fork, metal spatula, or metal slotted spoon, flip the latke and continue cooking until evenly browned, 2–3 minutes more. Transfer to the lined baking sheet while you continue cooking the rest of the latkes. Serve hot or warm, with applesauce or sour cream on the side.