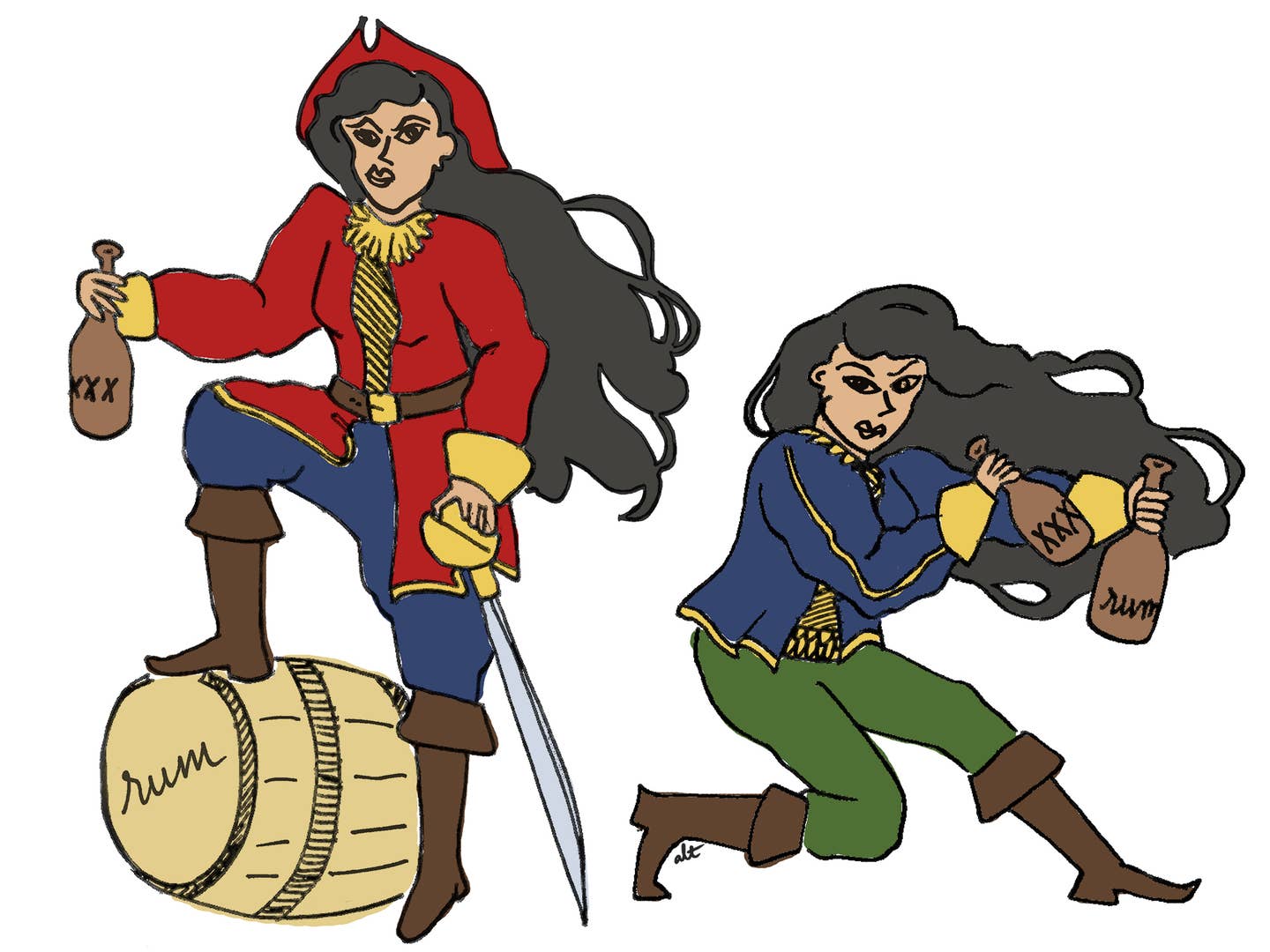 Drinks
Meet the Swashbuckling Female Rumrunners who Ran Prohibition
And be sure to thank them the next time you shake up a mai tai
Far too often in the yarns spun about rum-soaked drinking cultures, women are simply relegated to roles as bob-haired flappers or grass skirt-donning luau darlings, while men shiver our timbers and shake our tiki drinks. But if you take a closer look at the always-exciting connection between rum and pirates—ships and beaches and parrots, oh my!—you'll see that women played a significant role in bringing rum to American drinkers. They were badass liquor bosses and (occasionally) cold blooded murderesses who killed both their enemies and lovers like well-tanned praying mantises.
Much like the throngs of women who stepped up to the forefront of male-dominated industries during World War II, a host of whip-smart ladies took advantage of the damage that Prohibition had done to the alcohol market in the 1920s and found a foothold in an arena that had long excluded them. We called them rum runners.
Rum running is the general label given to illegally moving liquor across bodies of water, but often involves smuggling any number of spirits, from gin to Canadian whiskey. During Prohibition, rum became the cheapest and simplest liquor of choice to ferry between Caribbean islands (where an abundance of sugar cane made production a breeze) and the Florida coast. This practice brought with it both the risk of getting caught and a fairly consistent fear of death: Ships most frequently moved under the cover of darkness (or fog, or both) and would regularly wash up on the banks of a coral reef or embankment, sinking both the vessel and its rummy crew. But many ships reached Florida's shores successfully, and many of them were manned by women.
The most prominent of these female rumrunners was Gertrude "Cleo" Lythgoe (alias: "The Queen of The Bahamas" or "The Queen of Rum Row"), who became well-known for her business acumen, hard-nosed attitude, and highly profitable liquor shipping operation in the 1920s. A stenographer for a British liquor importer in New York when Prohibition went into effect, Lythgoe quickly found a way to capitalize on the situation, setting up a wholesale liquor business in Nassau, Bahamas, and running bootlegged spirits to the United States on the side. Her position among rumrunners in Nassau was enviable, as she was the only woman to hold such an extensive liquor license during Prohibition.
For years, Lythgoe's stately beauty, calculated approach to rumrunning, and pistol-as-accessory brashness made her the source of both media delight and government frustration. She was arrested (but not convicted) on numerous occasions, and tolerated little funny business from competitors attempting to squash her profits. Her peers included smuggling heavyweights like Billy McCoy, who harbored great respect for her. He often remembered "the breathtaking fury she could show"—she once, allegedly, threatened to shoot a man simply for speaking ill of liquor.
In 1925, Lythgoe (who never married and loved the color purple) retired from the smuggling life, due in large part to her belief that there was a "jinx" lurking in the wings to both kill her and destroy her operation. "I just beat my jinx before it got me," Lythgoe said in 1926. "I saw the signs [when] I was taking some whiskey from Nassau to another British island."
Heavy is the head that wears the boozy crown.
Lythgoe successfully escaped her jinx, dying decades later in Los Angeles at age 86. In the wake of her passing, the Nassau flags flew at half-mast for days in honor of their fallen queen.
Second only to Lythgoe as the brassiest rumrunner of the era is Marie Waite (alias: "Spanish Marie"), who entered the business in 1926—around the time of Cleo's exit—when her husband met an untimely death at the hands of rum competitors on the beaches of Biscayne Bay. Standing six feet tall and with a personality that ran notoriously hot and cold, she swiftly and single-handedly built a boozy empire. Waite used a fleet of four convoy-style boats to move her liquor between Havana and Key West, then a flotilla of 15 radio-capable speedboats to distribute the wares to various ports along Florida's southern tip. She became particularly adept at outpacing the Coast Guard, and by 1927 she was the trade's undisputed leader, rumored to have racked up close to $1 million during her reign.
Not all female rumrunners found great success, though. Aspiring bootlegger Gloria de Cesares—a highly skilled, twenty-something Argentinian navigator—founded the Gloria Steamship Company in hopes of capitalizing on the newly found market for illicit booze in the United States. Setting sail from Havana with a "five-masted vessel with the look of a pirate ship," the easily recognizable nature of the boat (and decks overstocked with crates of liquor) cut her sail short. She was caught by the Coast Guard while still in international waters—then turned around with a slap on the wrist—leaving her alcohol-soaked dreams behind.
The colorful connection between rum and pirates has helped our current-day rum revival to bloom far more easily than, say, the rebirth of a certain clear potato-based clear liquor. Moreover, for the ladies at the forefront of the modern day rum industry— including distillery CEOs like Katie Darling of Old New Orleans Rum and rum advocate Lynnette Marrero of DrinksAt6—the rum-running women of Prohibition hoisted the flag for a female-led, rum-soaked future, and deserve to be properly celebrated for their contribution to the rum culture that's currently seeing an international revival.
Yes, I am a pirate two hundred years too late.
The cannons don't thunder there's nothin' to plunder
I'm an over-forty victim of fate
When sipping a Mai Tai and thinking about women like Spanish Marie and Cleo Lythgoe, it's difficult for me not to feel almost the same way. If someday I go missing and am rumored to have chartered a schooner towards Havana, just know I might not be coming back anytime soon—and look for my lavender caftan blowing in the trade winds.