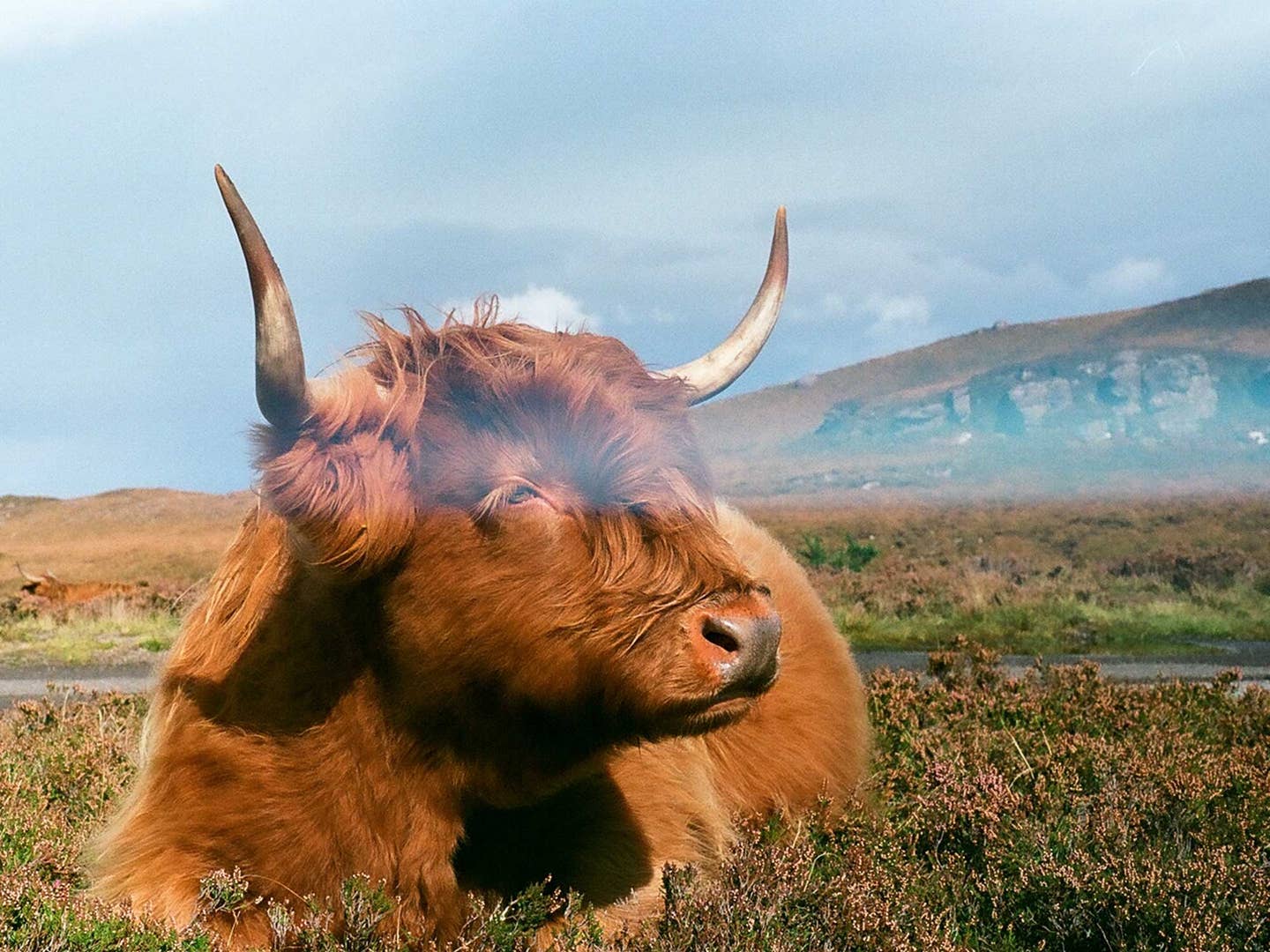 Travel
This Scottish Bovine Beauty Queen Is Some of the World's Best Beef
Meet the Highland cow, a long-haired, slow-growing breed of cattle raised for meat prized across Europe
Near the small hamlet of Strathcarron in Scotland's western highlands, a striking redhead with wavy, windswept bangs lounges in the grass, just off the main road. She weighs 1,200 pounds and she's chewing her cud in the sunshine, impervious to the blustery wind and the wet ground.
She's a Highland cow, a contender for one of the most beautiful and delicious bovines on Earth.
Beauty queens like her (note: the boys of the breed are just as lovely) are raised mainly for their meat, which is among the most sought-after beef in Europe. They are slow to mature, so the meat gains tremendous flavor over time, and their extra-thick coat means they need hardly any back fat to stay warm during the winter months. The result is relatively lean yet well-marbled cuts of beef, which, according to the Scottish Agricultural College, contains more protein and iron than other commercial beef, and significantly less fat and cholesterol. It's meat that tastes like the moors: lush and rocky and peppered with wild heather.
Driving northwest from Edinburgh, it's not long before the city's stone structures make way for undulating hills of viridian green, perpetually dewy and glistening because it's almost always raining. As ancient and breathtaking as it is, the landscape isn't quite what you'd call hospitable. The constant damp sinks into your bones, and in my case, my shoes, but the inhabitants up here in the highlands know better than to sport a pair of cracked-sole city sneakers on their daily travels. It's wellies every day, particularly in late fall and early winter, and hotels like The Torridon have boots for borrowing in (nearly) every size for witless foreigners like myself, plagued by soggy socks.
Highland cattle, however, have been thriving in these wide, misty hills for the past 1,500 years. Early archaeological records put the breed in Scotland in the 6th century, though it's still unclear as to whether the cows originated here, or were perhaps a product of early Norse Viking settlements. One prominent cattle historian hypothesized that the Highland cattle we know today are a hybrid of two Asiatic breeds that started making their way west from Mongolia nearly 8,000 years ago. The Highland Cattle Society has been keeping meticulous registries in their herd book since 1884, placing them among the oldest registered cattle breeds in modern history.
The Scottish Highland cow (or Heilan coo, to the Scots) is an absolute sweetheart. They're known for an impressive set of horns and an even more impressive set of bangs, forever draped over their eyes like an angsty teen's. They range in color but are usually cinnamon orange, black, or brown, with long double coats of hair; millennia of exposure to the cold and damp has granted them personal insulation systems that do away with any need for barns or shelters. And don't even get me started on their eyes—when the wind tosses their hair back, one look from their baby blues will melt even the hardest of hearts.
At Monachyle Mhor, a blushing pink farmhouse hotel abutting Loch Voil in Scotland's Trossachs National Park, chef Tom Lewis doesn't shy away from the more macabre details of raising these handsome animals for their meat. "This year we killed two Highland cows, both at nine years old," he tells me—the vast majority of cattle bred for beef are slaughtered before they reach the age of two—"and the beef was some of the best I've ever had. It was so tender and succulent, I sent our butcher friends some to show them how good it could be."
Lewis has always used native breeds, though over the last six years has raised exclusively Highland cattle. "They're slow to mature," he says, "and can develop a great flavor over time." Feeding exclusively on local flowers and sweet grasses, the beef boasts a rich depth unique to the Scottish hills, and with its excellent marbling is equally as good pan-seared as it is braised.
Since the mid 1900s, farmers in North America, Scandinavia, Australia, New Zealand, and beyond have also found reliable and productive livestock in the original Scottish breed. But while you can purchase high quality, grass-fed organic Highland beef from small farmers across the globe, only in Scotland will you find the truest expression of it. The Highland Cattle Society lists a plethora of local farmers across the UK, but if you drive any direction for long enough, you're bound to spot a Heilan coo of your own, languidly soaking up the landscape. So if you can't eat 'em, join 'em.