With Some TLC, the Best Cast-Iron Skillets Will Last a Lifetime—And Beyond
Buy once, use forever.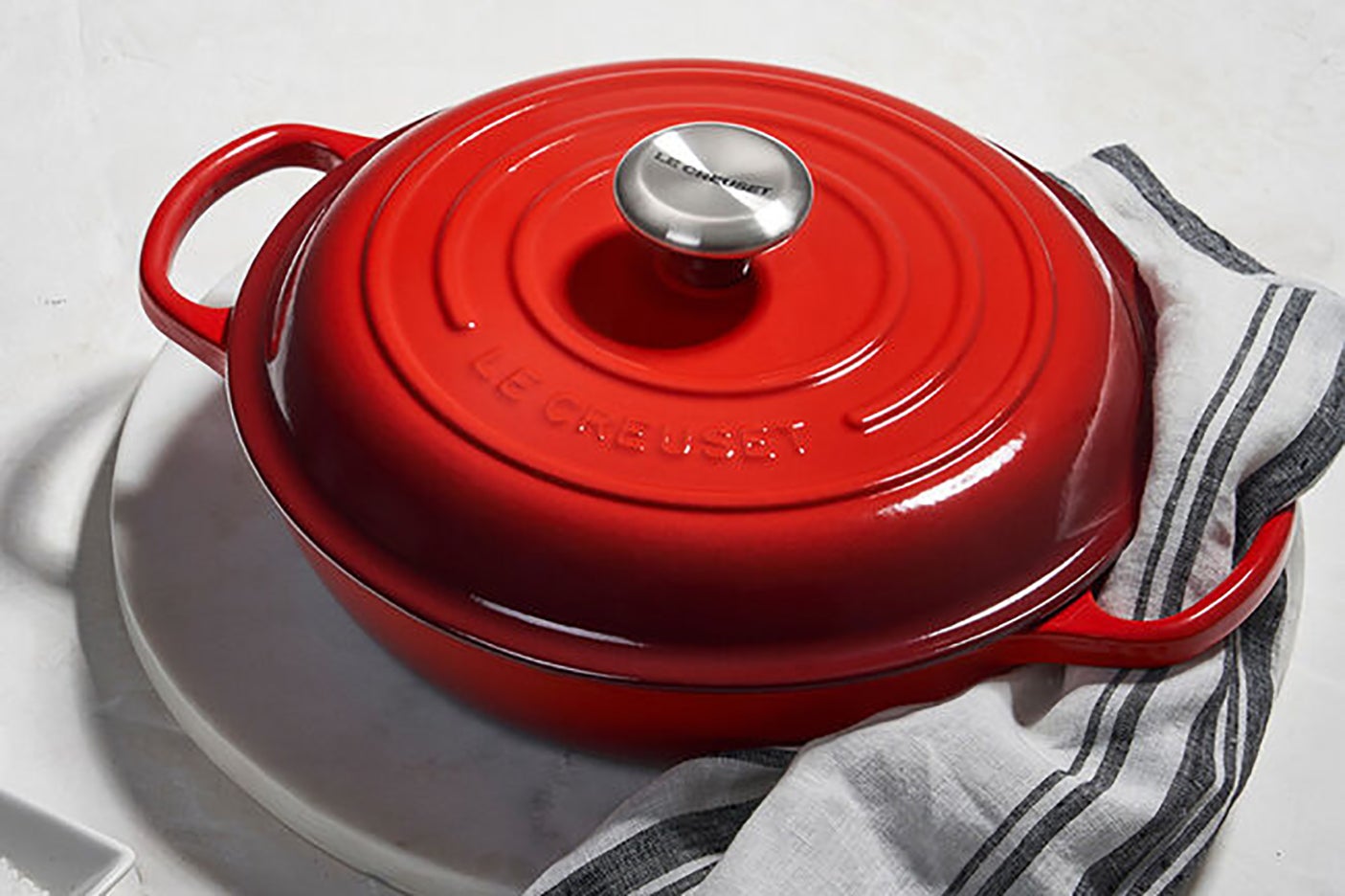 We may earn revenue from the products available on this page and participate in affiliate programs.
When it comes to one-pot meals, the perfect pan-seared steak, or just some good old-fashioned fried eggs, a well-seasoned cast-iron skillet can do it all. Naturally nonstick and practically indestructible, there's a reason these pans have been beloved by chefs and home cooks for centuries, and they only get better with age. With cast iron, it all comes down to seasoning. Seasoning is a thin layer of oil that is baked into the pan (and heated past its smoke point) to protect the surface of the iron and render it non-stick. It's also what gives the raw cast iron its shiny black patina. While maintaining that sleek nonstick coating can be a little tricky, with the right care, it can literally last a lifetime—and then some.
So it's no surprise that some of the best cast-iron pans are those handed down through generations or stumbled upon in antique shops. But that doesn't mean you can't find a new, high-quality version on the market today. If you're prepared to put in a little bit of effort along the way, a cast-iron pan will reward you for years to come.
Here, we've consulted with chefs to bring you our top cast-iron pans, as well as their best seasoning secrets, maintenance tips, and more.
Features to Keep in Mind
Enameled vs. Non-enameled
With the right care, cast iron skillets can outlive us all, making them coveted heirlooms to pass down through generations. Many are just raw iron, while others have an enamel coating, which is essentially a glaze that protects the surface of the iron and renders a non-stick surface without seasoning. It's also non-reactive, so the iron won't directly mingle with your food.
Most chefs recommend a non-enameled pan: "A well-seasoned, non-enamel pan can have non-stick properties that enamel simply can't replicate," says chef Jake Leiber of Le Crocodile at the Wythe Hotel in Brooklyn, New York. "Non-enameled cast iron really is the king of roasting and frying, and the more you roast or fry with adequate fat, the better your seasoning becomes over time––which is why everyone wants grandma's old cast-iron pans," he says.
Chef Victoria Wenning of The Westin Cape Coral Resort in Cape Coral, Florida, agrees: "All cast-iron is welcome in my kitchen, but if I could only have one then it would have to be non-enameled." However, she adds, "if they're not properly seasoned or left to soak in water, non-enameled pans tend to rust. Clean-up can also be a bit of a hassle, depending on your patience level."
Enameled cast iron tends to be a bit more versatile. It comes in a variety of vibrant colors and requires no additional seasoning. "Enamel is great because it protects the iron from rust," says chef Leiber. "It allows you to cook things that are wet (like braises) or acidic (like tomato sauce), which could strip the seasoning of your non-enamel cast iron and give your food off flavors." Ultimately, the decision will come down to what kinds of foods you plan to cook, and how much time you're willing to put into maintaining the pan's coating.
Size and Thickness
Cast-iron skillets generally run between 8 and 12 inches, but the thickness and weight can vary according to the brand and the time period in which it was made. "Modern cast iron tends to be much thicker and heavier than vintage," says Leiber, whose absolute favorite skillet is an old Griswold number 8 that he found at a flea market. "They also tend to be more textured. You'd be surprised just how light and smooth old cast irons can be," he says.
When it comes to size, though, it's all about your cooking style. "Pan size really depends on what you're doing with it," says chef Justin Wangler of Kendall-Jackson Wine Estate & Gardens in Santa Rosa, California. "If you have four to six folks you regularly cook for, you'll want a larger pan. At my house, I always leave a 14-inch cast iron pan on my back burner, as I most enjoy cooking one-pan meals," he adds.
As for weight, the average tends to be anywhere from 4 to 12 lbs (although our favorite compact version clocks in at just over 3 pounds). Just make sure you're able to comfortably lift it.
Maintenance
Most of these modern cast-iron skillets come "pre-seasoned," but a true non-stick surface can still require a little additional effort to build. Developing a proper seasoning is the difference between a sticky mess and a smooth non-stick finish.
As such, it's important to make sure your pan is properly oiled, clean, and completely dry before storing. To keep your brand-new cast iron in peak condition, there are a few things to keep in mind. First, it's best to clean the pan while it's still hot. "After use, I place mine on the fire or in a hot oven, which helps to bake off some of the left-over bits," says chef Wenning. "Once the pan is hot, I throw a handful of Kosher salt in the pan and use a rag to rub it around, removing any leftover food debris." Try to avoid scratching or chipping the seasoning layer to maintain a smooth, consistent surface.
When it comes to seasoning, use a neutral oil with a higher smoke point, such as vegetable oil, canola, coconut oil, or rice bran oil. "You want to add very little at a time, just a thin layer to coat," says Leiber. (Check the "Ask The Experts" section below for a more detailed guide to seasoning your skillet.)
After cleaning and seasoning, chef Wangler recommends placing the skillet upside down on a baking pan ("to keep the excess oil from spilling in the oven") and popping it into a high-temperature oven (roughly 400 degrees) for about 30 minutes. Then allow the skillet to cool and wipe out any excess oil. "Cooking some fatty foods such as bacon or frying something will also help after the initial seasoning," adds chef Wangler.
One thing you should never do is leave your pan soaking in water. You'll lose seasoning that way, and without the protective seasoning coat, cast iron will quickly start to rust. Acidic foods, such as tomato sauce, can also wear down the seasoning, so if shakshuka is on your dinner menu, be sure to clean the pan immediately after use.
Our Top Picks
Weighing in at 8 pounds with over 93,000 reviews on Amazon, this pre-seasoned Lodge skillet is also a favorite among chefs. Great for everyday cooking and under $50, this model comes with a silicone handle holder and offers excellent heat retention. It's made in the USA (Lodge company was founded in Tennessee in 1896) and is excellent for baking, searing, frying, and braising. You can pop it in the oven or place it over a campfire, but be sure to properly season it before use. Even though it's technically pre-seasoned, it'll benefit from a more thorough coating before it becomes truly nonstick. At 12 inches, it's a great size for most everyday cooking. "The 12-inch skillet is about the right size for 2 to 4 people," says chef Wenning. "It can easily sear two filets of fish or two larger steaks."
Also from Lodge is the even-more-affordable 10.25-inch option. It's slightly smaller, weighs just five pounds, and is half the price of the 12-incher. It's great for breakfasts for two, hearty cornbread, or a 10-inch personal pizza.
This 3-piece set from Cuisinel comes with a 6-inch, 8-inch, and 10-inch model (plus silicone handle holders) so you can try out a range of sizes for less than 40 bucks. They're each about 2 inches in depth, so you can easily fry or bake in them. It's a great starter set for anyone who's just dipping their toes into the magic that is cast-iron cooking, plus Cuisinel also offers a lifetime warranty so you can count on them lasting a while.
A trusted brand for professional and home cooks alike, Le Creuset makes some of the best enameled cast-iron pans on the market. They come in fun colors and can also double as serving dishes. "Our Le Creuset pans have outlasted all our serving platters," says chef Wangler. "One trick that isn't often thought of is utilizing skillets to keep dishes cold. Place a pan in the freezer for an hour and then remove just before serving to keep your potato salad or coleslaw cool," he adds. 
Thanks to its black enamel interior, this pan looks almost identical to a non-enameled pan, but with the added benefit of being dishwasher-safe for easy clean-up, and requiring no additional seasoning. Enameled pans like this one also often require less oil than non-enameled pans, making it great for low-fat cooking, too.
Since you really can't beat an old-school cast-iron skillet, we decided to throw a vintage favorite on the list. "My favorite cast-iron skillet is an old Griswold number 8 that I got at the flea market," says chef Leiber. Griswold manufactured cast-iron skillets in Pennsylvania from 1865 through 1957, so they're only available through vintage re-sellers. When hunting for the perfect Griswold model, be sure to look out for counterfeits, but you can find some pretty great deals on eBay. "For size, I like something medium to large like a number 8 or number 12. A 12 is a good size for frying big steaks," Leiber says. 
If shopping around in-person is more your style, spend a weekend antiquing. Ayr Muir, founder of Clover Food Lab in Cambridge, Massachusetts, loves this option, too: "There used to be a lot more cast iron manufacturers than there are now. Antique stores will often have amazing cast-iron pieces that are over 100 years old! Find cast iron at your local antique store, take it home, heat it up super hot in your oven (as high as it will go), and the coolest thing happens—the heat will burn off any residue on the pan, and it'll come out as brand new as the day it was made, and ready to be newly seasoned again."
This tiny-yet-mighty model from Le Creuset can take some serious heat. And at only 3.2 pounds, it's great for camping and quick outdoor grilling options. "Cast iron is great on the grill or a live fire, and even better when you want to cook outside but still want to save your drippings or pan jus, but don't want to heat or smoke your house," says chef Wangler. This 6.33-inch model comes in seven different colors, is dishwasher safe, and is the perfect egg pan.
"My second recommendation is an enamel Le Creuset braiser," says chef Leiber. "They're incredibly versatile and often overlooked." A cross between a dutch oven and a skillet, braisers are great for slow cooked meals, shallow frying, steaming, searing, and, of course, braising meats that can slide right off the bone. Its non-reactive and non-stick enamel surface is ready to go right out of the box (no seasoning required), but it's really the design we love here. True to Le Creuset style, these braisers come in fun colors, but also feature a wide base with shallow sloped sides, an ergonomic knob, oversized handles, and built-in lid stabilizers for a no-slide fit.
While it's not technically a skillet, chefs rave about cast-iron grills and griddles, and they're quite convenient for everyday use. "I use one on a daily basis in both my personal and professional kitchens. Its versatility is unmatched," says Chef Victoria Wenning, who uses this Lodge griddle pan in her restaurant. "This pan is held on a high flame for 16 hours a day, 7 days a week. To say it's a workhorse is an understatement, but with the proper care it will last for years," she says. "We have used our cast iron for pizza, paella, cobblers, crispy potatoes and even for blackened mahi tacos. I hope that this dismisses some of the fear associated with a cast iron and its care. The next time you find a cast iron at a yard sale or thrift store, don't hesitate to add it to your kitchen inventory!" she says.
Ask the Experts
How do I season my cast-iron skillet?
To season your skillet, start with a neutral oil with a higher smoke point (like vegetable oil, coconut oil, canola, or rice bran oil). Wipe a thin layer across the surface of the pan (inside and out) with a clean, lint-free rag or a paper towel, and pop it in the oven for 30 minutes at high heat. Repeat this process a few times until a slick, black coating develops. If it's sticky to the touch, put it back in the oven until it's shiny and smooth. After cooking, wash and dry the pan immediately, then apply another very thin coat of oil before storing, to protect the seasoning layer and prevent rust from forming.
How long will my cast-iron skillet last?
"A well-cared-for cast iron skillet could easily last for 200 years," says chef Wenning. "I have my great grandmother's Wagner Cast Iron #8, which has already seen over 80 years of great memories and secret family recipes."