The Best Cinnamon Spices Up Both Sweet and Savory Cooking
We tested more than 25 to find the very best.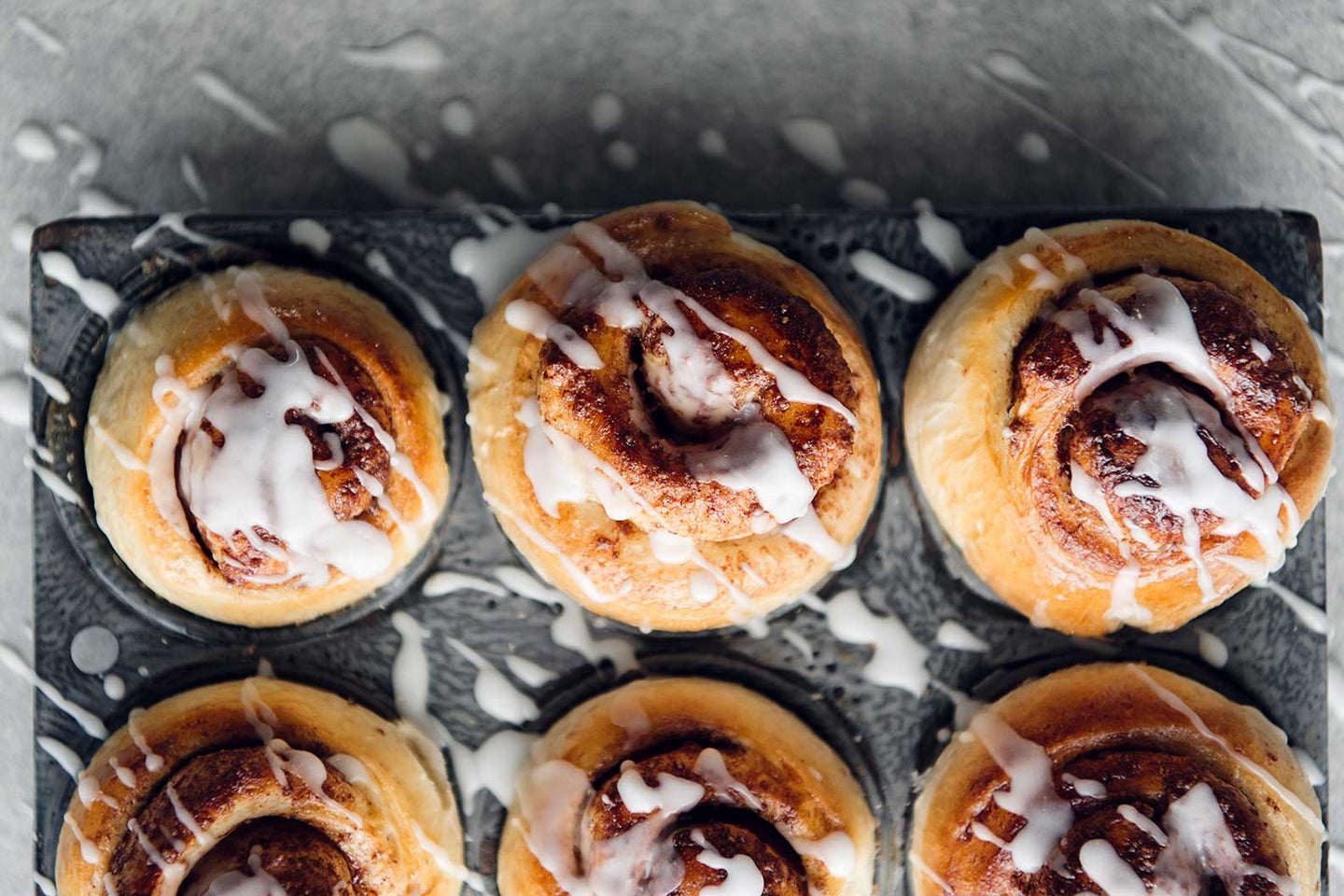 We may earn revenue from the products available on this page and participate in affiliate programs.
Cinnamon ranks among the most identifiable and beloved smells in the world, its fiery sweetness scenting breakfast toast, dinner stew, and dessert pastry. But in contrast to the delight of opening a jar of the best cinnamon and feeling the rust-colored powder tingle your nose, opening a jar of sub-par cinnamon, which comes in a variety of styles of sadness, from flavorless, to bitter, to tannic, is bound to disappoint.
Grace Bryan, whose stunning cinnamon rolls draw big lines to her Vista Bakeshop in Seabrook, Washington, calls it a fundamental spice, for its ability to work well in conjunction with other spices and stand out on its own. "It's a little spicy, but doesn't have any capsaicin," she says about why people like it so much. "It feels adventurous and zesty."
Nancy Lin Chen praises cinnamon's other major attribute: "It has that natural sweetness," says the author of 101 Amazing Uses for Cinnamon. "People like it because we like sweet," she says, talking about the spice's long history going back to ancient times, including when Emperor Nero supposedly burnt a year's worth of Rome's supply at his wife's funeral. "It's a rumor," she says, but even the legend demonstrates the high value placed on the spice. Meanwhile, she notes that Egyptians used it in their embalming recipes because cinnamon's antibacterial properties helped preserve the bodies.
Today, it sits in nearly every kitchen cabinet in America, awaiting its time to shine in holiday favorite baking and drink recipes – when really, the most important thing to know about your cinnamon is that it should be as fresh as possible. "Buy it in small amounts," advises Bryan. While she prefers to buy hers in sticks (also known as quills) for home use, the cinnamon market offers many sizes of sticks, tons of different types of ground cinnamon, cracked cinnamon, plus other parts of the plant including cinnamon leaves. Chen even says some people use the bark for medicinal purposes.
But when it comes to what you need to know about cinnamon to find the best for your cooking, baking, and mulling projects, you want to know about the sticks and ground varieties. We tested through dozens of varieties and styles to help figure it out. 
Our Top Picks
Origin: Sri Lanka | Format: 3-inch stick | Species: Ceylon
What We Like
---
Strong, spicy smell
Price
Company
What We Don't Like
---
Less sweet
Stronger smell than taste
Why we chose it: This affordable stick from a certified B-corp brings a big, "in-your-face" cinnamon fragrance. 
Smelling this pack of cinnamon quills is like unwrapping a stick of Big Red gum: the spicy cinnamon flavor just jumps out. Dropped into the water and grated over toast, the fragrance remained but the flavor muted a bit, which ended up giving just the balance expected of true cinnamon. All of Curio's cinnamon products matched the top offerings of their category, and somehow manage to vie for the most affordable, too. 
Origin: Indonesia | Format: Ground | Species: Korintje
What We Like
---
Price
Tingly spice
Sweetness
What We Don't Like
---
Slight bitterness
Subtler smell
Why we chose it: Cinnamon prices range with seemingly little connection to quality, but this Indonesian from Oaktown gave off good flavors while holding down the lowest price.
Though it lacks the fiery fragrance of some of the big hitters, the tingly spice on this cinnamon won us over with its smooth sweetness, making it an easy go-to for sprinkling on top of buttered toast or into oatmeal. Purchased in bag form, it comes to less than $3 an ounce for ground, organic cinnamon, making it the cheapest of any cinnamon with good flavor.
Origin: Vietnam | Format: Ground | Species: Saigon
What We Like
---
Rich spiciness
Strong flavor
What We Don't Like
---
Slightly tannic
Messy packaging
Why we chose it: This rich spice drew us in with the smell and maintained its strength even after baking.
Burlap & Barrel's impeccable sourcing turns out fresh products simply on another level. While most of the ground cinnamon we tested paled during baking, this one came out of the oven still kicking. While it had a bit of tannic flavor on the finish, the strong, rich spice overpowered it enough not to matter. Sadly, something about the fine grind on the cinnamon and the packaging meant that it made a bit of a mess every time we opened the jar. 
Origin: Indonesia | Format: 10-inch sticks | Species: Cassia
What We Like
---
Looks pretty
Sweet cinnamon fragrance
What We Don't Like
---
Annoying packaging
Not resealable
Why we chose it: On flavor alone, these long, slender sticks ranked high, and nothing else we tested caught the eye quite like them.
The long sticks seem almost gimmicky: too big to use for a cup of tea or grate onto toast, unwieldy to use in a stew where nobody would notice. But for the rare instance where these might go on display—in a punch bowl or infused into a large jar or bottle—they add a touch of delight. It's a trick that only works because they also carry a pleasant and sweet cinnamon smell, in addition to its intriguing appearance.
Origin: Vietnam | Format: 3-inch sticks | Species: Cassia
What We Like
---
Grates nicely
Strong flavor
What We Don't Like
---
Subtle spice
Hollow sticks
Why we chose it: The strong flavor but mild spice on these cinnamon sticks make them a crowdpleaser.
The biggest cinnamon flavors usually came with a heat to match, but these sticks balanced sweetness and warmth without deterring those who prefer less spice. The sticks also grated nicely, making them a good option on kids' toast or oatmeal.
Origin: Vietnam | Format: Cracked | Species: Cassia
What We Like
---
Great for mulling
Sweet, even spice
What We Don't Like
---
Needs to be strained
Not versatile
Why we chose it: This unique product imparted the most flavor in the shortest time into drinks than anything else we tested.
Like the tiny wood chips of traditional cinnamon bark sticks, this product has pretty much only one use—adding cinnamon flavor to drinks—but it does that better than any stick. Because the tiny chips need to be strained out, they don't work as well for stew and require a touch more work, but they immediately add significant cinnamon flavor to hot water, making them the key to comforting teas and flavorful mulled wine.
Origin: Zanzibar | Format: Ground | Species: Ceylon
What We Like
---
Rich, sweet flavor
Big aroma
What We Don't Like
---
Mild spice
Messy packaging
Why we chose it: Despite the natural subtlety of true cinnamon, this variety came across as rich, sweet, and complex.
Though slightly more muted than the Big Red smell that jumped from our favorite sticks by Curio, this ground cinnamon worked hard to give off a tantalizingly spicy aroma. As is often the case, the flavor was much milder, but it managed to hold its own against cassia styles, even in baking, which no other true cinnamon could. For cinnamon purists open to looking outside cinnamon's traditional region, this Tanzanian variety brings the most flavor. However, like Burlap & Barrel's other cinnamon, the packaging meant that it made a bit of a mess every time we opened the jar. 
How We Chose These Products
We tested 25 different cinnamons, from various companies, in various formats. Each was chosen by our market editor for quality, sourcing, and any unique features. For sticks, we mulled them in not-quite boiling water for a few minutes, then sipped the water. We also grated them onto buttered toast. For ground cinnamon, we sprinkled it on buttered toast and baked it into pastry. 
Features to Keep in Mind When Shopping for Cinnamon
Types of Cinnamons
Cassia and Ceylon are the two main types of cinnamon, with cassia breaking down into many different types, mostly based on where they were harvested. Ceylon or Sri Lanka cinnamon is the common name of cinnamon verum or what is often called "true cinnamon," but both Chen and Bryan said they prefer the flavor of cassia for most uses. While many varieties are labeled just as cassia, Saigon cinnamon is a cassia type of cinnamon often specifically called out for its intense sweetness and spice. Bryan describes Ceylon as sweeter, more understated, and recommends it for mulled cider or tea. She prefers cassia for baking and uses the Indonesian Korintje in her bakery (a close relative, though a slightly different species). "It's a bit spicier, more pronounced."  That allows her to have better control over the spice level, she explains, which is especially important in the cinnamon rolls. "Everything about it is buttery and sweet, it needs that sharpness."
Sources 
Generically labeled cinnamon generally comes from China or Indonesia, while fancier spice companies often label exactly where they originate. But more than where it's grown, the type of tree it came from makes a huge difference—though the two are very much related. Most of the cinnamon out of Sri Lanka is Cinnamomum verum, the true cinnamon, while most coming out of Indonesia is Cinnamomum burmannii, or Korintje. A lot of what comes out of Vietnam is called "Saigon Cinnamon," though it doesn't actually come from Saigon. The name should describe Cinnamomum Loureiro. However, Vietnam, like neighboring China, grows a fair amount of Cinnamomum cassia. 
Quality
"Freshness matters most," says Chen. The quality of cinnamon varied greatly in tasting, but the main thing that separated any of the winners from those not considered for selection was a stale fustiness. Freshness mattered more than the exact brand, so the direct sourcing of brands like Burlap & Barrel likely helped them stand out. The fustiness mattered somewhat less in the mulled and baked preparation but became extremely obvious on toast. 
Ask the Experts
Q: Does cinnamon expire?
"It doesn't go bad," says Chen. "It's just that the potency isn't there." Bryan adds that it's best to just buy it in small quantities, "It's not a good idea for it to sit around for months on end."
Q: Is cinnamon healthy?
For centuries, cinnamon has been used as a medicine for its antibacterial properties – and even as an embalming agent, says Chen. She refers to studies showing that it can help people regulate their blood sugar, "not as a replacement for medications," she says, "but to help control it." 
Q: How does cinnamon grow?
Cinnamon is the inner bark of a specific type of evergreen tree in the laurel family, explains Chen. It's then scraped off into quills and dried – and, if needed, ground into a powder.
Our Take
Both experts expressed a tiny bit of embarrassment as they admitted to preferring the cassia-type cinnamon to the "true" variety, but it's important to remember that at least in this case—the opposite of true is not fake. "It's about determining which cinnamon you like best," Chen says, noting that some people might not want the aggressively spicy kinds that she prefers. Whether you want your tea to smell like Big Red gum or your cinnamon toast to barely emanate that subtle warmth, finding the best cinnamon comes from understanding your own preferences.