Keep Happy Hour Right at Your Hip with the Best Flasks
For the park, trail, and everywhere in between.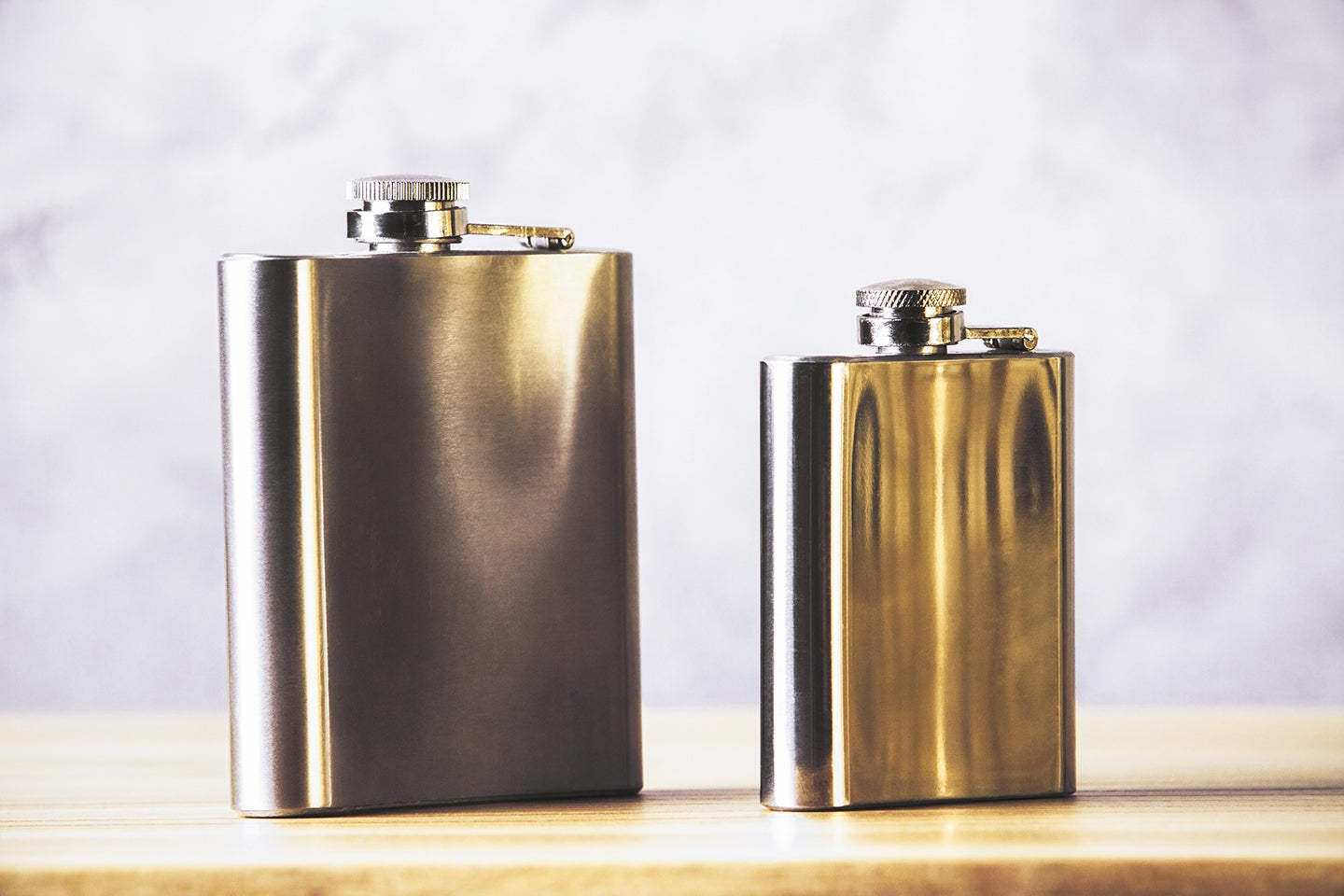 Transporting a little liquor isn't a recently-born practice. In fact, it's a tradition that goes back millennia: Prehistoric peoples filled animal skins, Romans topped up glass-blown bottles, and Americans carried flasks during Prohibition. That 13-year period sealed the tiny container's popularity, and they remain to this day a fixture of drinking culture. Whether you're venturing out on a hike, heading crosstown to a friend's, or frequenting your favorite neighborhood park, carrying a flask along makes sure you have what you like on hand for sipping or sharing.
While some of our favorites are made to go incognito, several are meant to be appreciated for their great looks and craftsmanship; others strike a balance between form and function. Here are the best flasks for all kinds of occasions and styles, so read on to find your fit.
Our Top Picks
This is the flask for all occasions. The Stanley Classic comes in several different colors and has a cap you'll never lose thanks to an attached, hinged arm. The back of this 6.4-ounce flask is contoured for comfortable transporting, and it won't rust due to stainless steel construction. The wide-mouth opening also makes it easy to fill to the brim, for taking a swig, and to clean after use. Stanley also guarantees its product with a lifetime warranty, so you can rest assured that your flask will be around for every future camping trip.
The High Camp flask keeps your favorite beverage—wine, cocktails, spirits—hot or cold for a full 24 hours. Available in beautiful stainless steel, copper, or gunmetal hues, this classy piece comes in either 375 milliliters with one tumbler or 750 milliliters with two for sharing. We love the magnetic locking system that keeps your cups securely fastened to the flask's main body, which means your set will stay together.
The GSI flask is our outdoor budget pick, and for good reason. Its durable copolyester body, silicone edge and lack of metal ensure you won't damage it in a fall. Convenient markers on the side help measure pours or sips, and a wide mouth keeps spilling to a minimum. The hinged cap is attached to the top, so you don't have to worry about losing it (but be sure to screw it on tightly). And since it's so easy on the wallet, it won't feel too precious to use regularly.
Best Outdoor, Splurge: VSSL Flask
Made of military-grade aluminum and perfectly packable at a slim 9-inches long, the cylindrical VSSL is more than meets the eye. In addition to two collapsible shot glasses stored inside its body, this waterproof flask also has a built-in compass on one end and an LED flashlight on the other. Whether you're recharging at the summit or around the campfire, the VSSL Flask is an ideal partner for outdoors-minded folks.
A ceramic flask is for discerning drinkers who appreciate good looks and no metal or rubber interfering with sips. Available in a shiny glazed black or ivory, the 11-ounce Misc flask is a statement piece—and it's beautiful enough to store atop your bar instead of behind it. A cork stopper is fastened to its body with a vegetable-dyed leather strap and brass hardware, and distinctive yet subtle embossing adds an extra handmade touch to this compact vessel. 
The Bexar Vermonter is an impressive display of craftsmanship. Each 9-ounce flask is made with pure copper, and its hot-tinned interior is hand-soldered by craftspeople at Jacob Bromwell, a 190-year-old North American manufacturer. The vegetable-dyed leather jacket is hand-sewn with a prominent seam on the back, and a copper screw top is designed to be leak-proof. 
This flask from Snow Peak is elegant, understated, and lightweight—and also practically indestructible. Weighing in at only 3.2 ounces, its titanium body is resilient and resistant to any dents from wear, and the material produces no metallic aftertaste when you're drinking from it. The flask comes with a funnel for easier pouring, and a cloth case to buffer clinks and clanks in your bag.
Ask the Experts
How do I clean a flask properly?
Use soap and hot water when washing your flask, and scrub the inside thoroughly with a bottle brush. Remember to pay extra attention to washing the mouth (you know, the part that comes in contact with yours). Dry the flask by storing it upside down, on an angle, so no moisture is trapped in any of the crevices.
Is there a technique for pouring liquid into a flask?
For a no-mess, no-waste transfer of your favorite spirit, it's best to use a funnel so that you have a margin of error while you pour. Some flasks come with their own funnel, a good extra to keep in mind while choosing which one to buy. If yours doesn't have one, be sure to find an option that fits into the mouth of the flask but is short enough to stay put.
Every product is independently selected and vetted by editors. Things you buy through our links may earn us a commission.