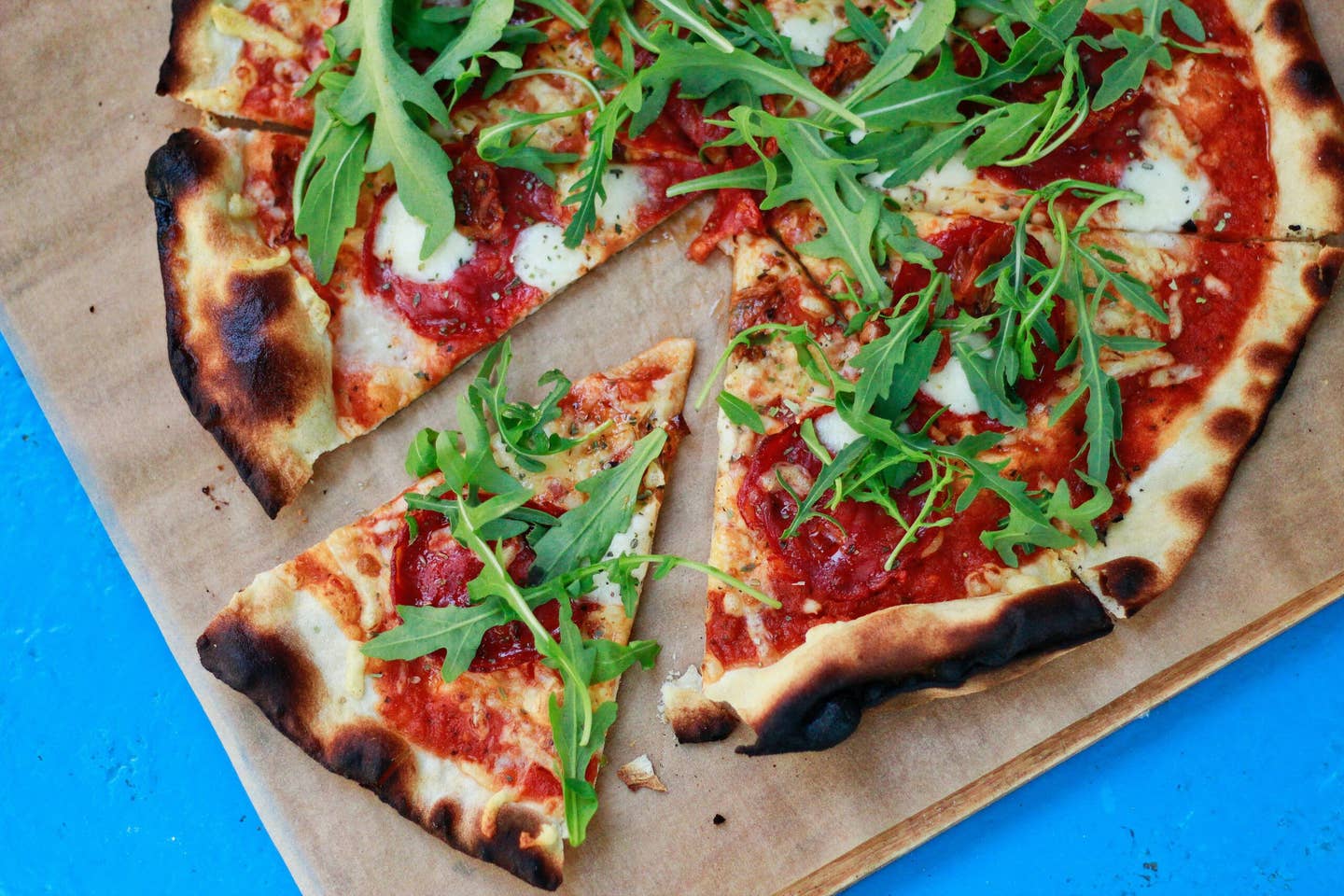 Shopping & Reviews
Achieve Chrispy, Cheese Perfection With the Best Pizza Ovens
Master the art of pie making right in your own backyard.
There are lots of ways for a pizza to be truly spectacular. And one of those is when you make it yourself, at home in your kitchen or backyard. Yet to achieve the crispy, cheesy perfection of your favorite restaurant pie or slice-slinging joint is far trickier when you DIY it. That's because home ovens don't get hot enough—at least 700°F—to correctly cook the crust. While a broiler-preheated pizza stone can help, a proper home pizza oven, whether for outdoor or indoor use, will bake your pies to perfection.
What to Consider When Shopping for a Pizza Oven
There are a couple key factors to mull over before purchasing a pizza oven. What type of fuel will work best in your setting? Where will the oven live and what sort of footprint are you looking for? What type of fuel will work best for your setting? How many people will you usually be serving? Here's an overview of the major considerations.
Gas-powered pizza ovens (whether fueled via a propane tank or natural gas access) tend to be the most user-friendly: They heat up faster (and often hotter) than non-gas counterparts, and they're less of a hassle to clean post–pizza making than wood-fired ovens, which produce messy ash and debris. That said, wood and charcoal ovens offer a distinctive flavor that many pizza aficionados find central to a quality pie—just keep in mind that it takes a lot of effort to achieve and maintain optimal flame and heat levels. A hybrid pizza oven can be powered by wood or gas for versatility, though often at a steeper price than a single-fuel source. If you often cook on an outdoor grill, consider a grill insert, which has a pizza stone base and double-walled roof to retain heat generated from the grill below; it's a good way to assess your appetite for DIY pie-making before committing the budget and space to a standalone pizza oven. No outdoor space? You'll want to opt for an electric indoor version.
First question to ask yourself: indoor or outdoor? If you have little or no outdoor space, an indoor oven is likely your only option. Likewise, if you live somewhere that gets very cold or wet, indoors might be the better choice. It's important to consider what sort of counter space you can spare for pizza-making endeavors, as indoor pizza ovens, though smaller than outdoor versions, are still fairly sizable (akin to, say, a full-size toaster oven. If you're electing to get an outdoor oven, you have many more options, all of which vary in size and footprint.
The hotter the better when it comes to pizza ovens; you'll want to aim for at least 750°F. Traditional Neapolitan pizza gets blasted (briefly!) with temps of 800°F or higher, achievable with most outdoor models, which can get as hot as 900°F. A higher maximum temperature, though, typically comes with a higher price tag.
An at-home pizza oven will typically have an insulated and/or double-layered metal or ceramic lining that maintains high heat levels—and keeps that heat inside the oven to avoid a scalding exterior. Fuel-type and capacity also influence how a product is designed.
Another important variable to consider when choosing an outdoor pizza oven is how easily it can be moved. A portable model will typically weigh less and be more compact, and they're also usually easier to store (and protect from exposure to the elements). Plus, a smaller, more portable model means you can bring the pizza party on the road—be it vacation, camping, or a friend's backyard.
As with any appliance purchase, culinary or otherwise, be mindful of how extensive or complex the upkeep will be. Most consumer pizza ovens designed for home rather than professional use should be fairly simple to keep in tip-top shape, though some require more specialized cleaning techniques or have more parts to familiarize yourself with. Wood- and charcoal-fueled ovens inherently require more TLC and monitoring in order to function correctly.
You'll definitely want a pizza peel, that paddle-like tool used to slide pies in and out of the oven. Peels are helpful to rotate pies in the oven, too, which you'll want to do at least once during baking, even for ovens with super-quick cooking times and that promise even heat distribution. An infrared thermometer tells you exactly how hot your oven is, which can help take some of the guesswork out of getting that perfect crisp. And of course, you'll need a pizza cutter—and is any pizzaiolo really complete without an apron of some sort? We think not.
Not quite ready for a pizza oven, spatially or spiritually? Some well-chosen accessories can elevate your home pizza-slinging practice without committing to a full-fledged oven, like a cast-iron pizza pan or a pizza stone. Both of these tools can be placed on a rack in the top third of the oven, on the rack, while you preheat your oven to the highest temperature possible for at least 45 minutes. Then cook your pie on the pan or stone at that highest temperature for the crispiest pizza possible. If you're using an electric oven, set it to the highest broil setting just before you're ready to bake for direct heat that will nicely bronze the top.)
Tips for Buying and Using Pizza Oven
Here are a couple more factors to think about while choosing the best pizza oven for your space and needs, and determining what sort of size and fuel source will work best.
What size pies are you hoping to make?
While most pizza ovens will easily fit 12" or 13" pies, larger ovens can obviously accommodate bigger pizzas, often in the 16" range, great for sharing and entertaining.
Pick your pizza oven's spot wisely.
Look for a stable surface that can handle high heat with ample room for the oven to securely perch to avoid any accidents while you're working with ultra-hot temps and, depending on fuel source, possibly playing with actual fire.
If you're opting for a gas-powered pizza oven, consider the gas source.
If you prefer a natural gas connection to a propane tank, be sure it's properly installed by a professional for safety, and to minimize performance issues.
Here are some of the best pizza ovens on the market that span a variety of considerations like fuel source, space, heat capabilities, all by the most reputable brands in the category, from a familiar brand like Breville (perhaps you already love their divine espresso machine?) to the more niche Ooni, a brand specializing in pizza ovens.

This lightweight, attractive gas pizza oven can run on natural gas or hook up to a propane tank. The Koda 16 takes just 20 or so minutes to heat up before it's ready to bake stellar pies of up to 16-inches in a mere 60 seconds. Its insulated steel shell retains heat yet doesn't get insanely hot on the exterior. Like all of Ooni's pizza ovens, this one has impressive heating capabilities of up to 950°F. The Koda's chimney-free, three-legged design keeps it stable and easier to clean. (No wonder it was nothing short of a pandemic saving grace for a SAVEUR editor in 2020.)
If you want to get one device that can cook your pizza in multiple ways, opt for this mutli-fuel Ooni model. The Karu is just a couple pounds heavier than the smaller, gas-only Koda 12 (see below), but it can be used with wood, charcoal, or gas. (Note: You'll need to purchase a separate Ooni gas adaptor for the latter fuel type.) Like the rest of the Ooni brethren, the Karu reaches and maintains the same high heat levels of 950°F and cooks pies up to 13" in just one minute.
This slightly scaled-down version of the Ooni Koda is nearly identical to its larger cousin, the Koda 16, in terms of specs and performance, but it has a smaller mouth, which can accommodate pizzas up to 13-inches in size. The preheat time is a bit quicker at only 15 minutes, and clocking in at just 20.4 pounds, it's even more portable than its older cousin (the Koda 16 weighs roughly 40 pounds).

This sophisticated contraption, which is handmade in its namesake Michigan town, requires ample outdoor real estate—and perhaps an even more ample budget. But if you can swing both, the Kalamazoo Artisan Fire is as close to professional Neapolitan pies as you can get for personal use without a large-scale, wood-burning oven, according to pizzaiolo Roberto Caporuscio of New York City's Kesté and Don Antonio by Starita pizzerias. After preheating for around 20 minutes, place your raw pie on the oven's ceramic base and three or so minutes later, you'll have a flawless Neapolitan-style masterpiece, complete with that elusive puffed crust and slight char. The open-door design allows you to keep a close eye on your pie—or whatever else you fire up, from bread to roasted vegetables or meat. It's available with your choice of natural gas, liquid propane, or bulk liquid propane as the fuel source.
This compact but powerful countertop pick turns out tasty pies in just two minutes. Chef Kyle Jacovino of Pizzeria Vittoria in Savannah, Georgia, raved to SAVEUR about the Breville gadget: "I just think pound for pound, they deliver the best home indoor bake, and they're electric." Its temperature range tops out at 750°F which, though lower than most outdoor ovens, is impressive for an indoor option (and certainly higher than your oven is capable of reaching). It distributes heat evenly, which is essential fo r a consistent crust.
We'll be honest: This affordable and very user-friendly pick reminds us of a really big waffle maker. Breville's Crispy Crust Pizza Maker has a 12" pizza stone inside its clam-like design, which has electric heating coils that can reach 660°F on both the top and bottom. Again, not the hottest oven on our list, but better than a standard oven (and so compact!). The streamlined interface has one knob to control the power, and another that addresses dough thickness and desired heat level.
This gas grill insert, used with the grill lid open, evenly cooks pizzas of up to 14" on the included, fitted pizza stone (a pizza peel comes with it, too). The stainless steel, double-layer roof retains heat, though you probably won't be able to hit temps quite as high as you would with a standalone pizza oven. A thermometer on top helps monitor cooking temps.
The Advantages of Owning a Pizza Oven
Just in case you need further motivation to invest in a personal pizza making set-up at home, read on.
You'll never have to compromise on pizza toppings with a partner or group when the pies are bottomless. From dietary restrictions to picky eaters to controversial combos (we're looking at you, pineapple and ham lovers), pizza preferences can be divisive. Think of your own pizza oven as the ultimate peacemaker: When you swap delivery for DIY, the topping possibilities are limitless. (Although there's no denying the simple pleasures of a flawless Margherita pie, too.)
Quality in, quality out. Procuring great ingredients will go far in making all your DIY pizza dreams come true—so learn to whip up a great homemade dough.
A pizza oven can be a game-changer for so much more than just pizza.
Many models can also be used to cook steak or fish, roast vegetables, and bake crusty bread and golden pies. You may never use your conventional oven again!
FAQs About Your New Pizza Oven
A couple more useful tidbits to know, so you've got all the necessary intel to guide your quest.
How hot do pizza ovens get?
Most outdoor pizza ovens can reach north of 900°F, while indoor (electric) versions tend to max out somewhere in the 650°F to 775°F range.
Do electric, indoor pizza ovens require a hood?
Generally they don't, as they're designed with sufficient ventilation to safely be used indoors.
Can I bake bread in a pizza oven?
In many pizza ovens, absolutely! Be sure to double check before slinging in a loaf; not all ovens accommodate (or recommend) making more than pizza for various reasons.