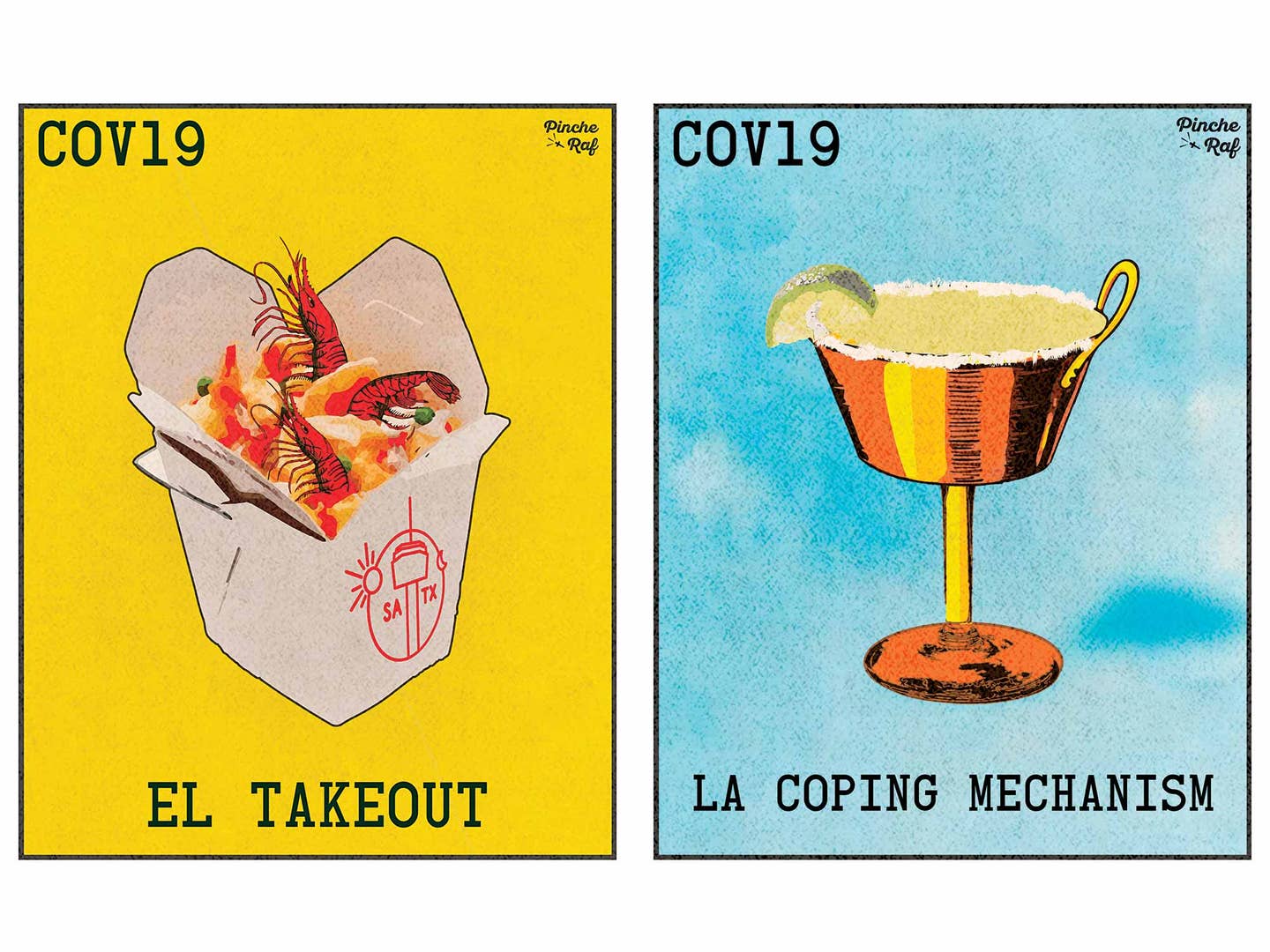 Shopping & Reviews
The 2020 Saveur 100: 1-10
A backyard pizza oven, one of our favorite herbs, Basque-style cider, and why we love knife magnets.
1. The Artist Who Understands Your Pandemic Pain
Rafael Gonzales Jr. not only gets it, he makes a game of it. With a series of Lotería cards that call upon our shared COVID-19 neuroses, this San Antonio visionary (@pinche_­raf_art) has turned Mexico's version of bingo into a highly collectible coping mechanism, one that may or may not rival the curative powers of a salt-rimmed frozen margarita. —Shane Mitchell
2. Grill? Who Needs A Grill When You Have This?
You could spend a few grand to have a brick pizza oven built in your backyard. Then again, you could also just buy this little number for $500. Ooni's Koda 16 portable pizza oven hooks up to a standard propane tank and reaches temperatures of up to 932°F—hot enough to deliver that crispy, slightly charred bottom and tender crust you'd expect from the real thing. A 16‑inch pie—the biggest this baby can handle—cooks in about 90 seconds. Hello, instant gratification! But don't stop there. The Koda can also tackle steak, fish, vegetables—even bread and non-pizza pies.
One of my favorite ways to while away a winter afternoon in upstate New York is to troll the Hudson Valley Seed Company's website in search of new heirlooms to grow come spring. That's where I first discovered lovage ($2.95 for 200 seeds; ­hudsonvalleyseed.com). The leaves of this tall perennial herb, also known as Levisticum officinale, bring a faintly floral, celery-like freshness to everything from roasted pork to steamed mussels to creamy potato soup. But how did I really fall in love with lovage? Alcohol. Muddle the leaves for a botanical addition to your G&T, steep them in simple syrup to drizzle over prosecco, or stuff whole stalks in bloody marys for a next-level ­garden kick. —Cara Cragan
4. My Preferred Kitchen Apron Is a Vintage Carpenter's Apron
Here's the thing about buying new: Most modern outfit-protectors are designed to fit men; I am not only female, but also short. So I have to fold up the waist of a standard apron multiple times before tying it in place—at which point my hands might reach two patch pockets. Used to be, people were smaller, materials were more durable, and hardworking folk understood the benefit of numerous tool-storing pouches. I nabbed this particular canvas apron at a local junk shop. You can search eBay and Etsy to unearth similar options, or something less neutral, printed with a phrase like "We Carry Lumber" or an ad for, say, fiberglass or Chesterfield cigarettes. —Sarah Gray Miller
5. How We like to Take Our Apple a Day
Bracingly tart and a tad funky (in a good way), Basque-style cider, or sagardo, is far more winelike than the sweet swill common here. Americans Jasper Smith and Ella McCallion were so blown away by the difference that the couple began producing a version in Oregon's Columbia River Gorge. Their Son of Man brand ($24 for four 12-ounce cans; sonofman.co), two years old, relies on locally grown apples fermented with native yeasts in oak barrels. To aerate the crisp, bubbly beverage, pour as people do in the Basque Country, from several feet above your glass—which, yes, does take some practice.
6. The Candy We Crave from Kentucky
These tear-shaped drops are still dipped by hand, one at a time, in the chocolate room at Muth's Candy. Founded in 1921 by Rudy Muth, and currently owned by his descendants, the Louisville sweets shop has proudly resisted progress for nearly a century. Glass display cases continue to proffer cherry fruit sours, cinnamon squares, bourbon balls, peanut brittle, and caramel-coated Modjeskas, the local specialty. But it's the tiny dark-chocolate drops with a creamy vanilla center that appeal to nostalgic purists, a throwback to an era when a paper sack of assorted bonbons cost a few pennies, and Southern grandmothers filled their cut-­crystal candy jars with these delights. —­Shane Mitchell
7. Spiciest Spanish Copycat in Queens
Seasoned with pimentón and sun-dried sea salt, the sobrasada from Charlito's Cocina (2 pounds for $45; charlitoscocina.com) reminds us of its roots in the Balearic Islands, where the spreadable pork sausage—traditionally cured after the autumn matança, or ­seasonal slaughter—dates back to the Middle Ages. Charles "Charlito" Wekselbaum, the salami maestro of Queens, New York, infuses his fiery New World version with apple-based gin from the state's Neversink Spirits. (Pig plus apple—get it?) Dab this spicy goodness on everything from scrambled eggs to pizza. —Shane Mitchell
I haven't had a sip of booze in years, but sometimes seltzer alone simply won't do. My solution: Old North Shrub's fruity, herbaceous drinking vinegars ($22 for a 16-ounce bottle; oldnorthshrub.com). Former chef Jamie Swofford grows or forages nearly every ingredient on his farm in Shelby, North Carolina. I take my favorite—a sweet-tart mix of strawberries, chamomile, and lemon verbena called Two in the Bush—over crushed ice with seltzer and lemon. My drinking buddies (in a different sense, obviously) find the shrub equally tasty blended with rum, lime juice, and ice for a nuanced variation on the frozen daiquiri. —Monica Michael Willis
9. The Mentor We Miss Most
Six years ago, I attended a food writing intensive called the LongHouse Food Scholars Program, founded and led by the formidable chef, journalist, and cookbook author Molly O'Neill. One of nine students selected via a rigorous application process, I arrived at Molly's brick-fronted residence in the remote hamlet of Rensselaerville, New York, thrilled by the prospect of four weeks ­under her tutelage....read more.
10. A Very Attractive Storage Option
Stashing knives in a drawer is bad form—dangerous, and likely to result in dull edges as blades rub against each other. Our favorite alternative? It's certainly not a counter-hogging wood block with bound-to-get-grimy slots. Nah, we prefer to showcase our cutlery on a knife ­magnet. A basic one runs around $15 at big-box stores, though you can also ­retro-fit any piece of metal with the addition of ­rare-earth ­magnets, about $10 for 12 on Amazon. Either way, consider the non-culinary potential: ­corralling sewing supplies, bobby pins, loose nails and screws, pretty much anything that'll stick.