The Best Pizza Peels for Making Restaurant-Style Pies at Home
7 picks that pros say will transform your homemade pizza.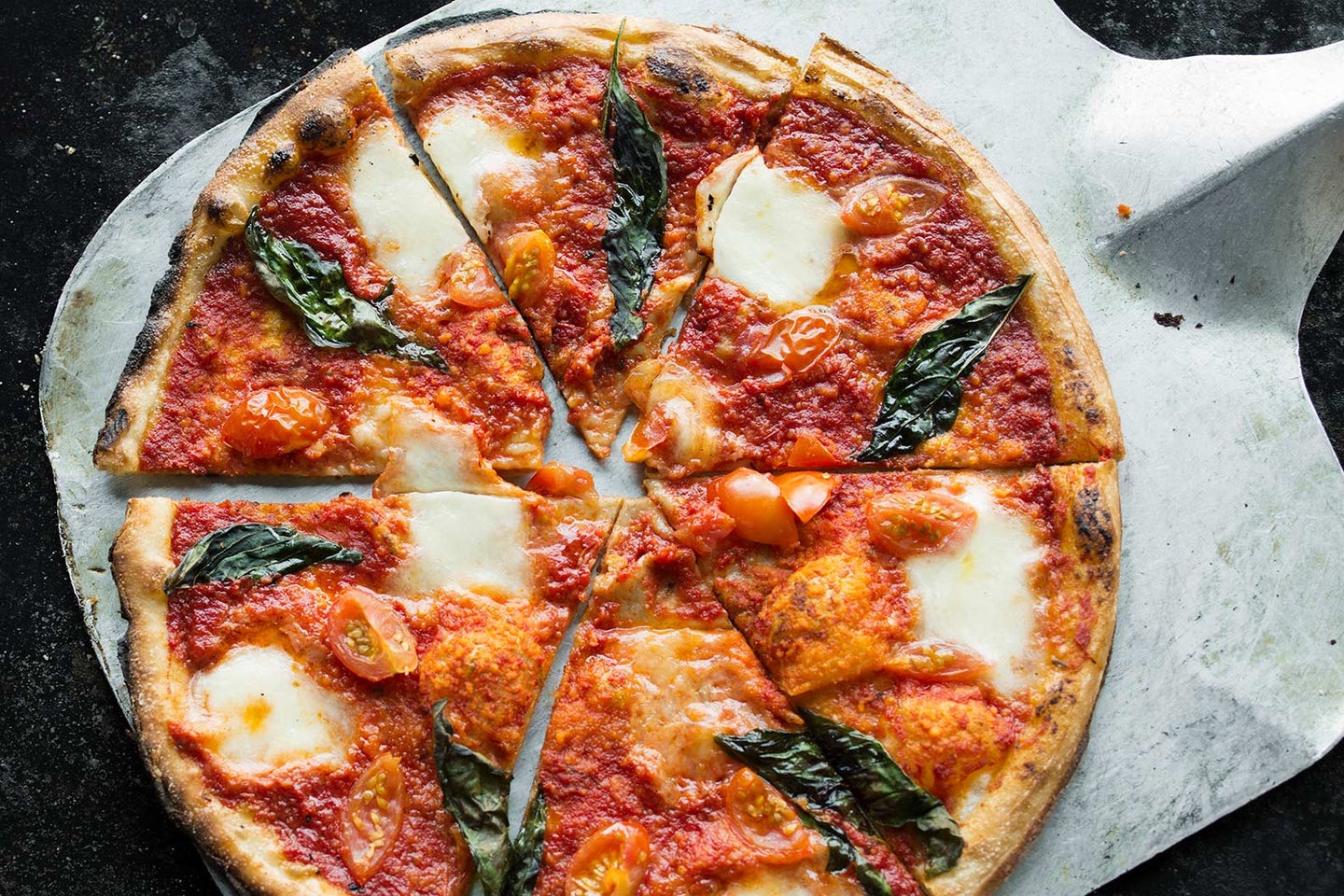 We may earn revenue from the products available on this page and participate in affiliate programs.
With the rise (pun intended) of homemade pizza dough and at-home pizza ovens comes the rise of at-home pizza accessories. If you've been perfecting your recipe and tweaking your at-home pizzeria setup to make perfect Neapolitan-style pies, the next step is finding the best pizza peel. "Knowing which pizza peel to use and when to use it will make your pizza better and more consistent almost immediately," says Noel Brohner, the artisan pizza and bread instructor behind Slow Rise Pizza Co. 
What is a pizza peel, exactly? A pizza peel looks like a cross between a shovel and a spatula, and it's used to slide the pizza into (and remove it from) the heat source, whether that's your wood-fired outdoor oven or your countertop pizza maker. "The pizza peel is the equivalent of the paintbrush for the painter," says Edouard Freda, Founder & CEO of Talia di Napoli. "It is the key instrument with which the Master Pizzaiuolo inserts the pizza in the oven and then manages the pizza's journey inside the oven until it comes out." Without a peel, you'll find that pizza is nearly impossible to turn in the oven and that it doesn't keep its shape when transferred.
Peels come in a variety of styles and materials; with collapsible handles, short handles and long ones, and multiple price points. To decide which peel is best for your at-home pizzeria may be a simple matter of preference. We've rounded up the best peels around, to guarantee superlative pies every time. 
Features to Keep in Mind
Material
Pizza peels come in a variety of different materials. "Wooden peels are undeniably the sexiest of the bunch," says Peggy Paul Casella, author of the Teenage Mutant Ninja Turtles Pizza Cookbook and creator of the pizza recipe website ThursdayNightPizza.com. "They provide a nearly nonstick surface for dough, making it easier to shimmy topped, uncooked pizzas onto a hot stone." But there are downsides: Wooden peels can be heavy, require a bit of maintenance, and be a little "fussy," Casella says. You can find plenty of alternatives on the market, like lighter composite peels, thin and flexible metal peels (these can stick, Casella warns), and bamboo peels. Beginner pizza makers should consider wood or composite, which tends to stick less than metal. "Dough is much more likely to stick to metal peels than wood, especially for beginner pizza makers," Brohner says. 
Design
The design of a pizza peel does actually matter, says Brohner. Pizza lovers will want to consider, shape, size, and length of the handle. Also, he says, if you plan on turning your pizza often, you may want a turning peel, which can actually be smaller than the diameter of the pizza itself and is used to turn your pizza while in a blazing hot oven to promote even cooking. Handle length matters when it comes to the size of your kitchen, too. "If your home kitchen oven is not very deep, then you only want or need a relatively short handle," he says. 
Versatility
Pizza peels are not only for cooking pizza, Casella notes. "Wooden peels are great for serving pizza, of course, but also cheese boards and other party foods. All peels can be used for baking bread and anything else you use your baking stone or steel for." Vintage peels, Brohner adds. "Can be used as dramatic wall fixtures to adorn kitchens, pantries, and outdoor patios with pizza ovens." 
Our Top Pizza Peel Picks 
This substantial metal peel produces pizzeria-quality pizzas every time. Though it's designed to be compatible with the Ooni oven specifically, this Ooni pizza peel can work in any oven. The perforated face actually prevents the dough from sticking to the peel as you slide it into the oven (a common issue with metal peels), and its slim design makes it easier to store. Pizza lovers: dig in. 
This well-made but affordable wood peel is the best choice for anyone looking for a peel that won't break the bank. With its short handle, this peel is ideal for using with countertop pizza makers and grills, as opposed to wood-fired ovens (which will benefit from longer-handled peels). Made from durable acacia wood, the peel's tapered edge is designed to help dough slide right off into the oven and lift up the pizza when it's done. With its short handle, this peel doesn't take up any more space than a cutting board, so you can store it in even the smallest of kitchens. 
Stainless steel and a long acacia wood handle come together for a pizza peel that's hard to beat in this category. Of course Crate & Barrel made something that's easy on the eyes, but it tops our list because it makes delicious pies, too: The thin, flexible metal head makes it a favorite for slipping under partially cooked pies to rotate them while cooking, then remove them from the heat when they're done.
Specifically designed for turning pizza while it's cooking, a turning peel is a smaller peel with a long handle. For this specific task, this set is the best in class. It comes with adjustable handle lengths, so it's useful if you have a built-in pizza oven or a very hot grill that requires some distance. It also includes a rocking pizza cutter, one of the fastest ways to cut your pie into slices—and it even comes with a protective cover to prevent accidents. 
Looking for a wood peel but also interested in one that's easy to care for? This composite peel is the answer to all your problems. Composite wood fiber makes this peel simultaneously light and durable enough for the dishwasher—a win-win. At just under 2 pounds, it's easy to maneuver, and a hole in the handle makes it simple to store from kitchen hooks. At 14 x 21 inches, this is a large peel, with a knife-safe surface, so it can even double as a serving board. 
This wooden peel is as classic as they come, and it's available in three sizes, so you can commit to the peel that works best for you and your kitchen. The smaller sizes (8 x 9 and 14 x 15 inches) can be used either as turning peels or as peels for small pies, while the largest of the trio (16 x 17 inches) is a good choice if you tend toward larger pies and like to serve them right from the board. 
This composite peel comes with an added bonus: a nonstick pastry cloth belt that works like a conveyor belt, slowly sliding the pizza into the oven. Use the set with the belt or without, whichever way you choose this luxury peel guarantees an easy, no-fuss, nonstick experience. 
Ask the Pizza Peel Experts
Q: What is the best oil to use on a wooden pizza peel?
Mineral oil is the best oil to use on wooden peels, Brohner says, since it keeps the wood conditioned and protects it from splitting. 
Q: How do I stop dough from sticking to a pizza peel?
The first step in preventing dough stickage, says Casella, lies in prepping your workspace. "The longer raw dough sits on a pizza peel—whether it's a wooden or metal one—the more likely it is to stick," she says. Once you're ready to go, Casella suggests dusting the work surface with either regular or semolina flour, stretching it out onto the flour, and shaking off any excess. "If it won't budge at all or sticks in one or two spots, dust an offset spatula with flour and slide it under the dough all the way around," she says. 
Q: How do I maintain my wooden pizza peel?
"Before you use your pizza peel for the first time, apply mineral oil with your bare hands and work into the peel generously and completely, allowing the pizza peel to sit for a few hours before using," Brohner says. Avoid rinsing wooden peels with water, instead rub flour into the peel between pizzas, followed by semolina. Imperfections, Brohner says, can be sanded off between bakes with medium-coarse or fine sandpaper, and then cleaned with a clean, dry towel. 
Our Take
Fact: your homemade pie will benefit from using a pizza peel. The only question is what type of peel best suits your pizza-making style. But regardless of material, length, or style, you're sure to find a sweet spot among these picks.