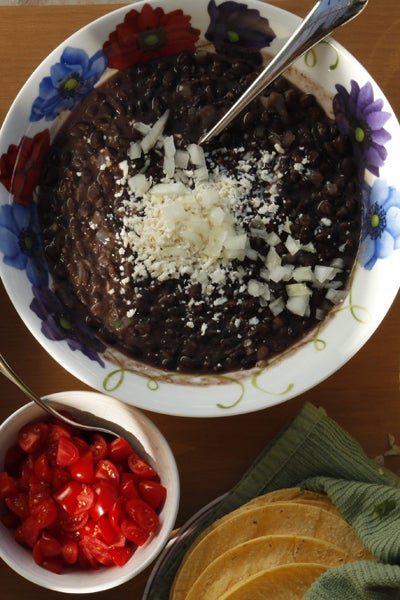 These spicy Black Beans go great with Fish Tacos. This recipe first appeared with our Las Vegas issue, along with Beth Kracklauer's story True West.
Yield: serves 8-10
Ingredients
3 tbsp. olive oil
3 cloves garlic, chopped
1 medium white onion, roughly chopped
1 lb. dried black beans, soaked overnight and drained
1 jalapeño pepper, sliced in half
1 bay leaf
Kosher salt and freshly ground black pepper, to taste
Minced white onion, for garnish
Queso fresco, crumbled, for garnish
Instructions
In a 4-qt. saucepan, heat oil over medium-high heat. Add garlic and onion, and cook until the soft, about 6 minutes. Add beans, jalapeño, and bay leaf and cover with water by 1″, about 5 cups. Bring to a boil, reduce heat to medium-low and cover. Cook for 1 hour, until beans are tender. Remove bay leaf and discard. Place about 1 cup beans in a bowl and mash with a fork; return to pot and season with salt and pepper. Serve with onions and cheese.