Recipes
Slow-Roasted Sweet Potatoes with Garlic Labneh
Michael Solomonov's definitive method for roasting your favorite fall tuber.
Serves

serves 4

Cook

3 hours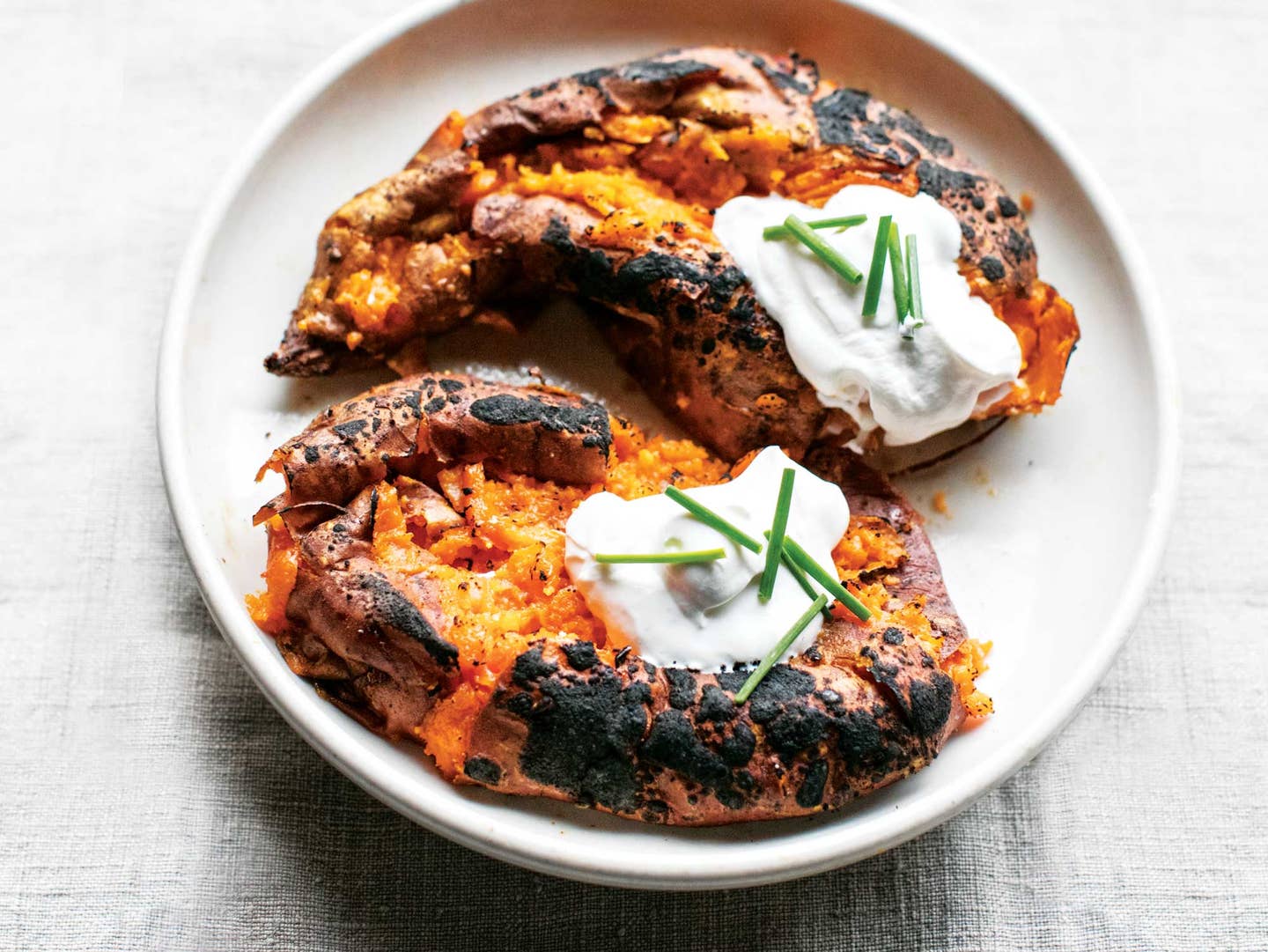 Inspired by the yams he ate at Miznon restaurant in Tel Aviv, Michael Solomonov of Philadelphia's Zahav developed this recipe for roasted sweet potatoes, rubbed with lots of salt and dill seed, and topped with a sharp, garlicky labneh. The slow bake renders them incredibly sweet and tender.
Ingredients
4 medium sweet potatoes (3 lb.), scrubbed and left whole
1 tbsp. olive oil
2 tsp. kosher salt, plus more to taste
1 tsp. freshly ground black pepper
1⁄2 tsp. dill seeds
1 clove garlic, peeled
1⁄2 cup labneh
1 garlic clove, finely chopped
Chives, sliced into 1-inch lengths, to garnish
Instructions
Step 1
Position a rack in the center of the oven and preheat to 275°F. Line a large cast iron skillet with foil.
Step 2
To a large bowl, add the sweet potatoes, oil, 2 teaspoons of the salt, black pepper, and dill seeds, and toss with your hands to coat.
Step 3
Place the potatoes in the skillet and bake until caramelized on the bottom and tender when pierced with a fork, about 2½ hours. Keep the potatoes in the oven.
Step 4
Turn on the broiler and, watching the potatoes carefully, cook until lightly charred on top, 1–2 minutes. Use tongs to transfer the potatoes to a serving platter.
Step 5
In a small bowl, whisk together the labneh and garlic, and season with salt to taste.
Step 6
To serve, gently crush the potatoes with the palm of your hand to expose the potato's flesh, and season with salt to taste. Dollop each potato with 2 tablespoons of the labneh sauce, garnish with the chives, and serve immediately.