Slow-Roasted Sweet Potatoes with Garlic Labneh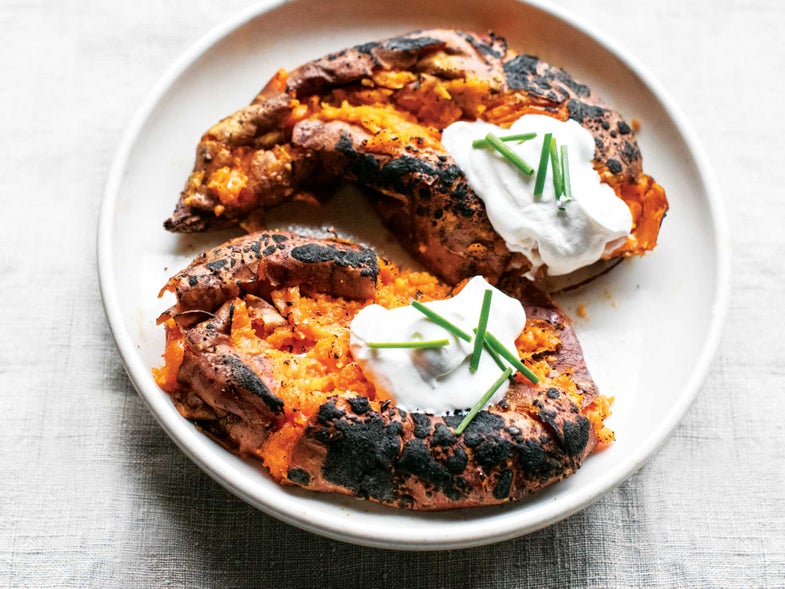 Inspired by the yams he ate at Miznon restaurant in Tel Aviv, Michael Solomonov of Zahav developed this recipe for sweet potatoes, rubbed with lots of salt and dill seed, slowly roasted until soft, and topped with a sharp, garlicky labneh to cut the potatoes' sweetness. Resist the urge to raise the heat and roast the sweet potatoes faster; their slow bake renders them incredibly sweet and tender, the hallmark of this simple dish.
Featured in: Eating Israel with Michael Solomonov
Slow-Roasted Sweet Potatoes with Garlic Labneh
Slow-roasting enhances the natural sweetness of this standout side dish or vegetarian entrée; labneh and quick trip under the broiler add tang and smokiness.
Time: 3 hours
Ingredients
4 medium sweet potatoes (about 3 lbs.), scrubbed clean
1 tbsp. olive oil
2 tsp. kosher salt, plus more
1 tsp. freshly ground black pepper
1⁄2 tsp. dill seeds
1 clove garlic, peeled
1⁄2 cup labneh
Chives, cut into 1-inch batons, to garnish
Instructions
Heat the oven to 275°. In a large bowl, rub the sweet potatoes with the olive oil, 2 teaspoons salt, the pepper, and dill seeds until evenly coated. Arrange the sweet potatoes on a foil-lined baking sheet and bake until very soft inside and caramelized on the bottom, about 2 1⁄2 hours. Heat the broiler and broil the sweet potatoes until lightly charred on the top, 1 to 2 minutes. Remove the sweet potatoes from the broiler and let cool for 10 minutes on the baking sheet.
Meanwhile, using a Microplane grater, grate the garlic into a small bowl, stir in the labneh, and season with salt. Transfer the sweet potatoes to a serving platter, gently crush with your hand to expose the potato's flesh, and season the flesh with salt. Dollop each potato with some of the labneh and sprinkle with chives before serving.