Sourdough Whole Wheat Waffles
Sourdough starter mixed into classic waffle batter gives a brightness, airiness, and—who knew?—exterior crunch to waffles that non-yeasted batters can't match. For this recipe by Stephen Jones of Washington State University's Bread Lab and Jeff Yankellow of King Arthur Flour, be sure to use a starter that's fully risen and made from equal parts whole wheat flour and water. (If you don't have whole wheat pastry flour, use regular whole wheat flour and loosen the batter with up to 1/2 cup more milk as needed in step 3.)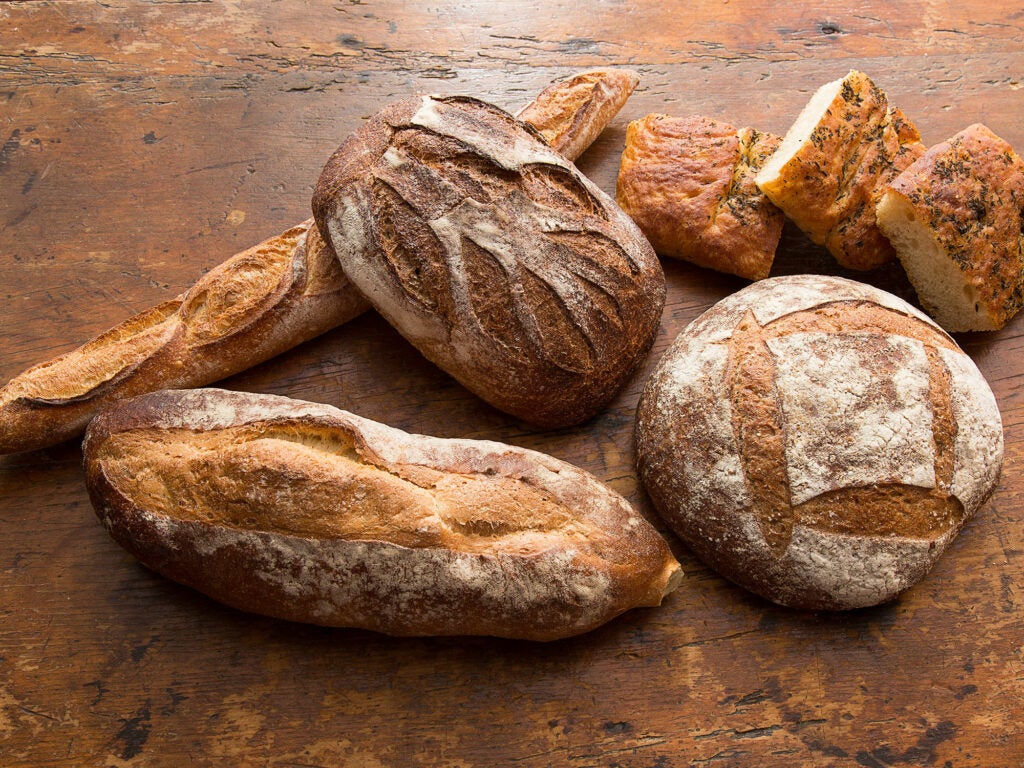 Essential info for filling your kitchen with the bubbly, sour-smelling, long-lasting basic building blocks of better dough
Read More: The Bread Lover's Guide to Raising Your Own Soughdough Starter »
Sourdough Whole Wheat Waffles
Sourdough adds a surprisingly crunch exterior to waffles like no other waffle batter can.
Yield:
makes six 5-inch waffles
Time: 30 minutes
Ingredients
1 cup milk, plus more as needed
1 stick (4 oz.) unsalted butter
1⁄3 cup mature whole wheat sourdough starter, risen and stirred down to the consistency of a thick batter
2 tbsp. plus 2 tsp. brown sugar
3⁄4 tsp. kosher salt
1 1⁄2 cups whole wheat pastry flour
2 eggs
1⁄4 tsp. baking soda
Mascarpone or crème fraîche, for serving (optional)
Brandied cherries, for serving (optional)
Instructions
The evening before you plan to make the waffles, in a small saucepan heat the milk and butter over medium heat until the butter is melted. Remove and let cool completely.
In a large (2-quart) liquid measuring cup or medium bowl, combine the milk mixture and the sourdough starter. Add the flour, sugar, and salt, and whisk to combine. Cover the batter and let rest at room temperature until risen dramatically, about 6 hours or up to 12. (Batter may begin to sink slightly in the center after rising, a sign that it has matured and is ready to use.)
Whisk the eggs and baking soda into the mixture. (The batter should run off the whisk, but just barely. If it does not, adjust the consistency with more milk.)
Bring a 10-inch square Belgian waffle iron up to its highest temperature setting. Add batter just to fill (do not grease the iron) and cook until golden brown and set, 3 to 5 minutes. Repeat with the remaining batter. Extra batter will keep for up to 6 hours in the refrigerator. (It will thicken and sour some. Just whisk it down gently before using.)
Serve the waffles warm, topped with a dollop of mascarpone and a few brandied cherries if desired.