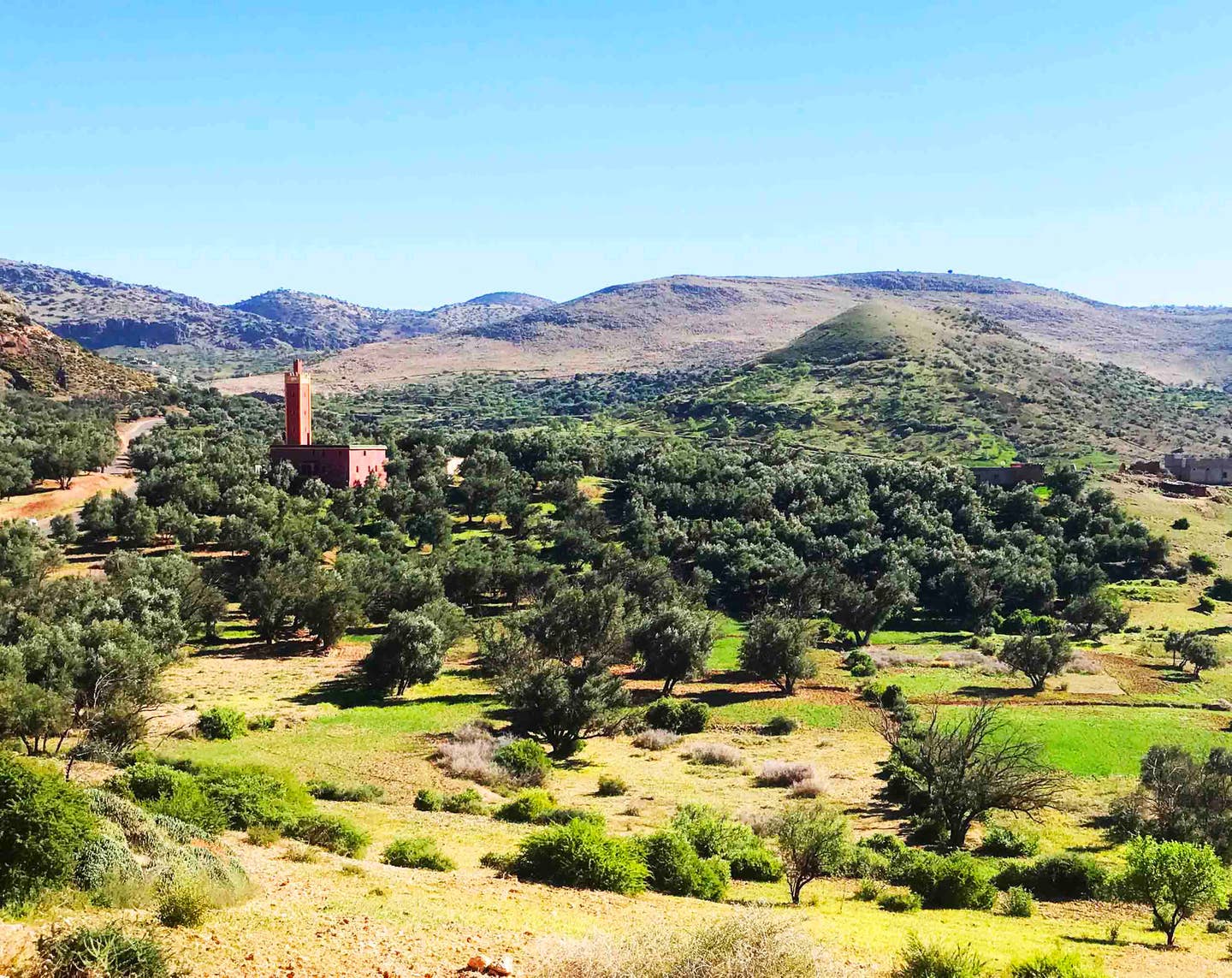 Travel
Morocco Gold: The World's Finest Extra-Virgin Olive Oil Comes From a Surprising Source
Ancient expertise and contemporary science meet in this ultra-premium Moroccan olive oil.
Olive trees dig their roots deep into the rich soil in the foothills of Morocco's Atlas Mountains as teams of harvesters pluck the fruit—just as people here have done for centuries. The mild winters, dry summers, and hot Sahara breeze blow over the coarse sand and rich clay, nurturing exceptionally flavorful olives and producing the high-quality oil used locally to dress mezze like fava beans and fluffy, wood-fired flatbreads.
While Italy, Spain, and Greece have long dominated the international conversation about top-notch olive oil, those countries often relied on Moroccan olives to bolster their own harvests. As the fourth-largest producer of olive oil globally, Morocco has supplied oil to the world with, until recently, little recognition of the quantity and quality of the country's bounty.
But in the last decade, the North African nation has more than doubled its percentage of oil exported in bottles rather than sold wholesale, introducing its premium oils to tables around the world. Morocco Gold embodies the very best of Morocco's extra-virgin olive oil.
Launched in 2018, Morocco Gold combines centuries of local cultivation and harvesting knowledge with rigorous traceability and quality assurance to bring what many Moroccans consider a "noble food" to health- and flavor-conscious food lovers everywhere.
Sharing the Flavor of the Foothills
A half-day's drive northeast of Marrakech, nestled in the early ridges of the Atlas Range, a unique, unspoiled valley in the Beni-Mellal region presents ideal conditions for growing the prized Picholine Marocaine cultivar. Cousin to the more widely known Picholine Languedoc from France, this local variety thrives in the region's arid climate, dominates the Moroccan olive oil world, and is renowned for its high polyphenol count, oxidative stability, and longevity.
Morocco Gold's extra-virgin olive oil is produced using only this cultivar, which imparts a distinctive green fruitiness, hints of sweet almonds, fresh turf, fresh herbs, and a "peppery" finish. It's this exceptionally well-balanced flavor profile that won the brand a gold medal for taste in the 2018 FoodTalk Awards.
Olive oil is a central ingredient in Moroccan cuisine, and throughout the Mediterranean region, so it's no surprise that Morocco Gold's award-winning flavor works perfectly in local specialties like zaalouk salad, lamb tagine, and hummus, all of which offer a taste of this special oil's culinary roots.
But it's not just savory food in which this product shines. SAVEUR's Editorial Director Kat Craddock likes Morocco Gold's buttery texture and flavor, which she describes as "peppery, with a hint of grassy bitterness," and "lovely in both sweet and savory applications." She recommends using it to roast any of the fall's finest seasonal ingredients, from winter squash and pumpkins to cabbage and cauliflower to root vegetables. Craddock also finds Morocco Gold to be a natural fit for the pastry kitchen, where it can be used to enhance aromatic pastries like thyme cake with figs and black pepper and even classic sweets like chocolate chip cookies and fudgy brownies.
Picholines and Polyphenols: Great Taste and Reported Health Benefits
For thousands of years, olive oil has basked in its reputation for bestowing strength, youth, and beauty. This reputation was initially based partly on the tremendous resilience and longevity of olive trees themselves: Through the harshest summers and winters, this hardy plant continues to grow strong and bear fruit.
More recently, nutrition experts have increasingly celebrated extra-virgin olive oil for its unique combination of flavor and health benefits. Many of these reported benefits—from improvements in heart health to reduction in diabetes risk—are linked to naturally occurring antioxidant compounds called polyphenols (which are also, incidentally, the source of that distinctive, peppery flavor). Oil produced from the Picholine Marocaine in particular—like Morocco Gold—is especially high in polyphenol levels. Furthermore, the Picholines used by Morocco Gold get an added boost from their unique terroir: The brand's partner farms are located in the Moroccan countryside, in a valley situated 2,000 feet above sea level. This region's soil and climate factor into producing a crop of olives exceptionally high in polyphenols, even by Picholine Marocaine standards.
A co-op of women harvesters pick the olives young and green, when the fruit produces less oil, but one more concentrated in flavor and polyphenols. They use flexible combs to gently remove the fruit into the nets below, never letting the olives come in contact with the ground, which helps keep the quality high.
From branch to bottle, Morocco Gold takes no shortcuts with provenance or quality control, even printing the analysis of the annual olive harvest on each bottle. Within 24 hours of picking, the olives are inspected, washed, drained, and stripped of leaves, twigs, and debris. During the cold-pressing stage, a metal hammer mill pulverizes the olives; the oil is then separated through the use of a centrifuge, quickly extracting the oil while at its best: As with any agricultural product, the best extraction comes from the freshest ingredients.
Before the oil even leaves Morocco, it is tested and closely inspected—first by the Office National de Sécurité Sanitaire des Produits Alimentaires (ONSSA), then tested again in the U.K. to International Olive Council standards. Throughout this process and straight to the table, Morocco Gold maintains full traceability to guarantee provenance, authenticity, and extra-virgin quality.
Centering Moroccan Olive Oil Expertise and Empowerment
It is believed that olive trees arrived in Morocco with the Phoenicians around the year 1000 BCE, so beginning millennia of tradition woven into the country's culture and cuisine. Traditional presses called maasras and centuries-old olive trees indicate just how far back the Sanhaja Berbers in the Beni-Mellal have depended on this crop, a long history which has resulted in a community rich in knowledge and expertise. In recent years, olive cultivation in the area has grown considerably, protecting the soil against erosion and playing a key role in providing employment, particularly for women.
Morocco's agricultural sector employs approximately 40 percent of the nation's workforce, nearly half of whom are women. Participating in local farming empowers Moroccan women, giving them influence over their household income and expenditures. These jobs reduce poverty at least twice as effectively as other initiatives by both raising household incomes and lowering food costs.
Morocco Gold goes a step further by working with harvesters from the Taytmatine Cooperative, an organization that works to provide local women with business and educational opportunities. The group, which also grows almonds and walnuts, extracts and sells oils locally and regionally. With the revenue earned from these endeavors, many members are able to pay for their children's education, and to help fund community infrastructure in remote villages, slowing rural depopulation into cities like Fez and Marrakech.
At the end of a busy harvesting day, these growers return home to sip mint tea with their families. They share khobz, a typical round loaf cooked in a wood oven, paired with garlic-scented green and black olives. The ingredients these women use to make traditional dishes like bessara—fava bean soup with olive oil, cumin and paprika—come from nearby, sometimes even their own gardens. Using Morocco Gold olive oil to dress your own salads and mezze, to roast fall vegetables, and to bake your holiday sweets, allows you to tap into that rich and healthful culinary heritage, even from half a world away.