Recipes
Chicken Tagine with Apricots, Figs, and Olives (Tagine Djaj Bzitoun )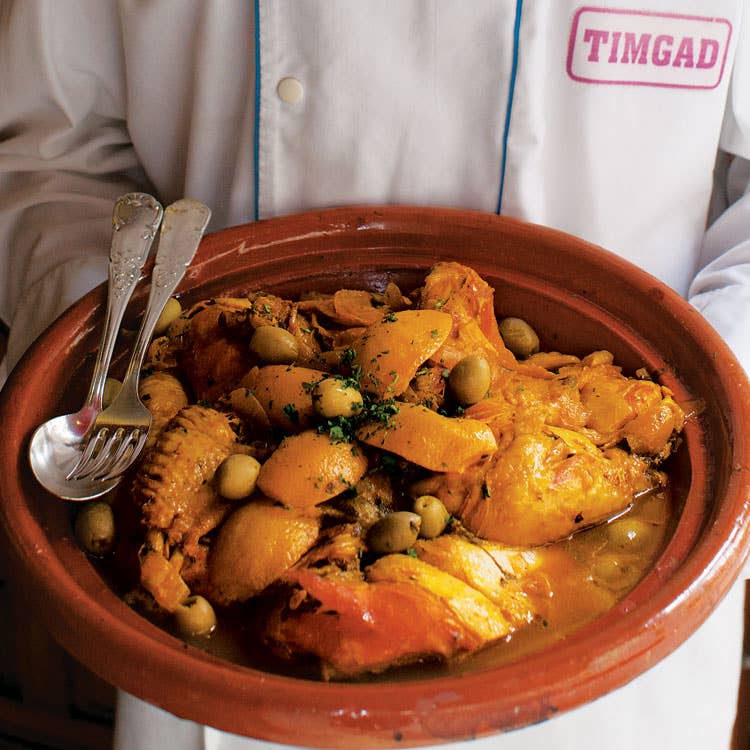 Briny olives, sweet apricots and figs, and tart preserved lemons flavor this aromatic North African braised chicken stew. This recipe first appeared in our November 2012 issue along with Jay Cheshes's story Couscous Royale.
Ingredients
2 tbsp. olive oil
1 (3 to 4-lb.) whole chicken, cut into 8 pieces
Kosher salt and freshly ground black pepper, to taste
4 tbsp. unsalted butter
4 cloves garlic, finely chopped
2 large yellow onions, finely chopped
2 bay leaves
1 tsp. ground cumin
1 tsp. paprika
1 tsp. ground cinnamon
1 tsp. ground ginger
1⁄4 tsp. crushed saffron threads
2 cups chicken stock
1 cup pitted large green olives
1⁄3 cup dried apricots, roughly chopped
4 dried Turkish figs, roughly chopped
2 preserved lemons, quartered lengthwise
1⁄2 cup finely chopped cilantro
3 tbsp. fresh lemon juice
Cooked couscous, for serving
Instructions
Step 1
Heat oil in a 6-qt. Dutch oven over medium-high heat. Season chicken with salt and pepper, and add to pot; cook, turning once, until lightly browned on both sides, about 10 minutes. Transfer to a plate, and set aside.
Step 2
Heat butter in pot, and then add garlic and onions; cook, stirring, until soft, about 15 minutes. Add bay leaves, cumin, paprika, cinnamon, ginger, and saffron, and cook, stirring, until fragrant, about 2 minutes. Return chicken to pot along with stock, olives, apricots, figs, and preserved lemons, and bring to a boil; reduce heat to medium-low, and cook, partially covered, until chicken is cooked through and tender, about 15 minutes. Stir in cilantro, and juice, and remove from heat; serve over couscous.