Spring Pea Soup with Leeks and Herbs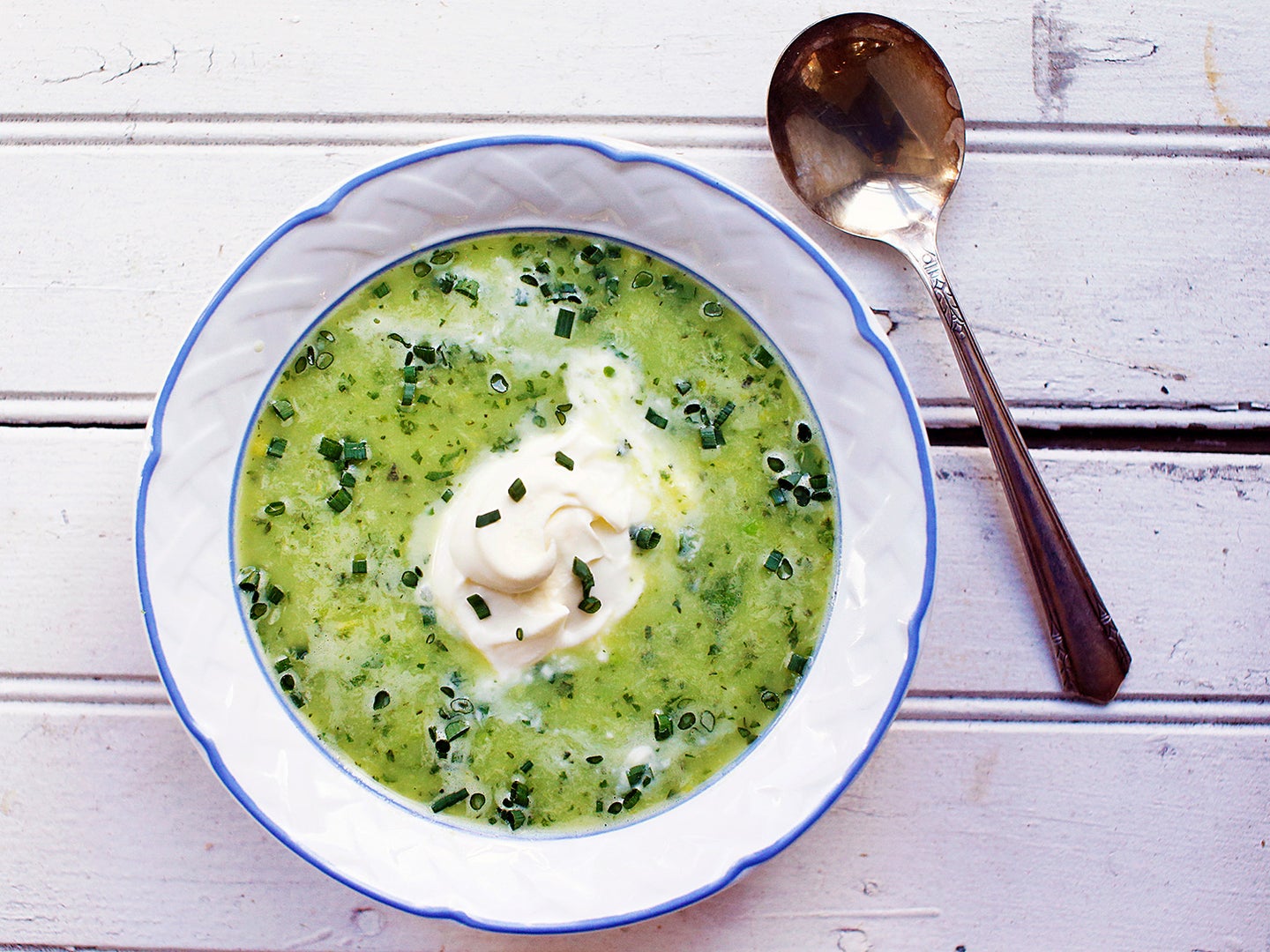 The lesson of this recipe, according to cookbook author Julia Turshen, is learning to embrace water as an ingredient. "When you use it as your cooking medium," she says, "the flavors of whatever you're cooking in it come through in a way that's so totally honest and straightforward. There's no hiding behind chicken stock." The leek greens and herb stems are simmered in water to create an aromatic infusion, which is used as the base of this vibrant green spring pea soup. It's equally delicious served warm or chilled.
Featured in: When Water Can Be the Key to More Flavorful Soups
What You Will Need
Spring Pea Soup with Leeks and Herbs
The fresh flavors of springs peas join leeks, parsley, mint, and basil in a vibrant soup that's excellent served hot or chilled
Time: 2 hours
Ingredients
2 large leeks (1 lbs. 14 oz.), split in half lengthwise and washed
2 Tbsp. Italian parsley leaves (sprigs and stems reserved)
2 Tbsp. fresh mint leaves (sprigs and stems reserved)
2 Tbsp. fresh basil leaves (sprigs and stems reserved)
3 Tbsp. unsalted butter
1½ cups (7½ oz.) frozen peas
1½ tsp. Kosher salt, plus more as needed
⅓ cup crème fraiche, for drizzling
Finely chopped fresh chives, for topping
Instructions
Coarsely chop the dark green leek tops, root ends, and tough outer layers and transfer them to a large pot. Coarsely chop the white and pale green parts and set aside. Add the stems from the parsley, mint, and basil to the pot along with the 6 cups cold water and 1½ teaspoons salt. Bring to a boil over medium-high heat, then turn the heat down to maintain a strong simmer. Cook until the greens are softened and the stock is flavorful, about 30 minutes.
Set a fine mesh strainer over a large, heat-resistant bowl. Strain the stock and discard the solids.
Rinse out the pot and wipe it dry. Return it to medium heat and when the pan is hot, add the butter; when the butter is melted and the foam is beginning to subside, add the reserved leeks, and a large pinch of salt and cook, stirring, until the leeks are softened and translucent but not yet beginning to color, about 10 minutes. Stir in the peas, then slowly pour in the warm stock, being mindful to leave any grit at the bottom of the bowl (the leek tops tend to hold onto some dirt). Turn off the heat and cool the soup to room temperature (the residual heat will finish cooking the peas).
Once the soup has cooled, add the parsley, mint, and basil to the pot. Using an immersion blender or a jug blender, purée the soup. Taste and season as needed with additional kosher salt.
To serve warm, reheat the soup gently over medium heat; or, alternately, chill at least 3 hours or up to overnight (season again before serving as cold temperatures tend to mute flavors). Whether you are serving the soup warm or cold, top each bowl with a tablespoon of crème fraiche and a sprinkle of chopped chives.