Drinks
In Defense of Demi-Sec: The Best Sweet Champagnes to Drink This Holiday Season
Get the lowdown on the demi-sec category from the experts.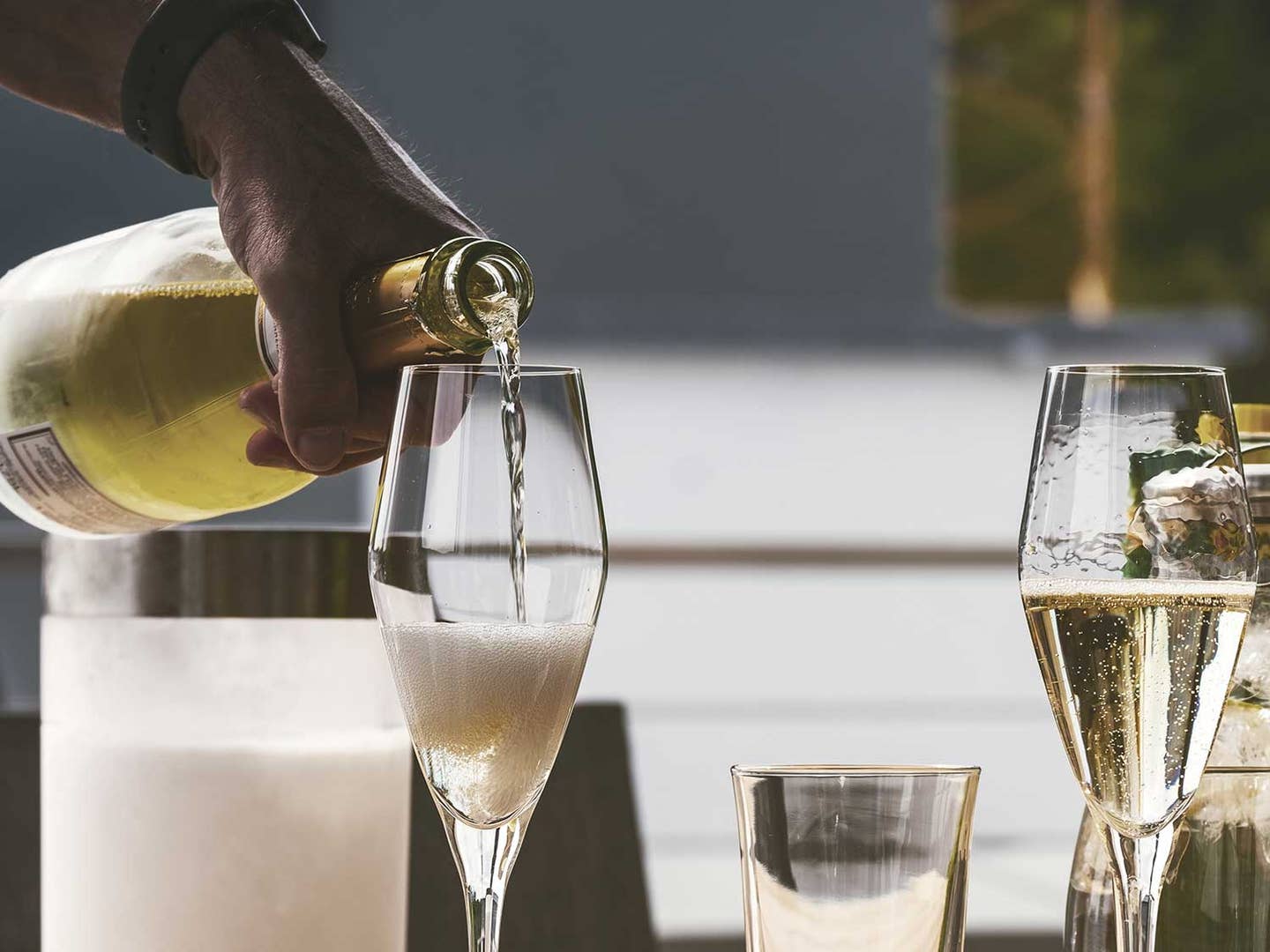 If you're a champagne drinker, you've likely encountered the not-so-sweet end of the sparkling wine spectrum. Over the course of the last century, palate preferences have leaned towards drier bubblies (mainly bruts), and in recent years, even more austere styles like brut nature have been all the rage. But it hasn't always been this way—in fact, sweet champagnes were the height of fashion throughout the 18th and 19th centuries, somewhat by default as dry styles weren't even introduced until the mid-1800s. As the holidays approach, and given that we're all in need of a little extra sweetness in our lives these days, I believe that these more honeyed, classic versions are due for a revival.
Still today, most champagnes—even the dry ones—do contain some degree of added sugar. Known as "dosage," this is introduced to the wine after disgorgement in order to counterbalance the wine's signature high acidity levels. Depending on the amount of sugar added, this practice can also be leveraged as a means of imparting some level of actual sweetness to the finished product. A winemaker once put it to me this way: dosage is to champagne what butter is to bread. The bread (or, in this case, the bubbly), whether so-so or exceptional on its own, could be potentially made better with a touch of something rich.
How much dosage is the right amount? What matters most is the winemaker's handiwork, and just as importantly, your personal preference. But whatever your tendencies, if you enjoy pairing wines with food, it's worth staying open to champagne's sugar-kissed styles—particularly demi-sec.
One of the more widespread styles of sweet champagne, demi-sec, by definition, contains a whopping 33 to 50 grams (around 3 tablespoons) of added sugar per liter; in comparison, bruts can contain no more than 12. But that doesn't mean demi-secs are heavy or cloying, as their bright acidity brings balance and lift, making the style surprisingly versatile. As an apéritif, demi-sec shines brightly alongside funky blue cheeses, grilled octopus, and anything buttery and salty (such as popcorn). Most often, though, it's a go-to pairing for desserts. Chicago-based wine and spirits educator Regine Rousseau recalls the golden rule taught to her by a mentor: However sweet the dessert, your wine must be sweeter. "Although demi-sec champagnes work well with delicious salty treats [like] mixed nuts, cod fish dips, and Chicago Mix popcorn, I reserve them for a little something sweet," she explains. And Rousseau isn't alone—sweet wines in general are known to render foods drier on the palate, which is why desserts benefit from balance in the form of a wine sweeter than the dish itself. If anything, venturing into the world of sweet sparklers is an opportunity to taste an excessive number of dishes with a variety of demi-sec champagnes, all in the name of "research". Here are a few expert-recommended bottles to get you started.
1. Beau Joie Sugar King Demi-Sec
If you're a fan of a bottle as lovely as its contents, Beau Joie is always a safe bet—the handmade latticed metal detail is a hallmark of winemaker Bertrand Senecourt's Special Cuvée collection, which is made up of a brut non-vintage, a brut rosé, and Sugar King Demi-Sec. In its limited edition black bottle, this golden-pink wine is a classic champagne blend of pinot noir, pinot meunier, and chardonnay. Lush and decadent with plenty of balancing acidity, it features prominent peach and dried apricot on both the nose and palate, along with generous pastry notes on the finish. Mercedes Cowper, an accredited sommelier and virtual wine tasting host in the Washington, D.C. area, shares some insight on pairing champagnes like this with savory dishes: "Personally, I love pairing a higher acid, off-dry to sweet wine with curries and spicy foods, especially if the ingredients have dried or preserved fruits in them." According to Cowper, these ingredients are complemented by the sweet, dried fruit characteristics often found in this style of champagne. Note that pairing a demi-sec with a main course can easily carry you and your dining companion(s) into the dessert course.
2. Billecart-Salmon Champagne Demi-Sec
For fans of Billecart-Salmon's classic brut bottling, the natural segue into sweet champagne will be the house's distinctive demi-sec. A high-dosage version of the brut blend, this demi-sec shares many of its drier cousin's same notes, like ripe pears and buttery pastry. Jamie Ritchie, Worldwide Head of Sotheby's Wine, shares what makes this demi-sec one of his personal favorite non-vintage champagnes: "It is full-flavored (think brioche, with the perfect balance of bubbles, acidity, and sweetness) so it is bright and refreshing, yet satisfying—and perfect with all types of pastries and desserts, from biscuits to chocolate cake."
3. Laurent Perrier Harmony Demi-Sec Champagne
Delicate is one of many words one might use to describe Laurent-Perrier's Harmony Demi-Sec Champagne, a bottle beloved by wine experts for its chardonnay-forward blend full of toasted nuts and dried fruit on both the nose and palate. If you have the willpower to cellar this bottle for a few years, it will reveal layers of honey and juniper, but nobody would blame you if you failed to let it get to that point. Whether you drink it young or not, Harmony is an insane value for the cost, perfectly creamy in texture yet light as a feather on the finish. It's a true treat, whether on its own, sipped with an unctuous, salty triple-crème cheese, or paired with a rich (but not overly sweet) dessert. "Try Laurent-Perrier Demi-Sec with a sweet potato pie or a Chicago-style cheesecake," says Rousseau, who assures SAVEUR that Chicago does, in fact, make the best cheesecake (and is not sorry, for the record). The jury's still out on that regional dessert debate, but if there's one thing we do know, it's that this pairing will leave you wanting a second serving (if not more).