Culture
Saag Paneer Is the Luscious Indian Comfort Food You Need
Essentially creamed spinach with cheese, this hearty Punjabi dish never fails to satisfy
Serves

serves 4

Cook

45 minutes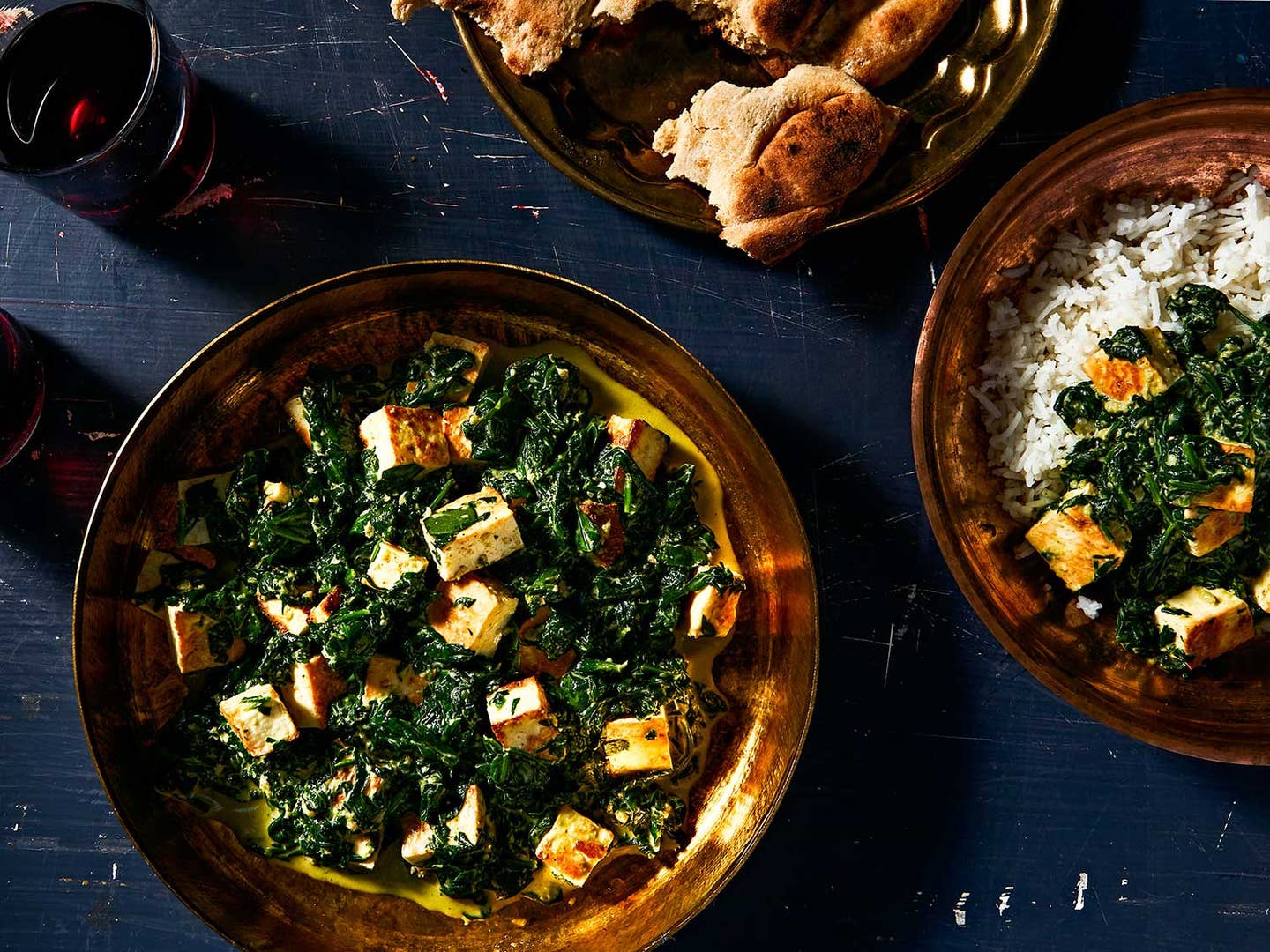 It's pretty much creamed spinach, says Simran Sethi, journalist and author of Bread, Wine, Chocolate, of saag paneer. The dish originated in Punjab, a state in northern India, which, as one of the most fertile regions on Earth, has a large agricultural sector. Leafy greens (saag) are smothered with butter or ghee, and chunks of fresh cheese (paneer), as hearty yet humble fare.
"It's essentially farmers' food," says Sethi. "For the love of god, don't turn this into a curry."
Regardless of its modest roots, saag paneer in all its creamy simplicity is a beloved dish in home kitchens as well as at Indian restaurants across the diaspora. However, there have been notable variations: the type of greens commonly used in North India for this dish are mustard greens, not spinach. This is called sarson ka saag in Hindi; versions of the dish made exclusively with spinach (palak) could be called palak paneer. According to Nik Sharma, author of Season and founder of the blog A Brown Table, mustard greens have a very different flavor and texture than spinach.
"Punjab is known for celebrating mustard greens quite a bit in their cooking," says Sharma, whose father hails from northern India and taught his mom to make the popular regional dish. "Most of the wasabi-ness of the mustard greens goes away after cooking, but it's just very different."
He recommends using a more bitter-tasting green for saag paneer, such as arugula or kale, and he has enjoyed using dandelion greens for it before.
Chitra Agrawal, author of Vibrant India, thinks that spinach was probably widely adopted by Indian restaurants in the U.S. for saag paneer simply because of its greater availability, as well as familiarity with diners. Whereas in northern India, mustard greens are readily available: "In the North, you will see mustard fields lined with yellow flowers, quite beautiful," says Agrawal, recalling a drive from Delhi to Jaipur. Her father is also from northern India, and Agrawal has made palak paneer from frozen spinach on her blog, The ABCD's of Cooking.
Aside from the greens, saag paneer is all about cheese—fresh Indian cheese, paneer. This is, to many cooks and eaters, the main attraction of the dish, the spoonful of sugar to get the medicine of leafy greens down. Those looking for an explosion of sharp cheesiness or a melty ooze, be warned: The cheese here certainly adds richness but most of all, a fun textural contrast, as the paneer stays firm, in solid chunks amidst the soft folds of leafy greens.
Paneer is sometimes referred to as "Indian cottage cheese," because of its fresh, unaged state, but that can be misleading. Rather than runny or loose, paneer is great for browning on a pan or grilling, like the Greek halloumi (an apt substitute if you can't find store-bought paneer, according to Sharma). Some cooks have recommended feta as a substitute, but that's if you want a much saltier cheese than paneer—and one that will melt, rather than retain its shape, in the leafy greens.
Or, you can always make your own fresh paneer using this recipe. It may have a softer texture than store-bought paneer, but you can be assured of its freshness when homemade. If DIY paneer sounds like too much of a project, rest assured that the dish works just as well using store-bought cheese. There is also no shame in using frozen spinach instead of fresh. This was, after all, originally a humble dish for farmers. Make it the way it works best for you.
Paneer starts with milk—get whole milk for the creamiest flavor, preferably from grass-fed cows. Once it almost comes to a boil (watch and stir often to prevent it from scorching), add lemon juice and stir until you see large curds forming. If you've ever made fresh ricotta or mozzarella, it's the same process up until here!
Pour your curdled milk into a pot lined with a double-layer of cheesecloth and gently squeeze out the liquid.
Now, you'll want to tie the corners of the cheesecloth to make a sack of the curds, and tie the loose ends of the cloth to a wooden spoon. Suspend the spoon over a deep pot or bowl so that the cheese can drain, about 1½ hours. Then, transfer your cheesecloth-wrapped curd bundle to a plate, loosen the bundle, and place a heavy pot on top of the cheesecloth for 30 minutes to compress the cheese.
Congratulations, you've made paneer! Now let's get it nice and crispy. Cut your flattened wheel of cheese into ½- to 1-inch cubes. Heat your ghee on a heavy-bottomed pan, such as a cast-iron skillet. Working in batches to fit all the paneer pieces with enough space to move around, brown each side.
Delicate spinach leaves require little help to cook down into a creamy bliss. Beforehand, purée some garlic, fresh ginger, and chiles along with ¼ cup water in a blender or food processor. This will give your dish a silky-smooth texture and appearance. Then, add the ginger-garlic paste to the same skillet that you cooked the paneer in, along with some more ghee. Add the spinach and cook until very soft, about 15 minutes. (If using a tougher green such as mustard greens or kale, you may want to return this to the blender and pulse a few times at this point, for a smoother consistency.)
Envelop with Richness, and Spice
Add cream, garam masala, cayenne pepper, and salt to taste. Now, return the paneer to the skillet along with the greens and cook on low heat, covered, for about 15 minutes.
This will meld all the flavors and allow the liquids to thicken. It should still result in a very soupy, saucy mess that's perfect to soak up with flatbread or rice. Saag paneer makes a great vegetable side dish as part of a multi-course meal. Or it can be your simple meal on its own—can't lose either way.
Ingredients
For the cheese (or substitute 7 oz. store-bought paneer)
8 cups milk
¼ cup fresh lemon juice
6 Tbsp. ghee or canola oil
For the spinach
4 cloves garlic, chopped
One 1-inch piece ginger, peeled and chopped
1 serrano chile, stemmed and chopped
6 cups finely chopped spinach
Kosher salt
6 Tbsp. heavy cream
½ tsp. garam masala
¼ tsp. cayenne
Indian flatbread or rice, for serving
Instructions
Step 1
Make the cheese: Line a colander with 8 layers of cheesecloth, draping it over the sides, and set in a sink. In a large, nonstick pot over medium-high heat, bring the milk to a full boil, stirring often with a wooden spoon to prevent it from scorching on the bottom. Stir in the lemon juice, then lower the heat to medium-low and cook without stirring just until large curds form, about 30 seconds. Remove from the heat and set aside, without disturbing for 2 minutes, then pour the milk mixture into the colander. Gather the corners of cheesecloth together and gently squeeze out some of the excess liquid. Tie the opposite corners of the cheesecloth together to make a sack, and hang it from a large kitchen spoon suspended over a deep bowl. Set aside at room temperature until the excess liquid has thoroughly drained from the cheese, about 1½ hours. Transfer the sack to a plate, untie the cheesecloth, and loosely drape the corners over the cheese. Place a large heavy pot on top of the cheese, then set aside at room temperature to compress for 30 minutes more. Remove the pot and unwrap the cheese. Cut into ½-inch-by-1-inch pieces.
Step 2
In a 12-inch nonstick skillet, heat the ghee over medium. Working in batches, add the cheese and fry until golden brown, about 6 minutes. Using a slotted spoon, transfer the cheese to a plate and set aside; reserve the skillet with ghee.
Step 3
Make the spinach: In a blender, combine the garlic, ginger, chile, and ¼ cup water; purée into a smooth paste. Return the skillet with ghee to the stove, and heat over medium-high. Add the ginger-garlic paste and cook, stirring, until fragrant, about 30 seconds. Add the spinach, salt to taste, and cook, stirring often, until the spinach wilts, about 1 minute. Reduce the heat to medium-low, cover, and cook, stirring often, until the spinach is very soft, about 15 minutes. Stir in the cream, garam masala, and cayenne. Add the cheese to the skillet, cover, and continue cooking until the liquid thickens and spinach is soft, about 15 minutes more. Serve with flatbread or rice.