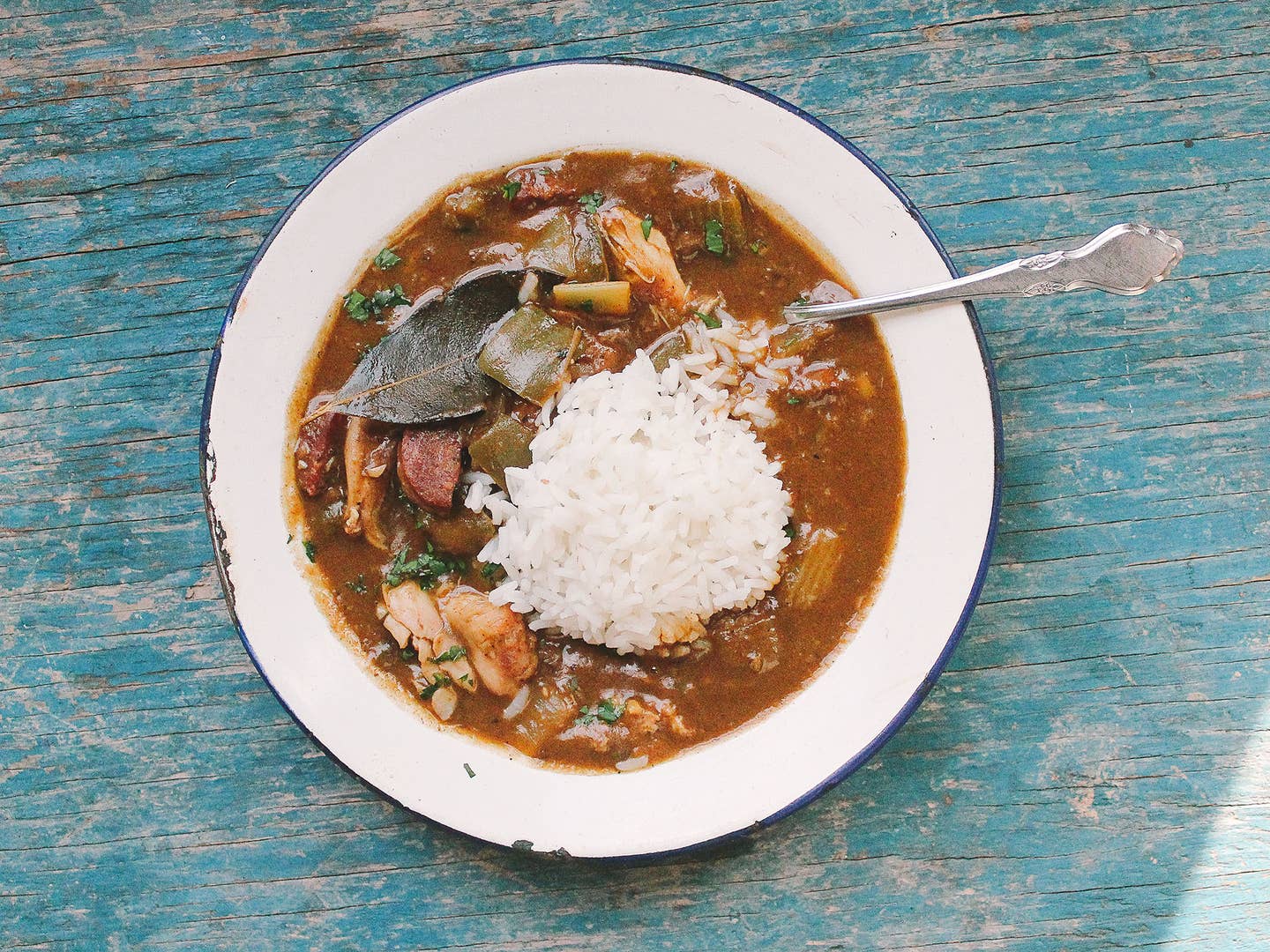 Culture
Eating in the Street: A New Orleans Breakfast Gumbo Tradition
The heart of Louisiana cuisine, a carefully crafted bowl of gumbo is the perfect eye-opener to kick off Mardi Gras morning.
Even a casual gumbo eater might raise an eyebrow at the thought of a breakfast gumbo. "Eggs? Bacon? What?" Don't worry, this is not a stunt recipe to reinvent traditional gumbo with breakfast ingredients—my New Orleans citizenship would probably be revoked. That said, gumbo doesn't have to be confined to dinner. The heart of Louisiana cuisine, a thoughtfully crafted bowl of gumbo is the perfect eye-opener to kick off Mardi Gras morning.
Mardi Gras, of course, needs no introduction, but how many people start celebrating the day before?
In recent decades, Lundi Gras has become a major part of New Orleans' Fat Tuesday festivities. The "Fat Monday" celebration, which takes place on the Mississippi riverfront, commemorates the arrival of that year's King and Queen of Zulu, symbolic monarchs presiding over the citywide revelry. Like the rest of the local Mardi Gras festivities, Lundi Gras has been canceled this year as a result of the pandemic. Ordinarily, it's a colorful and boisterous celebration of local music, art, and performances organized by The Zulu Social Aid & Pleasure Club, the local Black-run community group also behind the world-famous Zulu krewe parade. Combined, the two events are a spectacle of culture, grass skirts, and a shower of colorfully painted coconuts thrown into crowds in place of the beaded necklaces ubiquitous at the other events around town.
Lundi Gras is also a day of tough decisions: Which parties (and afterparties) do you attend? What's the game plan for the next day? Events last late into the night, so enjoying the Zulu parade on Tuesday morning can be challenging. What time do you go home—if at all—so you can be sure to find a choice vantage point for the parade in the morning? A dedicated few (my friends and I among them) take extreme steps; we have a tradition of setting up an overnight camp along the parade route on St. Charles Street's "neutral ground", Mardi Gras-speak for the median in the center of New Orleans' widest streets. Here, there's always plenty of space to carrouse with our crew and tend to our bubbling pots of gumbo.
For us, the Mardi Gras breakfast gumbo is usually sort of the main event (besides the Zulu krewe, of course.) Now, don't let the "breakfast" in its name fool you—we don't adulterate our legendary state dish with eggs and bacon. We stick to the classic: We start with a strongly flavored stock, made with either seafood, chicken, sausage, or even rabbit, which we thicken with dark roux, tender okra, earthy filé powder, or some combination of the three.
A dish that combines ingredients and techniques from so many different influences, gumbo has long been a powerful symbol for the blend of African, Native American, and European culinary practices that infuse and inform Louisiana's cuisine.
Like any good soup or stew, the dish requires plenty of time to bring out its deep, rich flavors; preparation is key. So what better time to start slowly nurturing that cauldron of Mardi Gras gumbo than on the night of Lundi Gras, on our patch of neutral ground?
When we first started our breakfast gumbo tradition back in 2009, my friends Anthony and John and I were in college. We had started a catering company on the side that year and had been hosting pop-up events all over the city, so we already had all the necessary equipment to cook right on the street.
But cooking a proper, party-sized gumbo outdoors in the dark? Advance planning would be vital. We were aiming for freshness—which meant there could be no pre-cooking—so we packed up our ingredients: green peppers, onions, and celery, along with andouille sausage, chicken, and plenty of homemade stock. We also brought along an arsenal of cutting boards, burners, pots, and pans. We set up camp at around seven o'clock that night, getting caught up in the tail end of a few of the day's final parades before the real work started. By nine, as the other revelers dispersed to the evening's after-parties, our heavy lifting began.
First, I got a roux going: I lit one of our gas burners to warm some butter, stirred in a scoop of flour, and cooked the mixture gently until it turned toasty and nut-brown. As our Holy Trinity of diced onions, peppers, and celery softened in the roux, Anthony lit another burner, seared off the andouille, then browned a heap of chicken thighs in the sausage fat that remained. He then set the meats aside in a hotel pan, while he deglazed the pan with stock, scraping the crispy sausage and chicken bits into the liquid. We transferred this steaming, flavor-boosted broth into my stockpot of roux and veggies.
Once the aromas of our cooking permeated the streets, we perked up at the thought of warm, fresh gumbo for breakfast. Drawn by the smells from our set-up, late night party goers and our fellow campers started popping by to ask if we had any gumbo to share—too soon. There are many ways to make a good gumbo, but none of them are fast: It's essential to give it plenty of time to simmer and to develop its full flavor. As New Orleans' cold night air set in, we rotated shifts, stirring the pot and keeping an eye out for any passers-by who might try to help themselves to a bowl. By four or five in the morning, we were hungry, tired, and longing for a taste. But then, by six, as the morning parade crowd started to arrive and families began setting up their kids' controversial and colorful ladder chairs, we got back into our groove.
Crowds began gathering around us, so John weaseled through the throngs for a much-needed coffee run while Anthony and I manned the rice, gumbo's classic dance partner. Exhaustion is no excuse for mushy or undercooked rice, and since we were making such a huge batch of gumbo (60 quarts!), attention to detail at this point was critical.
Around us, police sirens began to sound, the first sign that the day's inaugural parade would soon thunder by. In the distance, we heard the growing rhythm and beats of Zulu's marching bands, signaling it was time to taste our hard-earned gumbo. After a restless night, was it finally ready? Did we add the chicken and andouille at the right time to avoid an oil slick floating on top? Was the roux-thickened broth homogenous and smooth? Was the okra subtle, or was it sticky and gelatinous?
With my first taste, I knew we had hit the mark. Our breakfast gumbo was deeply flavored, with a rich broth and all the hallmarks of a true, classic gumbo.
We soon found ourselves surrounded by thousands of parade-goers, asking us why we were making gumbo for breakfast. "Why are you drinking beer for breakfast?" I joked back, the smiles and good vibes already flowing. Anyone who wanted gumbo got a bowl; this is why we brought the big pots, after all. We took turns doling out servings from the pot, layering heaping scoops of rice with generous portions of gumbo, and topping it all with a handful of diced green onion.
Over the din, we kept hearing some version of "this is the best breakfast I've had." As the beads and coconuts started flying off of the floats, it was finally time for us to enjoy the fruits of our labor. We ate quietly, taking it all in: the richness in our bowls, the cacophony around us. Like other New Orleanians, I'll be missing Zulu (and partying with my friends) this year—but luckily our celebratory dish scales down to a home-sized batch just as well. Mardi Gras comes but once a year, and with it, breakfast gumbo.
Bryan Ford is a baker, chef, and writer living in New Orleans. He is the author of the best-selling cookbook, New World Sourdough, and owner of the blog Artisan Bryan.