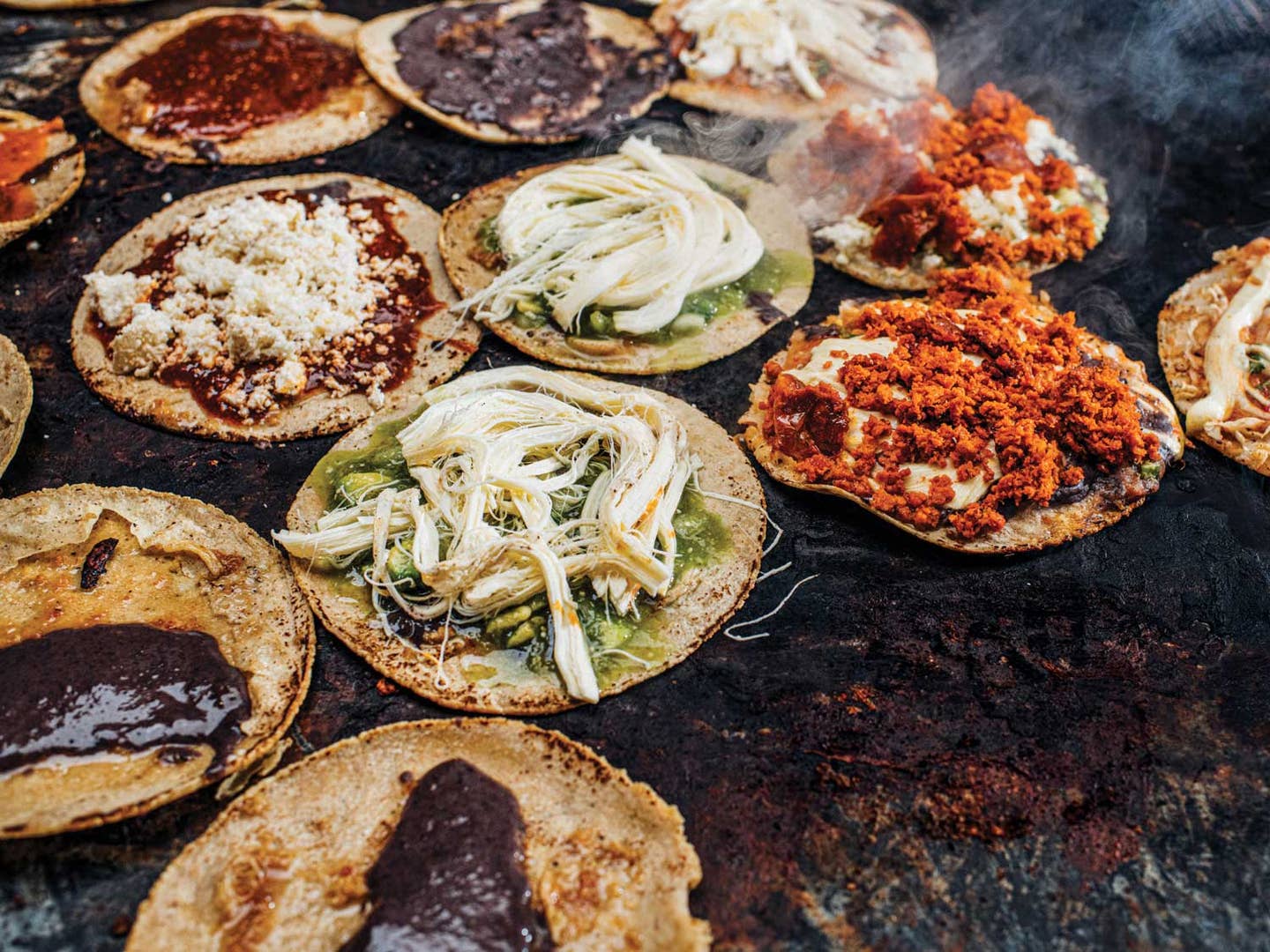 Travel
Return to Oaxaca
In 1994, Bricia Lopez's family left Mexico for the US, but her connection to Oaxaca lived on through their Los Angeles restuarants.
When my father moved our family from Oaxaca to Los Angeles in 1994, he told us we would only be there for a year. I was 9 years old then, excited to learn a new language and enamored with the America I saw on TV shows like Saved by the Bell and Full House. I said goodbye to my school friends and the neighborhood kids, telling them I'd be back soon, not realizing that one year would become 25 in the blink of an eye.
Our life in Oaxaca had been simple. My dad traveled from town to town, selling his mezcal. My mom cooked, cleaned, sewed, and tended to me and my three siblings. We spent weekends and holidays at my maternal grandmother's house in San Pablo Villa de Mitla, a small town an hour outside the city. The long braids my grandma wore every day, each interwoven with a brown ribbon, always smelled of smoked pasilla chiles; her hands were coarse from decades passed in front of the comal, making corn tortillas.
In the 1990s, the Mexican economy was in crisis. Oaxaca, already among the nation's poorest states, was hit particularly hard, and my father, just one of many Oaxaquenos who sought work in the United States. "We all said we'd leave for a year or two at most," he admits. "But we got caught up in the American way of life."
Shortly after settling in Los Angeles, my parents opened Guelaguetza, a restaurant in the heart of Koreatown. Although things were slow at first, the restaurant began to flourish once local paisanos learned that there was finally real Oaxacan food in LA. The money my father intended to save for his mezcal business back home was instead invested in a second restaurant, and later a third, fourth, fifth, and sixth.
Then, in 2008, the Great Recession struck the United States, and our lives were again upended. Over the next few years, my parents shuttered one restaurant after another, until only the original Guelaguetza survived. My siblings and I had grown up there, bussing tables and doing schoolwork in the kitchen. None of us ever played sports or musical instruments, but we were skilled hostesses, servers, and cooks from a very young age. Which is probably why we dreamed of running away to cushy corporate jobs. Yet the moment our mom and dad—battered by the process of closing five restaurants—told us they were ready to retire, my siblings and I realized we were ready to step up. In 2012, we bought Guelaguetza from our parents, and they went back to Oaxaca.
That's the thing about Oaxaca: You can leave it, but it never leaves you. Known as the "land of the seven moles," Oaxaca is also the land of the Zapotec, Mixtec, Mazatec, Mixe, and other proud indigenous peoples. Because the Spanish ruled some rugged pockets of the state in name only, its culture remains closely tied to ancient flavors, techniques, and ingredients. Native corn, chiles, agave, and cacao form the bedrock of Oaxaca's cuisine, as well as its agricultural economy and strong sense of community.
The name my father chose for our restaurant speaks to the soul of Oaxaca. Zapotec in origin, guelaguetza means "to give or share." It describes an ongoing ritual of kindness, of helping your neighbor no matter how little you may have. The Oaxaqueños who emigrated to America during the 1990s and 2000s brought this spirit of generosity with them, introducing the larger world to something even warmer, deeper, and more complex than mole or mezcal. And it may explain why these unwitting Oaxacan ambassadors are now returning to a state with a burgeoning tourism industry and increased economic opportunities.
Nineteen years ago, Eduardo Ángeles was cleaning carpets in Huntington Beach, California, when his landlord, also a Mexican immigrant, presented himself as a cautionary tale—urging Ángeles to prioritize passion over the next paycheck, or risk winding up alone in a foreign country with nothing to show for his work. Within a month, Ángeles was back in the Oaxacan town of Santa Catarina Minas, helping his father run the family's mezcal brand. In 2014, the fourth-generation mezcalero debuted his own mezcal, Lalocura, to widespread critical acclaim. Ángeles shrugs off the glowing reviews, and his master distiller title. "At the end of the day, we are all farmers," he insists.
José Melchor Pérez, who farms tomatoes in the Oaxacan town of San Pablo Güila, credits a few less-than-happy years in America with his success. It was while picking produce near San Jose, California, that Melchor Peréz first encountered a greenhouse. Today, the agricultural partnership he founded, Daan Llia, claims more than 300 greenhouses that yield approximately 3,000 tons of produce a year. Together, he and the partnership's other members employ at least 800 local people, 75 percent of them women. What Melchor Peréz really aims to cultivate, however, is hope for Oaxaca's future. "Kids won't have to leave anymore," he explains, "because they can call this project their own."
I could go on and on, telling you about Omar Alonso, who returned from California and founded the tour-guide company Oaxacking, or about Miguel Martínez Cruz and Mario Cruz Santos, who used savings from their stint in the States to establish Ilegales, a pub that serves burgers, beer, and a wide variety of mezcal. But I'd rather you visit Oaxaca and see these things for yourself.
I still live in Los Angeles, so the time I spend in Oaxaca invariably ends at the airport, with a stop at nearby Alfonsina for my final meal. Jorge León and his mother, Elvia León Hernández, serve customers out of their home kitchen, offering her memelitas and various egg dishes for breakfast before he takes charge at night. A Oaxacan returnee of a different sort, León left for Mexico City, where he cooked at Pujol, one of the country's most famous restaurants. His tasting menu at Alfonsina reinterprets Oaxacan traditions and ingredients in an incredibly sophisticated way.
It is a beautiful thing to witness, two generations sharing one Oaxacan kitchen, combining past and present. And it makes me think about my relationship with my parents and with my 4-year-old son. I almost always bring him along when I visit my mom and dad, which I do often. They live now on my late grandmother's land in San Pablo Villa de Mitla, in a newly built house, dubbed Casa Elizabeth in her honor.
There, my mother makes enfrijoladas and squash-vine soup, accompanied by tortillas cooked on the wood- fired comal out back. When my father brings the food to the table, my boy digs in with both hands. Will he, too, I wonder, remember his grandma's hair smelling of smoked chiles?
I want my son to know my Oaxaca—the Oaxaca that embraces the future while honoring tradition, especially the tradition of guelaguetza, of putting other people's needs before your own. I want him to know that until you understand where you came from, you cannot figure out where to go next. I want his love for this sacred place to run as deep as mine.