Recipes
Chicken with Chipotle Mole (Pollo Enchipotlado)
Chicken simmered in an easy chipotle and onion mole sauce is one of Bricia Lopez's classic Oaxacan comfort foods.
Serves

serves 4

Cook

1 hour 50 minutes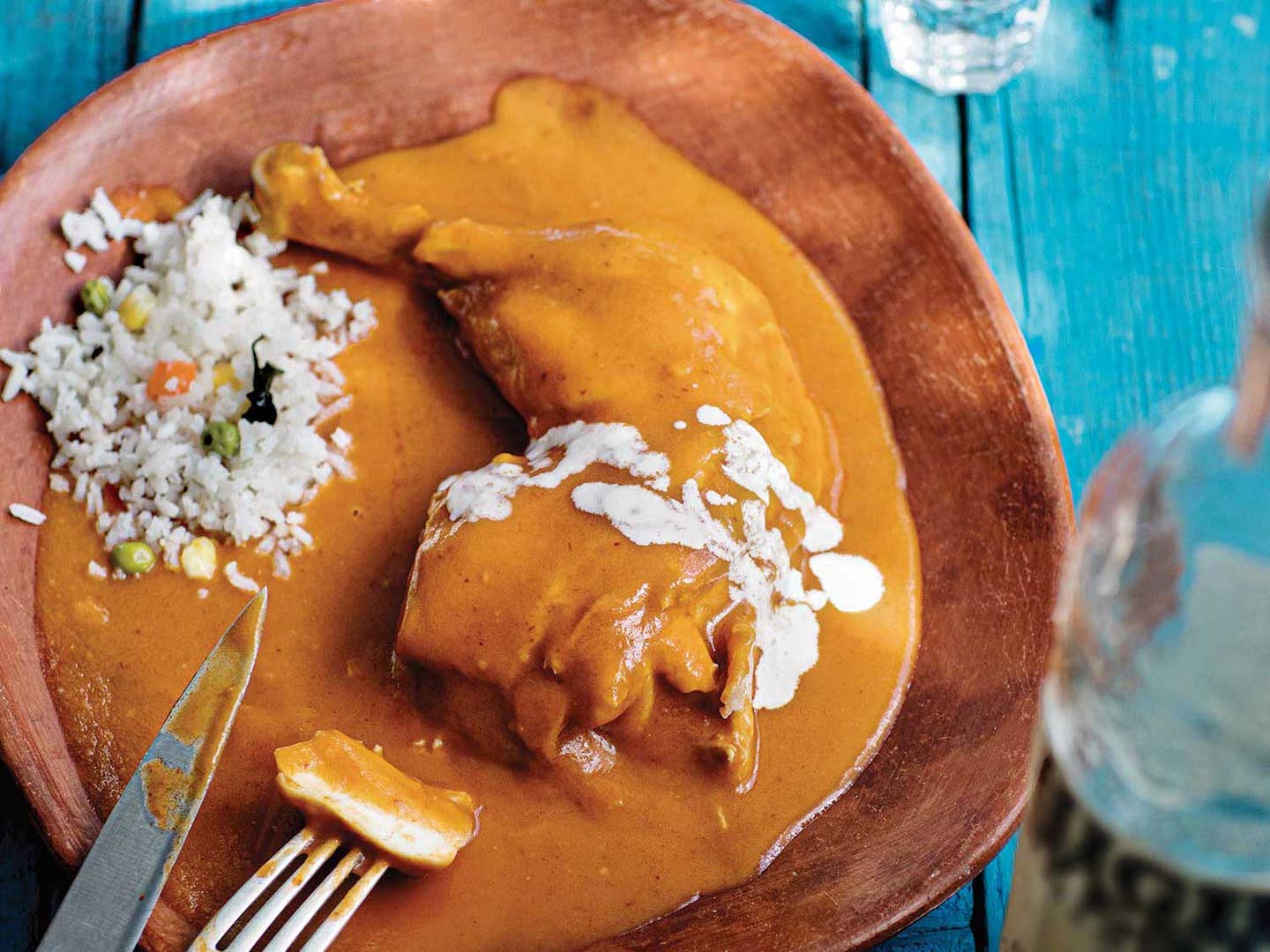 This is an everyday dish for author Bricia Lopez's family. The creamy sauce, similar to a tinga, is rarely found in restaurants in Oaxaca. Rather, it's more of a dish to be cooked and eaten with loved ones at home.
Ingredients
One 2–21/4 lb. chicken, butchered into 8 pieces and skin removed
Kosher salt and freshly ground black pepper
2 Tbsp. Dijon mustard
2 lb. Roma tomatoes, coarsely chopped (5¼ cups)
¼ cups finely chopped white onion
4 medium garlic cloves, peeled
3 whole canned chipotles in adobo, plus 2 Tbsp. adobo sauce
1 Tbsp. olive oil
1 Tbsp. unsalted butter
3 bay leaves
Mexican crema, for drizzling
Warm corn tortillas, for serving
Instructions
Step 1
Season the chicken generously with salt and ground black pepper, then rub with the mustard. Set aside to marinate for 10–15 minutes.
Step 2
To a medium pot, add the tomatoes and enough cold water to cover them. Bring to a boil over medium-high heat and cook, stirring occasionally, until the tomatoes have softened and the liquid has reduced slightly, 10–15 minutes. Remove from heat and drain the tomatoes, discarding any remaining cooking liquid. Transfer the tomatoes to a blender and set aside.
Step 3
Preheat a broiler to its highest setting. Meanwhile, spread the onion out on a small baking sheet. Broil, stirring occasionally, until lightly charred all over, 6–10 minutes. Add the garlic and broil 3–7 minutes more, then transfer to the blender with the tomatoes. Add the chipotles and adobo, and blend until very smooth. Place a fine mesh strainer over a large bowl and use a small ladle or a silicone spatula to press the mixture through it.
Step 4
In a large deep skillet or wide pot, heat the oil and butter over medium-high heat. When it just begins to smoke, add the marinated chicken pieces in a single layer and cook, turning occasionally, until deep golden brown all over, 8–10 minutes. Add the reserved sauce to the skillet along with the bay leaves and stir well to submerge the chicken. Bring to a boil, then lower the heat to maintain a strong simmer. Cook, stirring occasionally, until the chicken is tender and cooked through and the sauce has thickened, 15–20 minutes. Drizzle with Mexican crema and serve with warm tortillas on the side.