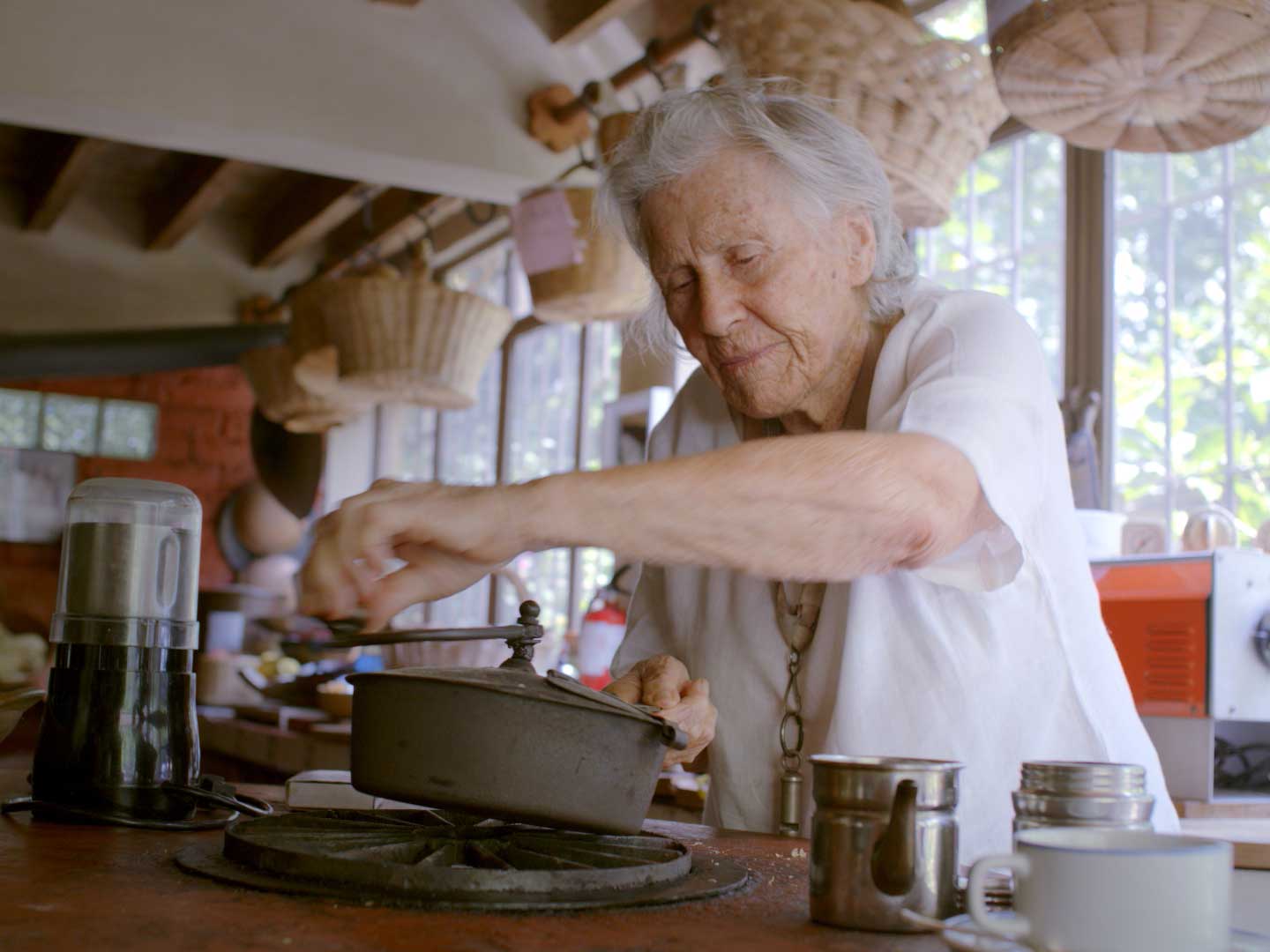 Culture
What Diana Kennedy Taught Us About Appreciation vs. Appropriation
For an unvarnished—foul mouth and all—look at the life of this legendary culinary anthropologist, watch Elizabeth Carroll's new documentary, which starts streaming on June 19th.
In the opening scene of Diana Kennedy: Nothing Fancy, the 97-year-old culinary anthropologist performs her morning exercise ritual from bed—sleep socks still on, legs scissoring in the air. It's a rare moment of calm in an otherwise turbulent life. One that remains ongoing. After 60 years studying the regional cuisines of Mexico, and publishing nine books on the subject, Kennedy is not done yet. When she is, the Englishwoman informs the camera, it will be on her own terms.
"She wants things her way in life and death," says director Elizabeth Carroll, who was granted access to Kennedy's eight-acre ranch outside Zitácuaro, Michoacán, in western Mexico, while filming the documentary (which takes its title from Kennedy's nostalgic 1998 book on comfort food.) "Being in Diana's orbit is always intense."
Talk about an understatement.
Chef José Andrés has described Kennedy as the "Indiana Jones of food." She belongs to a cadre of cookbook writers—including Julia Child, Karen Hess, and Paula Wolfert—who devoted their careers to championing other cultures, teaching us history and appreciation rather than appropriation. Among all of them, Kennedy is likely the most scrupulous about crediting sources, acknowledging pioneering author Josefina Veláquez de León, as well as the matchless 19th-century volumes on Mexican cooking in her own archives. The earliest, 1828′s Arte Nuevo de Cocina y Reposteria Acommodado al Uso Mexicano, is so rare, only one other known copy exists. Last year, Kennedy sold her personal papers to the John Peace Library at University of Texas, San Antonio, one of the finest resources for studying Mesoamerican culinary arts. (I spent several days with Kennedy in the Special Collections vault, right before she said farewell to her prized books.) She also hopes to turn her ranch, Quinta Diana, with its antique pottery and time-worn kitchen gadgets, into a foundation for Mexican culinary education.
Kennedy's response to the current controversy over a dish like #thestew would be unsuitable for family viewing. Then again, Carroll's documentary captures Kennedy in all her foul-mouthed glory, especially when triggered by those less meticulous about method. She is downright ruthless in her criticism, and unapologetic in her tastes. No one escapes her censure of lazy field-research or poorly executed dishes. Not even Saveur. She once gave this magazine a tongue lashing for putting enchiladas on the cover.
---
Diana Kennedy: Nothing Fancy follows its subject to Puebla and Oaxaca as she bounces at breakneck speed along rough roads in her trusty Nissan pickup truck, terrifying other motorists who dare get in the way. It celebrates with Kennedy when she receives a James Beard Cookbook Hall of Fame award for The Cuisines of Mexico. Archival footage traces her personal development—from a stint in the British Women's Timber Corps amid World War II to her resettlement in Mexico's Sierra Madre Occidental after the early loss of her husband, a dashing foreign correspondent she met while stranded in Haiti during 1957.
"In a certain way, she got robbed by fate," says Carroll. "She found the love of her life, and suddenly, tragedy strikes, and he's gone. I can only imagine how I would change and shift emotionally."
"I've led a very funny life," Kennedy admits in the film.
One of her legacies will be serving as a vital link between the past, as represented by Veláquez de León, and present torchbearers, including Gabriela Cámara, Pati Jinich, Bricia Lopez, and Abigail Mendoza. While the film celebrates Kennedy for making Mexican cooking more accessible to an English-speaking audience, her unfiltered and obsessive personality has also garnered criticism and ignited famous feuds. At the beginning of the film, journalist Craig Claiborne, who encouraged Kennedy to write her first book, is quoted: "If her enthusiasm were not beautiful, it would border on mania."
I certainly witnessed this firsthand when she chewed out a San Antonio pitmaster for his Tex-Mex version of pico de gallo. But she also signed my copy of The Art of Mexican Cooking, and will remain an inspiration to other culinary anthropologists.
During the film's hilarious tutorial on guacamole, Kennedy insists: "If people say they don't like cilantro, please don't invite them."
Diana, as always, plainspoken.