Yucatecan Tostadas Calabacitas Fritas
From the cantinas of Yucatán, calabacitas fritas is the savory squash salsa you'll be scooping atop everything.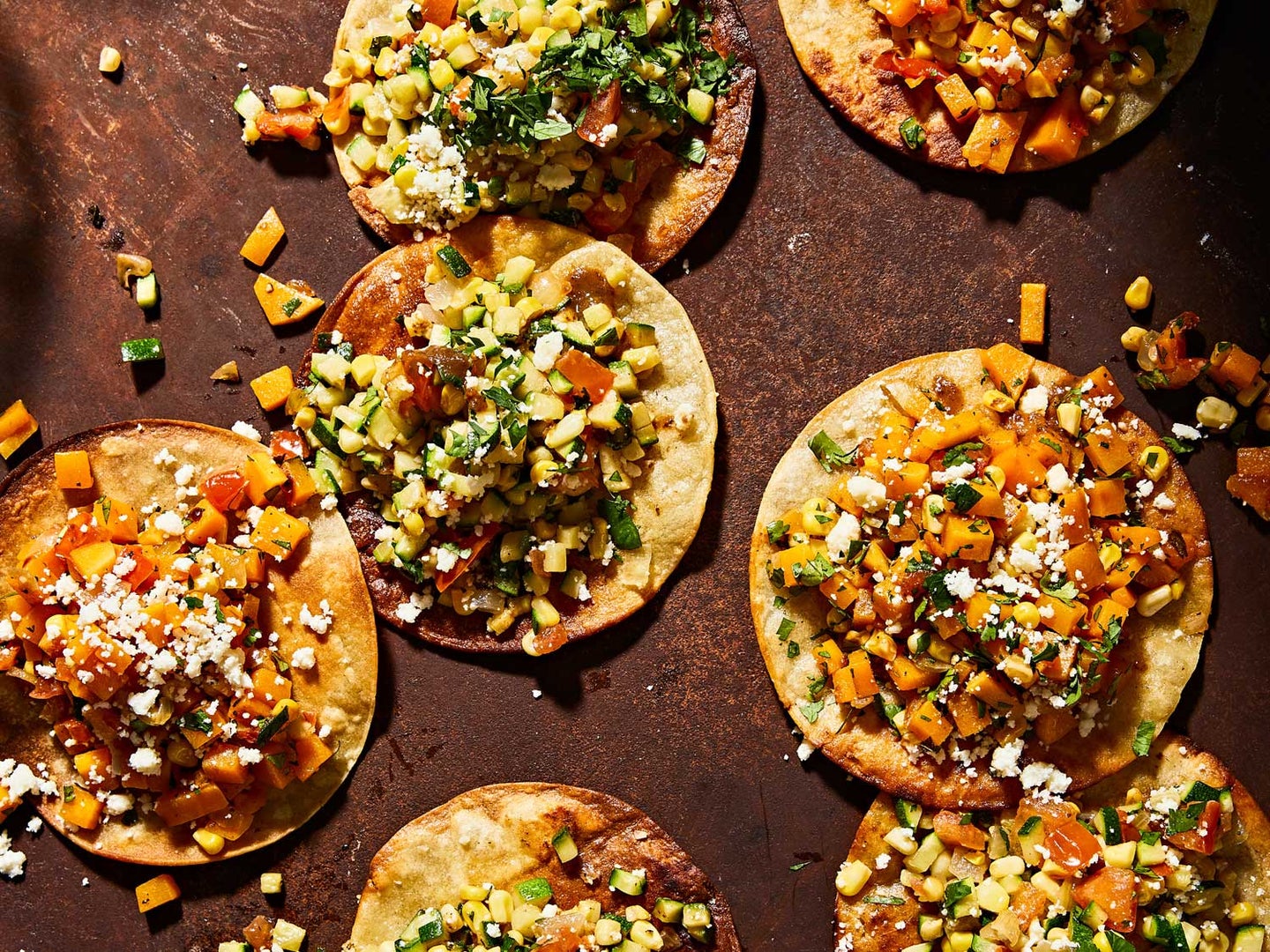 In Mérida, the picturesque capital of the Mexican state of Yucatán, Pedro Evia whiled away many a teenage afternoon school in divey local cantinas. Recalls Evia, now the chef-owner of the city's Ku'uk restaurant: "When I was in high school in the 1980s, Cantina La Negrita was a place you went to deal with your assignments. It was an old man place, and you could find your high school teachers there. You'd go there to negotiate your grades."
It was also where Evia developed a taste for the botanas, or savory bites, the bar served gratis. "There's a menu that every Yucatecan cantina must have: ceviche, potatoes with cilantro and onions, beans, sikil p'ak, and calabacitas fritas," he says. The latter, translated as "fried squash," is a salsa that's traditionally made from a green summer squash called calabaza de castilla. Though his menu at Ku'uk includes a zhuzhed-up version, Evia describes the real-deal recipe as "mom" plate. "It comes from my mom, and every mom in Mérida."
Basically diced squash sauteed with onion, corn, and tomatoes, calabacitas fritas is never heavily spiced—just a sprinkling of Mexican oregano and a bit of black pepper for heat. A few slices of sweet chiles may be added as a garnish, along with a pinch of queso sopero or queso cotija. Serve it like Mérida's cantinas do, with a bowl of crunchy tortilla chips, or spoon the stuff over grilled fish, chewy sopes, or crunchy tostadas, as we did here. While the classic ingredients are technically warm-weather fare (zucchini is a close approximation for the squash used in Yucatán), you can also swap in sweeter winter varieties like butternut or acorn; just be sure to adjust the cook time accordingly.
---
Yucatecan Tostadas Calabacitas Fritas Recipe