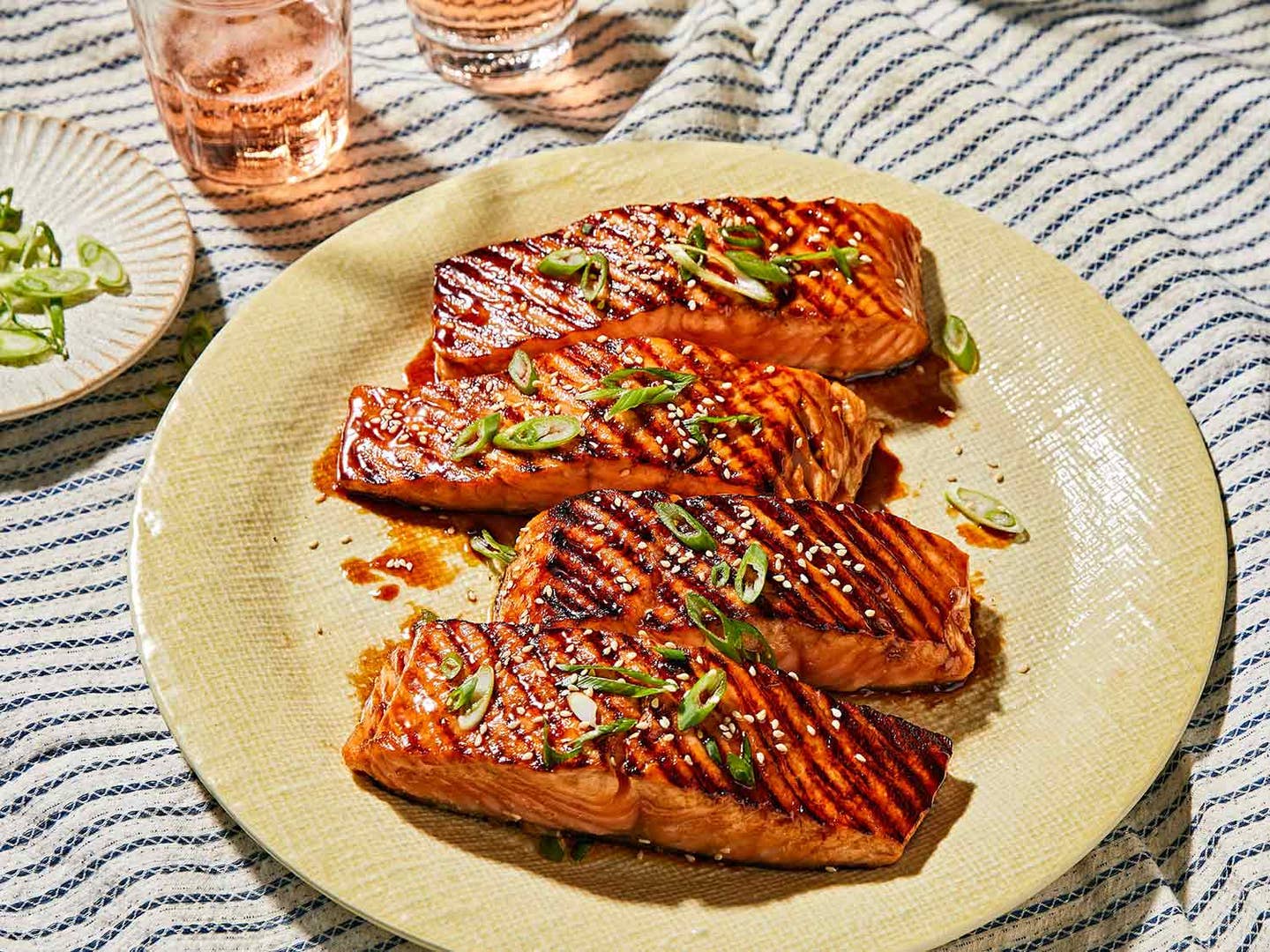 Recipes
7 Great Ways to Grill Fish
Cut down on kitchen cleanup and take your tastebuds on a beach vacation with these flavorful cooking ideas.
If you've tried to flip a whole fish on a hot grill only to be left with stuck skin and mangled fillets, welcome to the club. But fret not: We're here to help improve your live fire technique, because there's an ocean of grilled fish recipes out there to try. A few affordable tools work wonders—a grill basket for whole trout or snapper, sturdy stainless steel grilling skewers for halibut and swordfish kebabs—but in a pinch, nonstick aluminum grill liners and pre-soaked bamboo skewers do the job nearly as well.
For your next cookout—or the next time you want to keep the cooking prep outdoors—here are seven grilling recipes from the archives.
Stuff freshwater trout with gooey mozzarella and chorizo sausage, and then finish with a piquant Chilean sauce of oregano, hot chile paste, and cilantro. Get the recipe > 
This recipe is adapted from the award-winning New York restaurant Estela, where cooks stuff whole fish with fragrant herbs and rub it with garlic butter before chucking it onto the grill. Get the recipe >
These Middle Eastern kebabs soak up complex flavors from a lemon-dill marinade and a spice blend of fennel, coriander and cumin. Get the recipe > 
In Emilia-Romagna, cooks sear freshwater eel until smoky and serve it with charred corn-and-buckwheat polenta. Get the recipe >  
Mild, sweet redfish–or any white freshwater fillet–rubbed with anchovy-garlic combo is a classic Louisiana fish camp dinner. Cajuns love eating it with soft grits drowned in butter. Get the recipe >   
On Mexico's Pacific coast, street vendors baste whole mackerel or bronzino with a citrus-achiote marinade. It's a popular lunch break for Nayarit denizens hanging out on the beach. Get the recipe >
In Japan, cooks lacquer salmon fillets with this sweet-and-salty glaze of mirin, soy, and sake and sear them on a traditional hibachi, but this version works on any type of grill. Get the recipe >