Shopping & Reviews
The Best Pie Pans to Help You Realize Your Pie Potential
Dozens of home-baked pies later, we're dishing on the top six.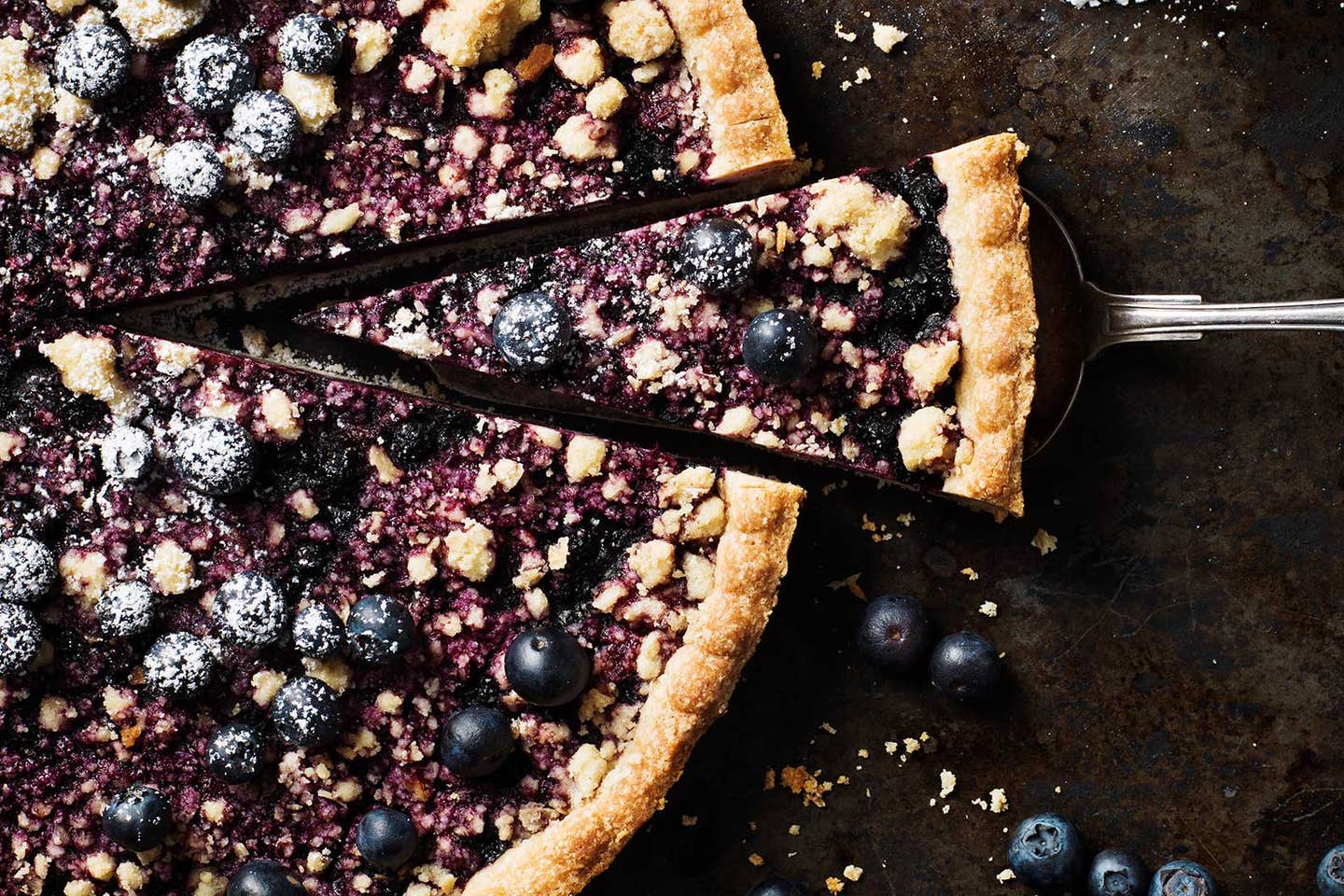 Pie is one of those iconic dishes that only appears simple. A traditional pate brisée (butter-based pie dough) has only four basic ingredients: flour, salt, butter, and water. But, good pie requires attention to detail, and the truncated ingredient list belies the thoughtfulness the baker must put into every step: How to measure the flour, how to cut the butter into the dry ingredients, exactly how much water to add. So it makes sense to consider the pie plate thoughtfully as well.
Of course, personal preference ultimately determines a baker's choice when considering the best pie pans. It also helps to do your homework and peruse the online options, but hands-on research proves to be important, too: Feel the weight of a pie plate in your hands, observe the width of the rim, the depth of the plate, and run your fingers across the finish. Traditionally, low 9" glass pans were the norm for home bakers, but times (and materials) have changed. Unadorned, round, and shallow pie plates with sloped sides are still worthy options, but so are 'deep-dish' pans fashioned out of show-stopping materials. That said, be mindful of the size and depth before purchasing; not every plate accommodates the same amount of crust and filling. Our top picks should help you navigate this essential category of bakeware, because as playwright David Mamet reminds us, "We must have a pie. Stress cannot exist in the presence of a pie."
Material: Aluminized Steel | Size: 9 1/2 inches
Best Overall
Why we chose it: A classic metal pie plate goes for gold with sturdy construction and an innovative nonstick finish.
Made of commercial-grade aluminized steel, this sturdy pan has a ceramic-reinforced nonstick finish that turns out beautifully golden pies with perfectly baked crusts. Whether the task at hand is blind-baking a bottom crust, evenly baking a custard, or turning an intricate lattice-topped pie into a showstopper, this pan excelled in all categories. In our testing, bottom crusts baked up flaky and crispy, top crusts were golden, and even billowy meringues looked magazine-cover ready. Capable of withstanding an oven temperature of 450 degrees Fahrenheit, this pan heats quickly, so best to keep an eye on things and monitor baking time. For a fully baked (also known as blind-baked) crust, this pan is unparalleled; the baked crust literally lifts out of the pan in one piece, with a perfectly golden bottom. No more raw-bottomed quiches or gummy custard pies.
Though the pie plate is dishwasher safe, and easy hand washes with a soft, non-abrasive sponge will protect the finish and the pan's longevity. The extended rim makes it easy to maneuver the pie plate in and out of the oven, and the ultra-durable nonstick finish releases each slice with zero fuss. One caveat: It's best to protect this beauty by using wood, silicone, and plastic tools, or a dedicated Goldtouch Pro pie server.
---
Superb non-stick finish
Even heat distribution
One year warranty
---
Heats quickly, which requires attention to baking time
Unable to see bottom crust as it bakes
Will scratch if used with abrasives
Material: Aluminum | Size: 9 1/2 inches
Best Value
Why we chose it: A heavy-duty yet disposable pie plate that doesn't buckle in the middle is an asset for casual and professional bakers.
Just because you're bringing the pie to the party doesn't mean you have to leave your favorite pie plate behind: This sturdy aluminum version offers the best of both worlds. Made of 90 gauge aluminum foil, it far outperforms standard supermarket options, which are made of lightweight 35 to 40 gauge aluminum. The difference is notable: No buckling during baking, no soggy crusts, and no collapsing during transport. Though technically a disposable pan, this comfortably weighty pan can be reused more than once if washed, dried, and stored with care. During our tests, we put these pans through their paces, with generously filled fruit desserts and delicate custards. In all cases, pies are baked up with crispy, evenly baked crusts. Bonus: The sturdiness of these humble pans makes it easy to place a baked pie inside a slightly larger decorative ceramic pie plate for a fancier presentation.
---
Heavyweight aluminum doesn't buckle and bakes evenly
Sold singly or as multiples
Can be used multiple times
---
Available online only
Won't last for more than a few pies
No decorative presentation
Material: Burgundian Clay | Size: 9 inches
Best Ceramic
Why we chose it: This iconic dish is popular for more than its good looks: It consistently delivers evenly baked pies with deeply golden crusts.
Made in France of high-fired Burgundian clay, an investment in this iconic Emile Henry pie dish will pay off in the form of flawless, Instagram-worthy pies. Bakers gravitate towards the classic 9-inch pan with a 1.5-quart capacity which is still plenty deep, holding 6 1/2 cups of filling. Designed to go safely from freezer to oven without cracking, it is also capable of holding a meringue-topped pie during a brief stint under the broiler for browning. it's 3/4-inch dimpled rim helps even novice pie bakers create an attractive fluted edge. Available in a range of colors, each dish is glazed in a scratch- and chip-resistant coating that's also dishwasher safe. The good pie comes to those who wait: ceramic heats up more slowly than metal or glass and tends to need additional oven time.
---
Easy to make decorative edge
Absorbs, retains, and distributes heat evenly
10 year guarantee
---
Often needs additional baking time
Unlike glass, clay is opaque preventing visual cues from the bottom crust as it bakes
Heavy and pricier
Material: Borosilicate Glass | Size: 9 inches
Best No Frills
Why we chose it: Generations of bakers have turned to glass pie plates for steady, even heat distribution and a glimpse of the bottom crust as it bakes.
Fashioned out of sturdy borosilicate glass, OXO's glass pie plate is resistant to the thermal shock that causes other glass pie plates to shatter when they go from freezer to oven or oven to cold water. The pie plate delivers a golden crust and evenly baked pies with plenty of a rim for a fluted edge. It is worth noting that this 2-inch deep pan requires a little more pie crust and a little more filling than a traditional 9-inch glass pie plate, which is 1.2 inches deep. The lid is a terrific addition, making pie transport and storage a piece of cake. It even has vents so the crust won't get soggy if you're transporting a still-warm pie. This pie plate already has a huge fan base; OXO's Better Guarantee also means the company will replace it if it breaks under normal use.
---
Won't crack or shatter during fast temperature changes.
A lid makes storage and transport a snap
Borosilicate glass makes this microwave, oven, dishwasher, and freezer safe
---
Breakable if dropped
2" depth requires more crust and filling than a traditional 9" pie plate
Store-bought crusts are too small to fit
Material: Tempered Soda Lime Glass | Size: 9 inches
Best Old School
Why we chose it: Simple, sturdy, and consistent, this true-to-size glass plate yields crisp and golden crusts with evenly baked fillings.
Without the bells and whistles of decorative pie plates, this is the one many home bakers and pros gravitate to when a recipe calls for a traditional 9-inch pie plate. Tempered glass has been heating treated for durability, making it more resistant to thermal shock or breaking when dropped. (Rare reports of tempered soda lime glass shattering seemingly randomly are linked to surface damage, so if your pie plate does get chipped, it's time to get a new one and always follow manufacturers instructions when heating up and cooling down.)
Available in most supermarkets and with a comfortable price point, the surface resists scratches and the see-through glass allows you to check for doneness as the crust turns from pale to golden. The thin edge welcomes decorative crimping or a simple sealing of a double-crust pie.
---
Traditionally sized to accommodate standard 9" pie recipes
See-through glass allows you to watch the baking process
Easy to clean
---
Improper usage may result in breakage
Can't go directly from freezer to hot oven
Shallower capacity than deep dish pans
Material: Ceramic Lead-Free China | Size: 10 3/8 inches
Best Gift
Why we chose it: This is a party in a pie plate, seamlessly moving from oven to table.
Microwave and freezer compatible, chip and stain resistant, the nonstick finish also encourages easy serving. The 150-year-old family-owned company produces quality, American-made tableware. A generously sized multi-tasker, this is the pie plate that bakers love to give and receive. It's popular with dessert bakes but capably handles quiches and savory pies. Bonus points for a nonstick finish that makes serving and clean-up a breeze. Boasting an expansive high-gloss color palette, Fiestaware's current 'Color of the Year' is Twilight, but you can't go wrong choosing any of their pie baker options. Pies will take slightly longer in the oven than those baked in glass or metal, but the crusts bake up golden and crispy. It's a dream when making freezer-centric desserts; deep enough to accommodate layered, summery ice cream pies or your favorite key lime with mounds of whipped cream.
---
American made, collectible
Wide color palette
Accommodates 31 oz. of filling, comparable to a traditional 9" pie plate
---
Certain colors might be discontinued
Pie plate needs to be greased before adding crumb crusts, then chilled to hold them in place
Not deep-dish
How We Chose These Pie Plates
All of our picks were tested in a traditional home oven; the aluminum pie plate and the aluminized steel pans were also tested in both a traditional oven and a commercial convection oven for stability/durability. Made from scratch all-butter pie dough was blind-baked in all of our picks then filled with partially cooked apples and baked with a top crust. Additionally, graham cracker crust was patted into each pan, chilled to set, then filled with a key lime filling and baked. Professionals and home bakers weighed in on their favorites. In order to make the cut, the pans needed to deliver a well-baked crust and an evenly baked filling. Our list includes reputable companies with knowledgeable and easy-to-reach customer service reps.
Features to Keep in Mind When Shopping for Pie Pans
Glass allows you to keep an eye on the bottom and the sides of the pie as it bakes, and ceramic evenly insulates and distributes heat while receiving high marks for style. Metal and aluminum conduct heat quickly and evenly; they are also lightweight. Another consideration? Color. Dark-colored metal or ceramic pie plates absorb more heat than light colors, resulting in more browning of the crust.
In all of our top picks, clean, simple designs ensure the pie is the focal point of the dish. Overly intricate pans didn't make the cut, simply because slices were difficult to remove and the pans more cumbersome to clean. The one exception? An Emile Henry with a dimpled rim that makes it simple to create a decorative edge.
If cared for properly, pie plates should have a healthy lifespan of many years; heavy ceramic pans should last a lifetime. Although certain manufacturers cite their products as dishwasher safe, hand washing is always better for protecting the pan. Baked-on sugar from pie fillings may caramelize and turn black, but that can be removed with an overnight soak in hot, sudsy water. Tempered glass won't scratch easily and comes with a lower price point. Glass and ceramic pie plates are generally microwave safe, but always check the manufacturer's instructions.
Q: Do I need to grease my pie pan before baking?
For anything with a crumb crust, lightly buttering the pie plate helps the crumbs to stick together and encourages easy serving. But for an all-butter pie crust, glass or ceramic pie plate does not need to be greased. Spritzing a metal pie plate with non-stick vegetable oil spray helps release the stubborn first slice (and the subsequent slices), but isn't mandatory.
Q: Can I use a pie pan for baking a cake?
You can, but the baking time will vary, and expect browned and/or crispy edges.
Q: How do I clean my pie pan?
For starters, always bake on a baking sheet lined with parchment paper; this will prevent any overflow from dripping on your oven floor. And never put cold water in a hot pie plate, it can cause cracking. Glass pans with stubborn stains can be soaked overnight in hot, sudsy water then washed with a non-abrasive cleaner such as Bon Ami or Bar Keepers Friend. Ceramic pie plates can be soaked for 10-20 minutes in warm soapy water then washed using a non-abrasive brush and cleaner. Certain pie plates are considered dishwasher safe, but you'll always increase the pan's longevity by hand-washing.
Our list offers a comprehensive assortment of pie plates for all levels of bakers. Pies baked in our top pick, Williams Sonoma Goldtouch Pro, received the highest points for a perfectly crisp and golden crust, and one that easily released from the pan. Clean-up was a breeze.