A Perfect Planter or Plant Stand for Giving Your Place that Jungle Vibe
Find the ideal pot for your love fern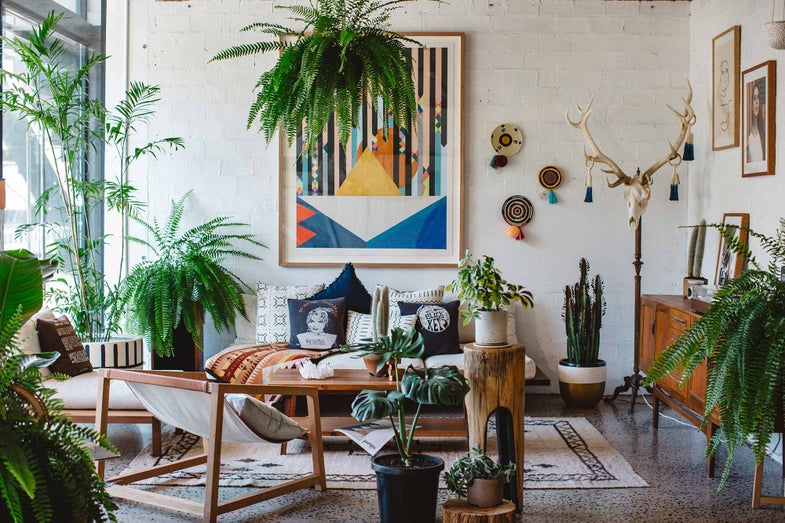 The best way to make your space feel cheerful and cozy is to fill it with plants. Whether you're a little obsessed with succulents or prefer to go after larger plants, a pop of green can be exactly what your space needs to keep it from feeling dreary. Even if you don't have the greenest thumb, these pots and planters may be just what you need to give you encouragement to help keep your plants healthy.
If you keep a simple home decor, why not add a geometric pop? Available in various patterned options and different sizes, this planter is capable of pulling off a designer touch in any room you add it to.
We've all seen this classic, mid-century modern plant stand somewhere. Perhaps in our favorite restaurant, coffee shop, or hotel? No matter where you've seen it, there is no denying its timeless look classes up any space it lives in. Though the pot is sold separately, you'll have three wood finishes to choose from and an assortment of sizes.
This hanging planter from Bloomingville is a major score. The combination of its ceramic pot hung by a string of wooden beads will satisfy both modern and boho-chic decor. At 1.31 pounds and 6.5″L x 6.5″W x 4.5″H size, any small family of succulents will look their best.
Minimalist plant lovers will definitely want this set of three. All come equipped with sturdy wire hangers for easy installation and support. The petite planters also have holes at the bottom in the event you want to add some plant life to your shower area.
Terrariums might be the perfect way to display your plants. They can sit anywhere, and they come in so many designs and shapes that it's incredibly easy to find the perfect one for your plant or space. Better still, they can function as candle holders as well.
Terracotta pots have been the ideal choice for plant presentations for centuries. Glazed or unglazed, the earthy tone and texture will never go out of style. These handcrafted pots come in a set of 3 with drainage holes and saucers. Arriving in various sizes, you can spread them around the house or keep them clustered together—they'll provide organic beauty no matter where they're placed.
Anything that comes in a set is ok with us, especially if they look this great together. Even better? Both arrive in different sizes and shapes and really make a bold statement. The hand-painted gold detailing provides the just the right dash of luxury. Each pot comes with a drainage hole and plug for easy care.
How's this option for another mid-century design? Available in six different glaze selections, this planter is 100% stoneware and comes in a generous size, 10.43′' diameter x 10.53′'H. Ready for indoor or outdoor use with a drainage hole and plug, it's ideal for house plants but also happily holds your garden favorites as well.
Know someone with an owl obsession? This tabletop planter makes a wonderful and practical gift. The wooden tray is made of natural bamboo and each ceramic pot comes with drainage hole. You can even mix it up and use one of the pots as a candle holder for a warm glow to highlight those leafy greens.