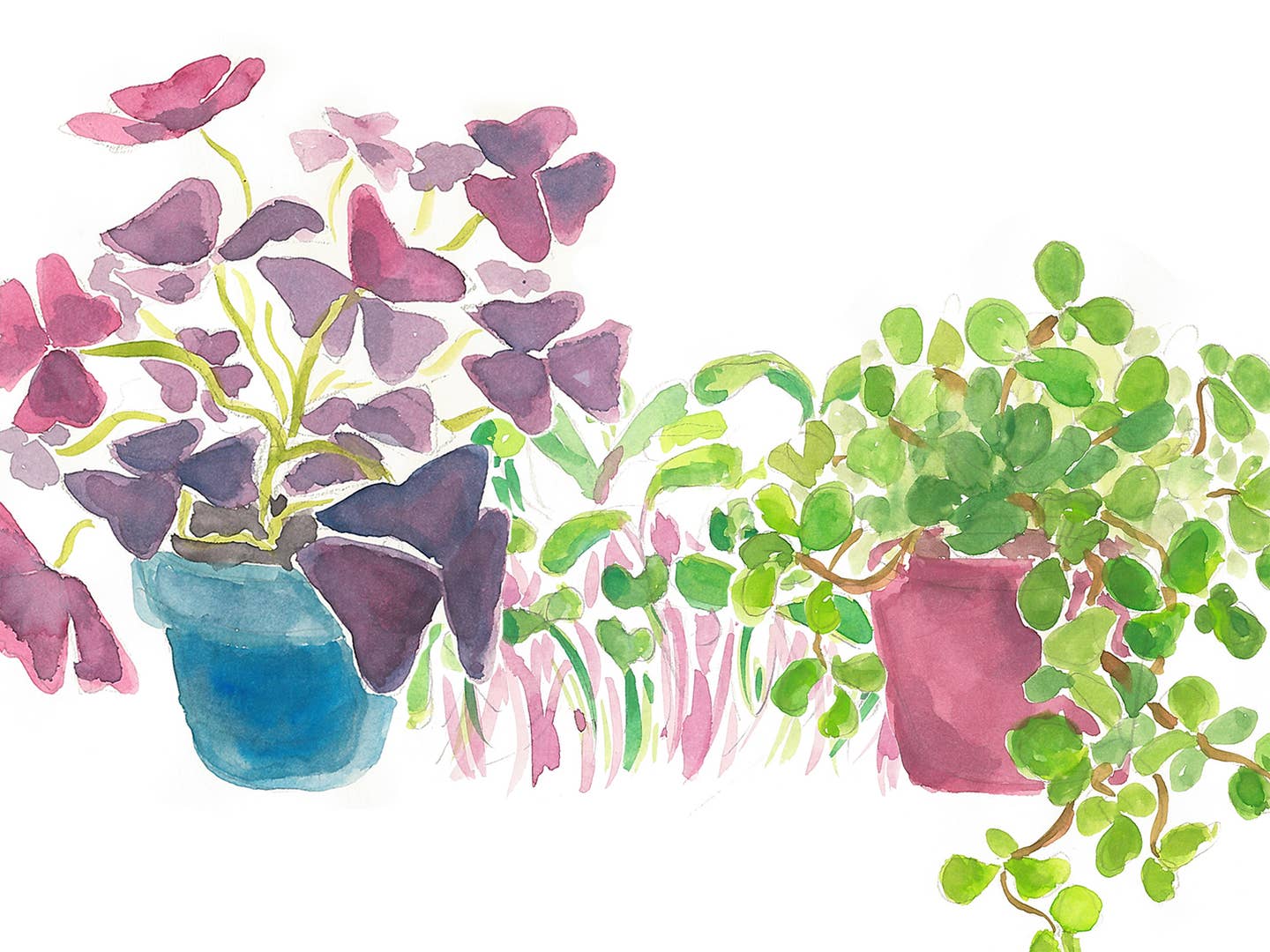 Shopping & Reviews
Countertop Crops: Kitchen Plants and Pots to Put Them In
Keep your in-door plant babies in style
Kitchens (at least the ones outside of movies) are not necessarily known for their natural light, so keeping a happy collection of plants on the counter can be tough. For city-dwellers, like me, counter space doesn't always work in our favor, either. But, for the green of thumb among us, there is a way! Sarah Owens, who runs the micro-bakery BK17 in Louisville, Kentucky, has also worked as curator for the Brooklyn Botanic Garden's historic Cranford Rose Garden. For her, baking and gardening share a space in her mind everyday. With her seasonal whole-food baking book Sourdough (Roost, 2015) hitting stores this November, we took the opportunity to ask the baker-slash-horticulturist to fill us in on her top plant picks for difficult kitchen spaces.
"Plants need well-draining soil, sun, and heat," says Owens. "Otherwise, they'll just sulk." Whether it's leafy herbs like basil, or summery produce like tomatoes, they need plenty of direct sunlight—at least six hours—to be as healthy as they can be. But, even if you're among those whose kitchen is more akin to a cave, you have plenty of options if you look outside the traditional plant kingdom.
Growing mushrooms is a remarkable way to harness the power of that perpetual dimness. "It's fun and sort of empowering," Owens says, and many retailers sell inexpensive kits that are surprisingly easy to use. A mycelium—the mushroom's underground growth network—is inoculated onto a growing medium like straw or wood. The home grower simply exposes it to a low temperature to stimulate the growth and then continues to keep it moist to produce edible mushroom varieties like shiitake, enoki, or oyster. Each kit will produce mushrooms within a few weeks and you can harvest them for months before your medium runs out of nutrients. ($22 per kit at Easygrow Mushrooms)
With even a little light, microgreens make great windowsill plants and can be ready to eat within a week. "Since you're not growing them to full maturity, it's okay if they're a little lacking in light," says Owens. "They may get a little leggier, but it doesn't effect the flavor." As long as they have adequate moisture and air circulation they'll be just fine, and there are endless varieties to explore. Try traditional Rocket Arugula, vibrant Ruby Red Swiss Chard, or zesty Minowase Daikon Radish heirloom microgreens. ($4-5 per ounce of seeds at Eden Brothers)
A few vegetables are also ideal for kitchens. Radishes sprout quickly and don't need a deep space to grow roots. Plus, their early leaves make for great microgreens. And Dwarf varieties of certain vegetables are the same. Owens's two favorites are Atlas carrots and Babybeat beets, which will thrive in a sunny window. ($4 per seed packet at Johnny's Seeds)
But who's to say everything grown in a kitchen has to be edible? Ornamental plants with year-round foliage can be perfectly at home in the kitchen too, especially if they can handle the fluctuating temperatures and busy environment. Too often, plants in the kitchen take second stage to the room's primary tasks, but an easy-to-tend houseplant can thrive in the kitchen, and there's no reason to compromise on beauty either. The purple oxalis is surprisingly hardy given its delicate appearance. Oxalis opens and closes its tender leaves in rhythm with the light of day, and is just as happy in the sun as in the shade. Peperomias, a less common but equally tough group of houseplants, come in a wide variety of colors and shapes, and will gladly cascade from a hanging pot or grow like a shrub on the counter. They, too, are happy in the shade, and their waxy leaves help them to retain water. Drainage, says Owens, is critical, though, and while both oxalis and peperomia can tolerate a little dryness, they hate to be over-watered. A few days of neglect from a scatterbrained home chef, though, should be just fine. (Oxalis is $13 at Logee's and Peperomias start at $10 at Steve's Leaves)
Every home kitchen is unique and what will or will not thrive in them is ultimately something to take up with an expert at your neighborhood nursery. But if you've got the patience and you're willing to take a chance, a kitchen full of life—human, plant, and otherwise—is always rewarding.
Ready to take the plunge? Check out my favorite pots and planters below: