Recipes
Strawberry, Watermelon, and Tomato Gazpacho
Serves

serves 6 People

Cook

30 minutes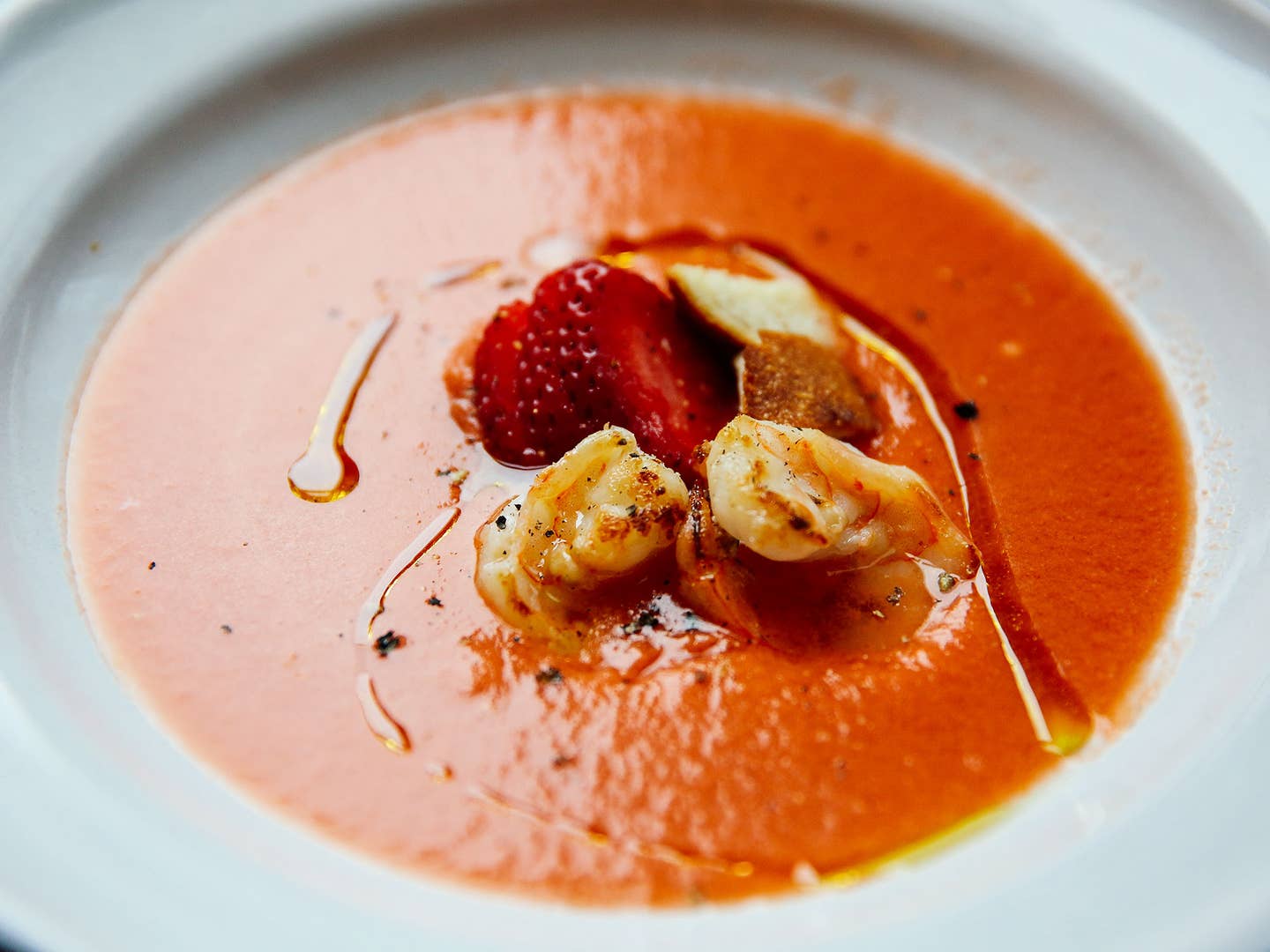 This refreshing summer soup, adapted from La Guarida restaurant in Havana, is meant to be served lightly chilled. Olive oil, garlic, pink peppercorn, and smoky grilled shrimp round out the sweetness from the strawberries and watermelon. Add ¼ teaspoon of sugar if the fruit is more tart than sweet.
Ingredients
For the gazpacho:
3 1⁄4 lb. ripe red tomatoes, cored, seeded, and coarsely chopped
1 lb. 2 oz. peeled watermelon cubes, seeds removed
1⁄2 cup coarsely chopped ripe strawberries (3 oz.)
1 tsp. kosher salt
1⁄4 tsp. ground pink peppercorns
1 garlic clove
3⁄4 cup extra-virgin olive oil
For garnish:
3⁄4 cup diced baguette (½- to ¾-inch cubes)
2 tbsp. extra-virgin olive oil, divided
1⁄4 tsp. kosher salt, plus more as needed
12 medium shrimp, cleaned
6 stemmed, sliced strawberries
Instructions
Step 1
Make the gazpacho: In a blender, add the tomatoes, watermelon, chopped strawberries, salt, pink pepper, and garlic; blend until very smooth. With the blender on low speed, add the olive oil in a slow, steady stream. (If the blender is too full, split the mixture in half and add half of the olive oil to each part.) Refrigerate until ready to serve, up to 2 days.
Step 2
When ready to serve, make the croutons: Preheat the oven to 350°. On a small baking sheet, toss the baguette pieces with 1 tablespoon olive oil and the salt. Bake until the bread is golden and crispy, about 15 minutes. Remove and set aside.
Step 3
Meanwhile, prepare the shrimp: Preheat a grill pan or large skillet to medium-high heat. Add the remaining 1 tablespoon olive oil and, once hot, add the shrimp; season lightly with salt. Cook, turning once, until cooked through and lightly seared, 5–6 minutes total.
Step 4
If the gazpacho was refrigerated for a long time, remove for about 15 minutes before serving; stir well as needed. Ladle the soup into bowls, then garnish with the croutons, shrimp, and strawberry slices.