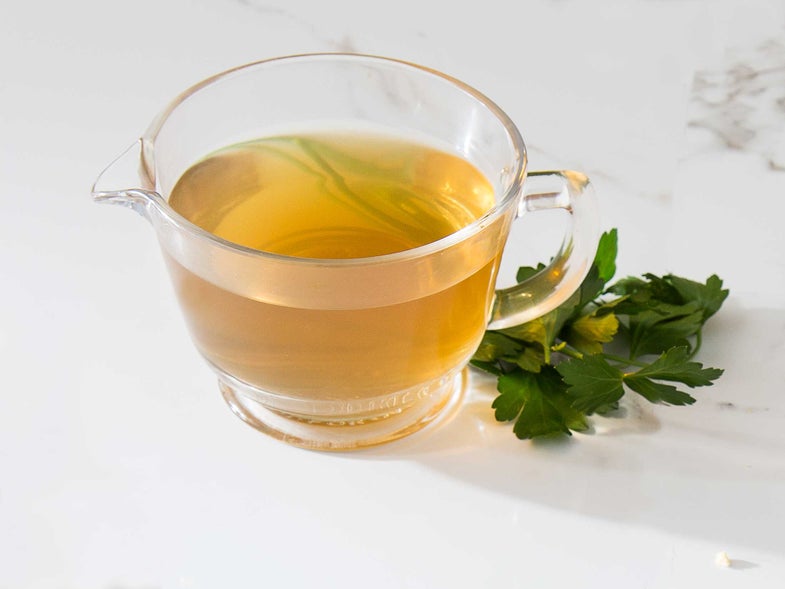 From Tal Ronnen, L.A.'s best-known vegan chef, comes a rich vegetable stock that rivals chicken or beef. Keep a few quarts in the freezer for soups or root vegetable braises.
Featured in: 5 Sauces and Condiments to Use on Everything
Perfect Vegetable Stock
Tal Ronnen's rich vegan stock rivals even bone-based stocks. And since it freezes beautifully, there's no reason to not always have some on hand.
Time: 1 hour
Ingredients
2 tsp. whole black peppercorns
1 tsp. kosher salt
12 sprigs flat-leaf parsley
6 sprigs thyme
4 cloves garlic, crushed
2 bay leaves
2 stalks celery, roughly chopped
2 carrots, halved
2 bulbs fennel, roughly chopped
2 leeks, halved
1 yellow onion, halved
Instructions
In a large saucepan, combine all ingredients with 1 gallon water and bring to a boil. Reduce the heat to maintain a gentle simmer and cook until the stock is darkened, about 45 minutes. Remove the pan from the heat and pour the stock through a fine sieve set over a bowl; discard the solids. Pour into storage containers and refrigerate for up to 1 week or freeze for up to 1 month.