Recipes
Tomato Cake with Smoked Feta Cream and Marinated Tomatoes
Serves

serves 11

Cook

1 hour 30 minutes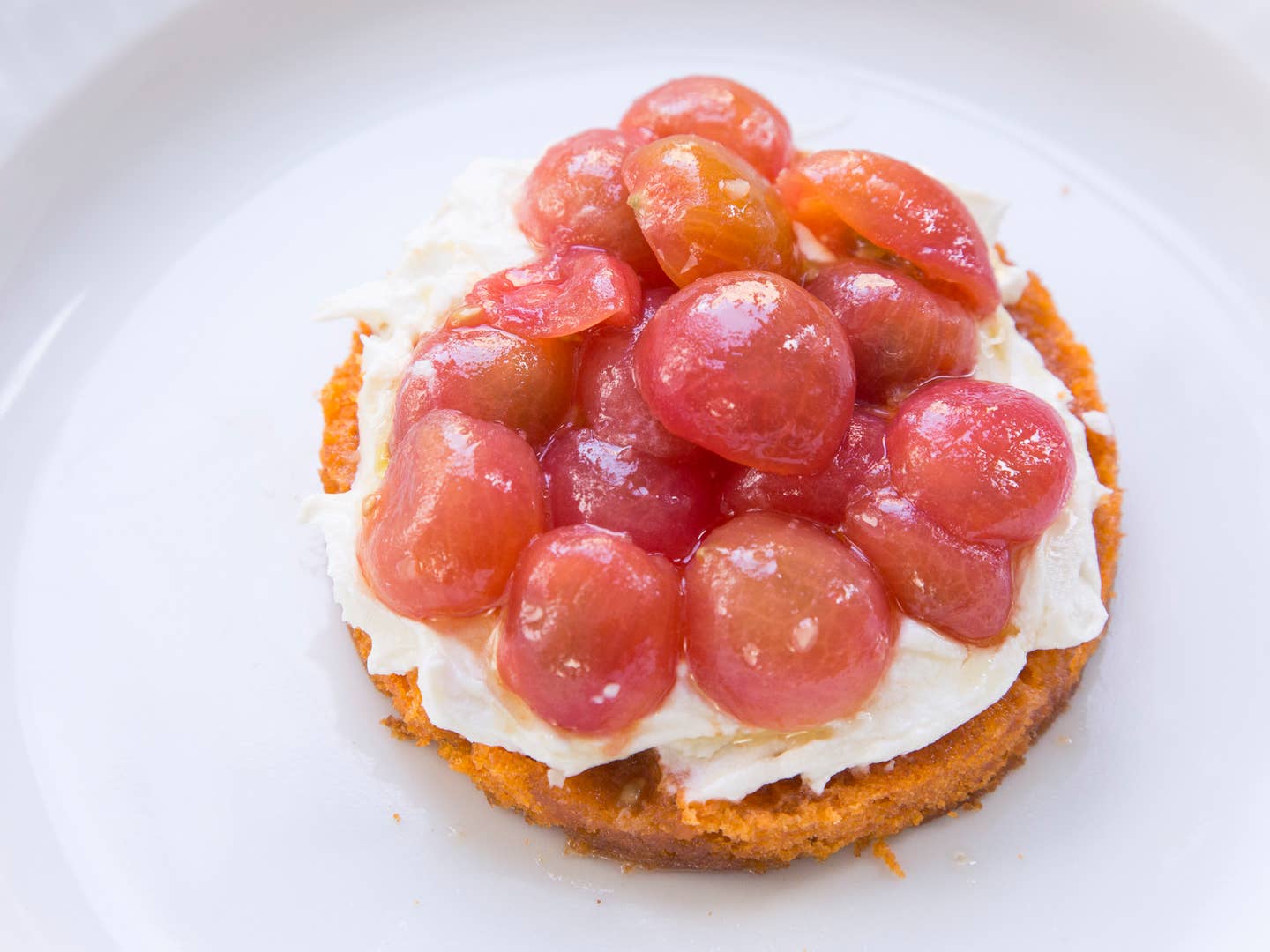 In this recipe from Amanda Cohen, chef-owner of New York City's Dirt Candy, tomato powder lends flavor to this savory-sweet cake, which gets topped with smoked feta cream and cherry tomato halves.
Ingredients
1 qt. cherry tomatoes, peeled and halved (1 1/2 lb.)
1 cup olive oil
2 cloves garlic, minced
12 tbsp. unsalted butter, softened, plus more for greasing
1 cup plus 2 1/2 Tbsp. all-purpose flour
1⁄4 cup tomato powder
1 1⁄2 tsp. baking powder
1⁄4 tsp. salt
6 tbsp. sugar
3 eggs
1⁄4 cup milk
8 oz. feta
1⁄2 cup plus 2 Tbsp. heavy cream
Fleur de sel, to garnish
Instructions
Step 1
In a bowl, mix together tomatoes with olive oil and garlic. Let marinate for at least 1 hour.
Step 2
Heat oven to 350°. Line a 9" x 13" pan with parchment paper and grease with butter; set aside. Whisk together flour, tomato powder, baking powder, and salt in a bowl; set aside. In a large bowl, beat butter and sugar on medium speed of a hand mixer until fluffy, about 3 minutes. Add eggs one at a time, beating after each addition until smooth. Add dry ingredients, and beat until just combined; slowly stream in the milk and mix until you have a smooth batter. Pour batter evenly into prepared pan; bake, turning halfway through, until dark orange in color, about 15 minutes. Let cool, then cut into rounds with a 3" cutter; you should get 11 rounds.
Step 3
Using a stovetop smoker, lined with aluminum foil, smoke feta for 20 minutes, according to the manufacturer's instructions. Let feta cool, then transfer to a blender with the cream. Blend until smooth.
Step 4
To assemble, place each cake round on a plate and top with 1 tablespoon smoked feta cream. Place 4 marinated cherry tomato halves, cut side down, on top of the cream. Garnish with fleur de sel.