Twice-Cooked Eggplant with Sherry Vinegar and Paprika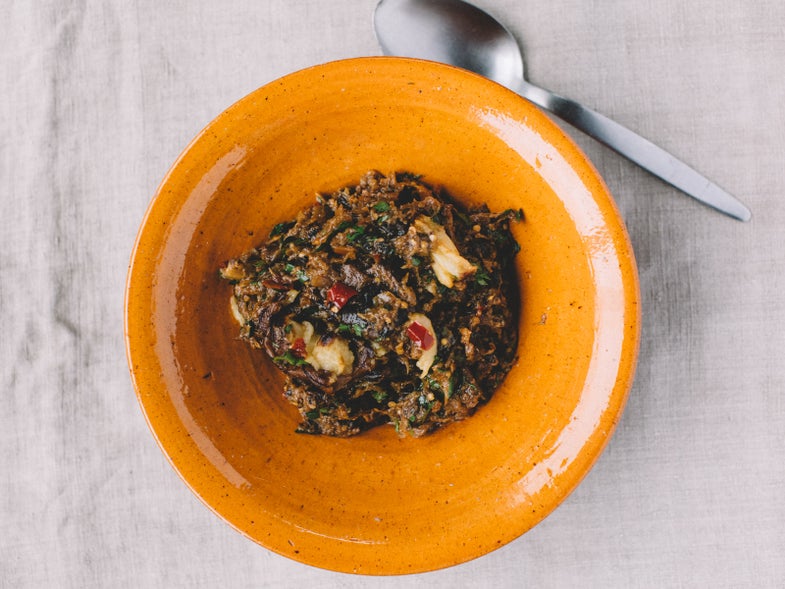 In this preparation, eggplant is charred until almost burnt, which gives it chocolate-like notes, and then cooked and mashed with aromatics and sherry vinegar to give it a pronounced sour flavor. This salad can be served on its own, as a side to roast lamb, or, better yet, as a spread on sandwiches.
Featured in: Eating Israel with Michael Solomonov
Twice-Cooked Eggplant with Sherry Vinegar and Paprika
Charred and then mashed with earthy paprika and sour sherry vinegar, we love this dish as a condiment on roast lamb or served as a dip with pita chips.
Time: 2 hours, 40 minutes
Ingredients
2 medium eggplants (about 2 1/2 lbs.), trimmed and cut crosswise into 1/2-inch rounds
2 tbsp. kosher salt
1⁄2 cup olive oil
1 cup finely chopped red bell pepper
1⁄4 cup sherry vinegar
1 tsp. sweet paprika
1⁄2 cup roughly chopped flat-leaf parsley
1 tbsp. fresh lemon juice
Instructions
Arrange the eggplant slices in a single layer on a wire rack set over paper towels and sprinkle evenly on both sides with the salt. Let the eggplant stand for 30 minutes to drain, and then wipe dry with paper towels.
In a large nonstick skillet, heat 1 tablespoon olive oil over medium-high. Working in 6 batches, add the eggplant slices to fit in a single layer and cook until almost blackened, about 10 minutes. Flip the slices and cook until the other side is blackened, about 8 minutes more. Transfer the eggplant slices to a plate and then drain the oil and wipe the skillet clean.
Return the skillet to medium heat and add the remaining 2 tablespoons olive oil. Add the bell pepper and cook, stirring, until the peppers are soft and lightly caramelized, about 12 minutes. Return all the eggplant to the skillet along with the vinegar and paprika and cook, lightly mashing the eggplant as you go, until the vinegar evaporates, about 8 minutes. Remove the skillet from the heat, stir in the parsley and lemon juice, and scrape the eggplant into a serving bowl. Serve the eggplant warm or at room temperature.