Recipes
Potato–Jicama Rolls with Uni
Serves

serves 4 as an appetizer

Cook

3 hours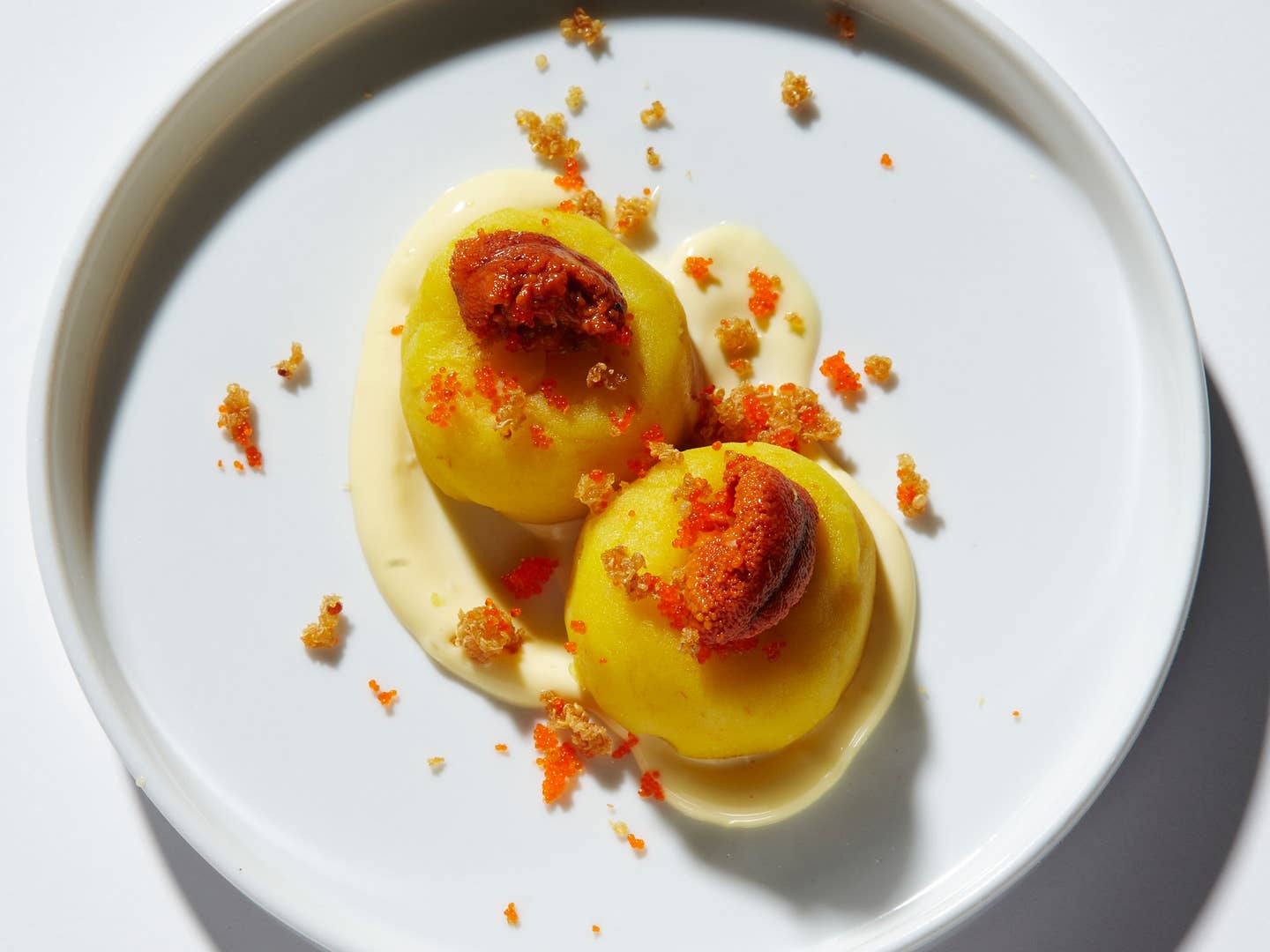 In José Andrés' Peruvian take on sushi, briny sea urchin rests atop rolls of ají-amarillo–infused potatoes, stuffed with batons of crunchy jicama. Lime and yuzu add a bright pop of citrus while fried quinoa provides irresistible crunch in this flavor-packed appetizer.
Ingredients
Kosher salt
1⁄4 cup quinoa, rinsed
Vegetable oil, for frying
4 oz. masago or tobiko roe
1 lb. Yukon Gold potatoes
1 lb. russet potatoes
1⁄3 cup ají amarillo paste
1⁄4 cup olive oil
2 tsp. fresh lime juice
1 cup mayonnaise, preferably Kewpie
1 tbsp. yuzu juice
2 (4-inch–long, 1/4-inch–square) batons of jicama
8 pieces uni
Instructions
Step 1
Heat the oven to 200°. In a saucepan of boiling salted water, cook the quinoa until it is just overcooked, about 20 minutes. Drain the quinoa and spread it out on an unlined baking sheet in an even layer. Bake the quinoa until it is dry to the touch, about 2 hours. Remove the quinoa from the oven and break up into crumbles.
Step 2
Pour enough vegetable oil into a 6-qt. saucepan to come 2 inches up the side and heat to 400° on a deep-fry thermometer. Add the quinoa and fry, breaking up the pieces with a spoon, until golden brown and crunchy, about 1 minute. Using a slotted spoon, transfer the quinoa to paper towels to drain and let cool. Once cool, transfer the quinoa to a small bowl, stir in the masago, and season with salt.
Step 3
In a large saucepan of boiling water, cook both potatoes until tender, 25 to 30 minutes. Drain the potatoes, peel, and then pass through a food mill or potato ricer while hot into a bowl. Add the ají amarillo paste, olive oil, and lime juice. Season with salt and stir to combine. In a small bowl, stir the mayonnaise with the yuzu juice and spread it onto a medium-sized serving platter.
Step 4
On a sheet of plastic wrap, pat half of the potatoes into a 4-inch square. Place 1 jicama baton in the center, parallel to the bottom, and, using the plastic wrap as a guide, roll the potato over the jicama into a solid cylinder. Unwrap the cylinder, cut crosswise into 4 rolls, and transfer each piece, cut side up, to the serving platter. Repeat with the remaining potatoes and jicama to make 4 more rolls. Top each roll with a piece of uni and sprinkle all the rolls with the quinoa and masago before serving.