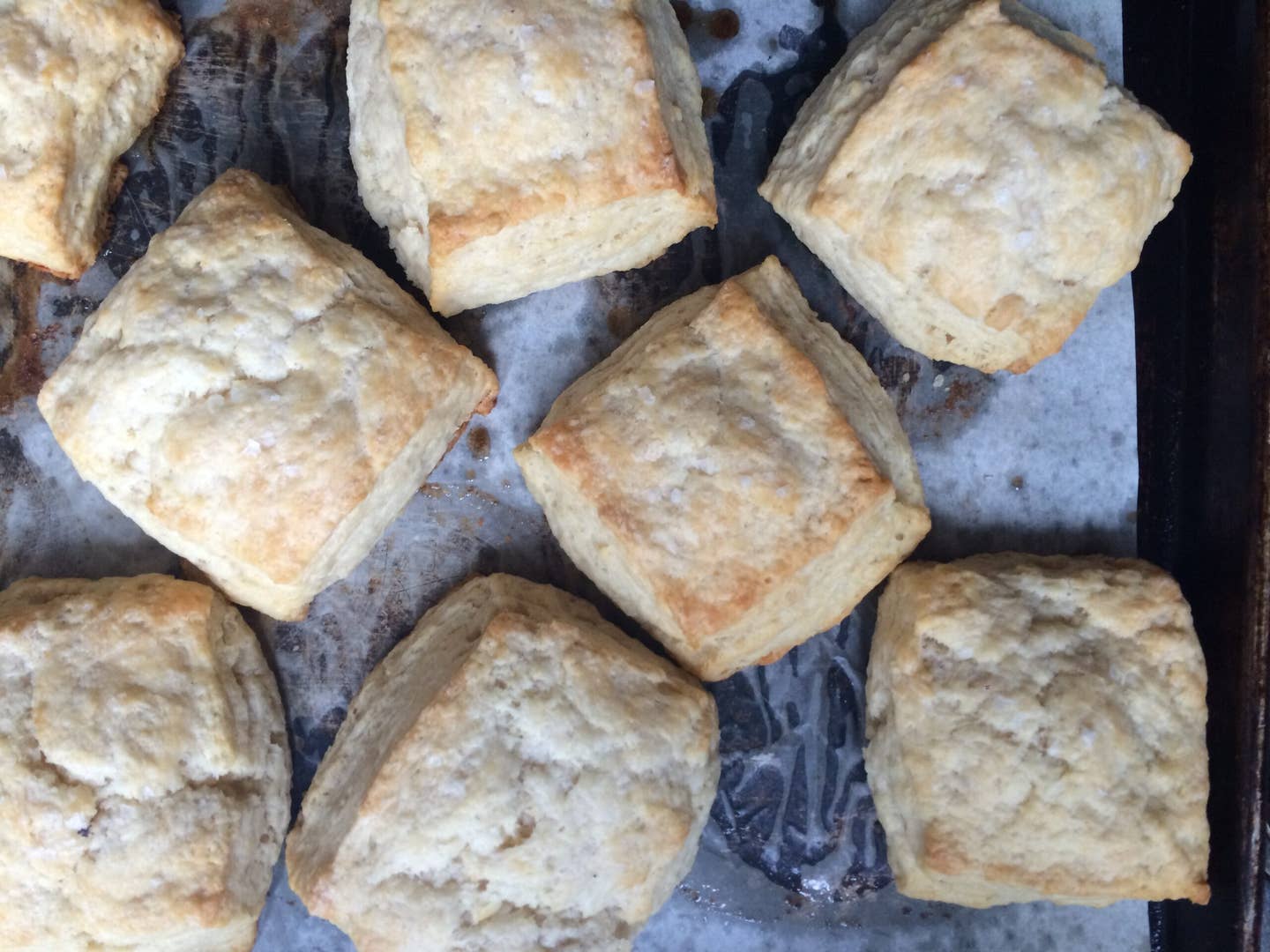 Techniques
What We Learned This Week: July 6-10, 2015
How to grill octopus, the perfect biscuits, and making crepes for a crowd
Every Friday, SAVEUR's test kitchen assistant Jake Cohen shares lessons and tricks that he's learned in the kitchen that week. Let's review:
I needed to grate a fresh coconut this week, but I realized that I didn't have the first idea how to open it. Food editor Ben Mims jumped in and saved the day. His method for opening coconuts uses only a screwdriver (or ice pick) and a hammer (or kitchen mallet). Pierce the three holes at the top of the coconut with a screwdriver. Drain the coconut water (which can be strained and enjoyed chilled) and place on top of a kitchen towel, with the holes facing to the left. Using the hammer, tap the coconut in the center, rotating it as if it were on a rotisserie the whole way around. Start turning it a second time and the coconut should crack open, exposing the flesh.
These traditional Indian flatbreads called chapati, also known as roti, are found in many Southeast Asian cuisines. Test kitchen director Farideh Sadeghin went on a trip to the Maldives earlier this year, and came back with a recipe for a typical Maldivian breakfast (recipe coming soon to Saveur.com), served with fresh chapati. The trick to good flatbread is having a soft dough that is not overworked. If the gluten structure is too developed, it will make it harder for you to roll it out super thin (1/8" thick), an important part of making a tender flatbread. For a proper dough, you only should knead it for 1-2 minutes. Equally important is a hot, dry 12" cast iron skillet, to brown and cook the bread without drying it out and making it tough. Chapati is great enjoyed with curry, as well as just plain, brushed with ghee.
Jacques Torres came by the test kitchen this week to teach us how to make crepes. While I have made many crepes before, I always made them one by one, cooking the crepe, filling it, folding it, and starting again. But Torres taught us a great trick: cook all your crepes first until they are almost done, about 3 minutes, and don't have any color. With all the crepes mostly cooked, you can quickly finish each one in a hot 12" skillet with a 1/4 Tbsp. butter. Cook for 2 minutes until golden, and fill with your choice of Nutella, fruit, or as Torres made for us, ham, egg, and cheese. Stay tuned for the recipe.
Biscuits are a valid form of currency in the Saveur offices, so whenever we test a biscuit recipe, we do whatever it takes to make it a success. This particular recipe needed no help in that department, because it was completely flawless. The resulting biscuits were flaky and moist, with the perfect amount of salt and height (recipe coming in November!). Looking back, there was a key component of the recipe that resulted in its success: Freezing the butter before grating it and adding it. By doing this, the butter stays in firm chunks as you work the dough. When your biscuits rise in the oven the butter pieces melt forming hundreds of flaky layers.
We tested a grilled octopus recipe this week for an upcoming feature in our October issue. The recipe had us grill the octopus raw, and the resulting tentacles were chewy and tough. We realized how important it is to boil octopus before grilling it: the process tenderizes the flesh. In a large pot of boiling water, a 4-pound octopus will take an hour get tender. Then drain, dry, and remove the tentacles. Toss with olive oil, and season with salt and pepper. Now, fire up a grill, and char the tentacles, flipping once, for 8 minutes.
One of the recipes we tested this week called for U6 gulf prawns. After some research, I discovered U6 is a size grade for seafood, similar to the 16/20 you'll sometimes see used to describe shrimp (which means there will be 16-20 pieces per pound). U6, in this case, refers to having less that 6 prawns per pound, which are the biggest sized prawns you can find. In addition to U6, there is also U8 and U10, which refer to fewer than 8 and 10 pieces per pound, respectively. As well, these sizes are not just exclusive to shrimp: U10 is a common size for fresh scallops.