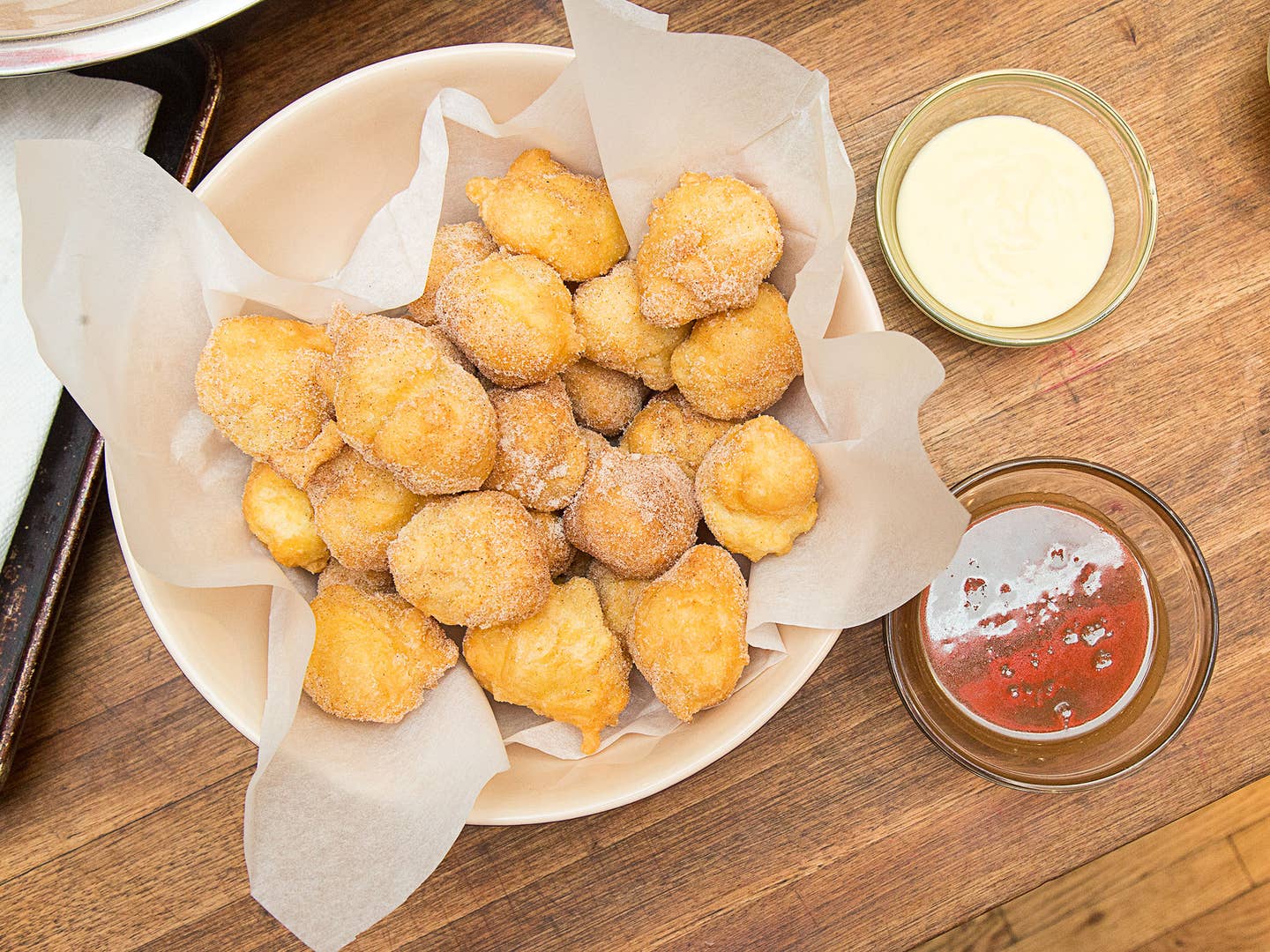 Techniques
Why You Should Fry Your Pâte à Choux
Chef George Mendes introduced us to our new favorite doughnut at last night's SAVEUR Supper
This is one of those stories that tells you that if you want to vastly improve an already-delicious food, you should fry it.
In this case, the food in question is pâte à choux, the super-light, eggy French pastry that works exceptionally well as a custard- or pastry cream-holder in the likes of éclairs, croquembouches, and a slew of other French desserts. But when you fry little balls of pâte à chou and then roll them in cinnamon sugar, you don't end up with something so French. Instead, you have yourself a big bowl of the lightest I-could-eat-20-of-these doughnut that the Portuguese know of as sonhos. And the man we have to thank for the fried-food revelation is George Mendes.
Last night's SAVEUR Supper with chefs George Mendes and Rui Correia started as most dinners do: We mosey around the dining room table with glasses of wine, reaching through groups of people to nibble on hors d'oeuvres, until we eventually find our seats to fill and refill our plates with all the dishes that go up and down the long wooden table. Sharing big, family-style dishes is "the essence of Portuguese food—it's very communal, very festive," Mendes said as he hoisted himself up onto the kitchen countertop to see all the guests and take a quick iPhone picture. And we ate—a salt cod, potato, and egg casserole reminiscent of a Spanish tortilla, Portuguese pork and clams, and fresh grilled sardines with pickled vegetables.
But the dinner didn't end as most do. When we had finished our mains, he told us to get out of our seats and come to the kitchen—we were eating dessert standing up, no plates. In the middle of the counter were brûléed pasteis de nata, which we recognized, and then less familiar: cinnamon-sugar "doughnuts" that we were told to dunk into sweet-tart passion fruit curd and thick salted caramel. And we dunked. A lot. Because while you can only eat a few cake doughnuts holes, you can eat many more sonhos, which truly dissolve in your mouth, less in an artificial Krispy Kreme sort-of way, and more in a "looks like I'll forever be frying my pâte à choux" sort-of-way. Those doughnuts are light and airy like the yeast kind, but come together in a fraction of the time. No waiting for yeast to rise, no punching down and rolling out dough. Plus their high egg content makes for almost custardy interiors.
You don't need to fill them like you would an éclair or profiterole, but take it from us and Mendes—dunk those little guys into pools of curd and caramel. Your fingers will get messy, but the second you pop a sonho in your mouth, you won't care. You'll lick your fingers. And then you'll go back for another.
For more scenes from last night, check out the gallery below.