Recipes
Wild Rice Hash with Beef, Lentils, and Sumac-Roasted Tomatoes
Serves

serves 6-8 as main course

Cook

1 hour 40 minutes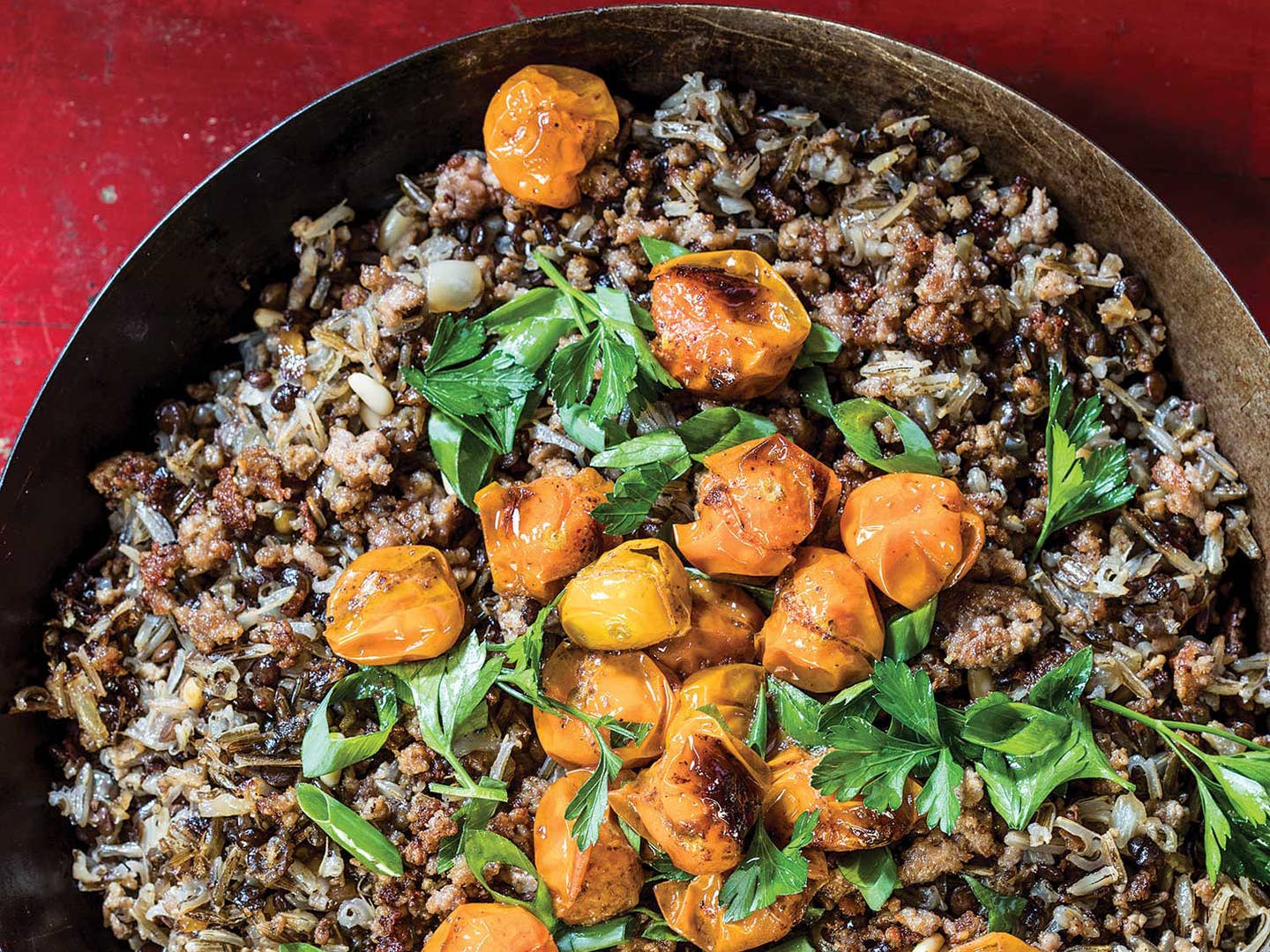 Wild rice in northern Minnesota is often cooked with venison, which is sometimes ground with pork fat to enrich the lean meat. But fatty ground beef and lamb are more widely available substitutes. Dried local sumac berries are used in the Ojibwe diet to add a citrusy tang, but you can buy the spice pre-ground.
Ingredients
3⁄4 cup wild rice
2 1⁄4 tsp. kosher salt, divided, plus more as needed
1⁄2 cup green lentils (lentils de puy), rinsed and drained
1 1⁄2 cups (8 oz.) sungold or cherry tomatoes
2 Tbsp. extra-virgin olive oil, divided
1 tsp. ground sumac
1 pinch sugar
1 lb. fatty ground beef
Freshly ground black pepper
2 Tbsp. unsalted butter
1 large yellow onion, finely diced (2 cups)
1 tsp. freshly ground coriander
1⁄2 tsp. freshly ground cumin
1⁄4 tsp. ground cinnamon
2 Tbsp. toasted pine nuts
6 medium scallions, green parts only, thinly sliced
1⁄4 cup Italian parsley leaves, coarsely chopped
Instructions
Step 1
In a fine sieve, add the rice. Rinse thoroughly under cold running water, mixing the grains with your hands until the water runs clear.
Step 2
Drain well, then transfer the rice to a small pot. Add 1¾ cup cold water and ¾ teaspoon salt. Bring to a simmer over medium heat, then cover the pan tightly. Turn the heat to low, and cook until the grains of rice split and curl into a C shape, about 25 minutes (very fresh wild rice or particularly thick-hulled rice might take more or less time to cook). If any water remains at the bottom of the pot, drain and discard it.
Step 3
In a second small pot, add the lentils, 2 cups water, and 1 teaspoon salt. Bring to a simmer over medium-high heat and cook, uncovered, until the lentils are just barely tender, about 20 minutes. Drain well (do not rinse).
Step 4
Preheat the oven to 400ºF. In a medium, oven-safe skillet or roasting pan, add the tomatoes, drizzle with one tablespoon olive oil, and sprinkle with the sumac and a pinch each sugar and salt, and toss to coat. Roast until the skins begin to brown in places and the juices thicken and caramelize at the edges, 15–20 minutes. Stir a teaspoon or two of water into the pan to loosen the juices.
Step 5
Meanwhile, make the hash: In a large cast-iron skillet, heat the remaining tablespoon olive oil over medium-high heat. Add the ground meat and cook, breaking it up with a spoon and stirring frequently, until evenly browned, 8–10 minutes. Season with ½ teaspoon salt and some freshly ground pepper, then use a slotted spoon to transfer the meat to a small, heat-resistant bowl, reserving any fat or cooking juices left in the skillet. Turn the heat to medium-low, then add the butter and onions to the juices, and cook, stirring often, until lightly browned, 20–25 minutes. Return the meat to the skillet, then stir in the cooked lentils, wild rice, coriander, cumin, and cinnamon. Taste and add more salt or pepper as needed, and let cook, stirring occasionally, until the rice begins to lightly toast, about 15 minutes. Remove the skillet from the heat.
Step 6
Spoon the tomatoes and their juices over the top of the rice mixture. Sprinkle with the pine nuts, scallions, and parsley. Serve hot, straight from the skillet.