Wild Rice with Warm Spiced Carrot Milk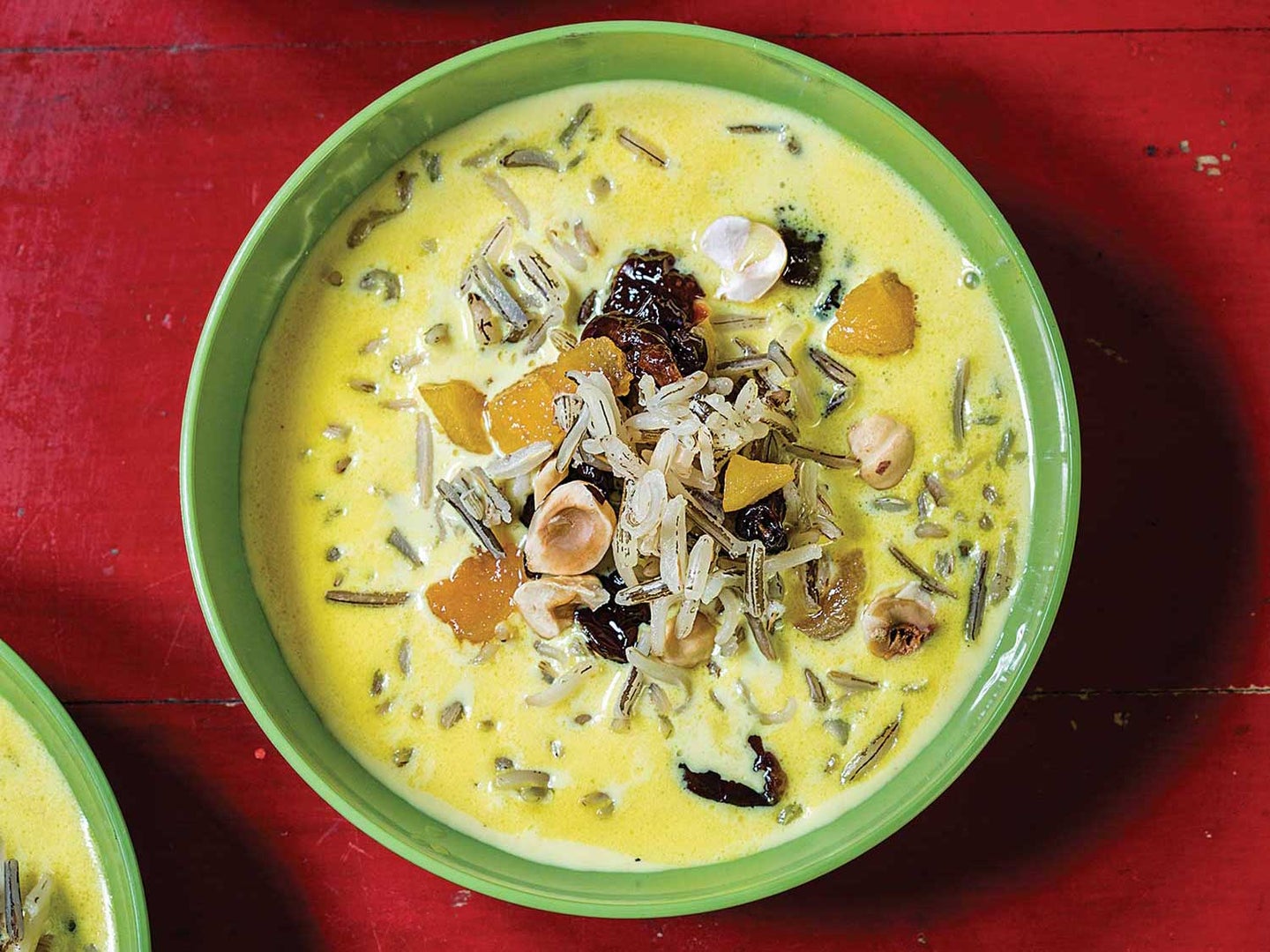 Ask a local Ojibwe tribe member how they most like to eat wild rice, and half of them will say, "With maple sugar and dried berries." In this riff on the sweet bowl—which can be eaten at breakfast or for dessert—­the rice is served in a moat of spiced milk and the juice of grated carrots. Storage carrots (the kind sold in plastic bags) will not yield much juice or flavor, so use fresh whenever possible.
Featured in: The True Story of Wild Rice, North America's Most Misunderstood Grain
Equipment
Yield: serves 8
Time: 1 hours 15 minutes
Ingredients
2 medium carrots (6 oz.), finely grated
1 1⁄2 cups whole milk
1 cup heavy cream
2 Tbsp. unsalted butter
2 Tbsp. sugar
1⁄2 tsp. ground turmeric
1⁄4 tsp. ground cardamom
1⁄4 tsp. ground cinnamon
1 tsp. kosher salt, plus more as needed
Freshly ground black pepper
1⁄2 cup (3 oz.) sliced, dried apricots
1⁄2 cup (2 oz.) dried tart cherries
1⁄4 cup (1 oz.) dried currants
2 Tbsp. maple syrup
2 Tbsp. fresh lemon juice
1 Tbsp. extra-virgin olive oil
1 cup wild rice
1⁄2 cup (2½ oz.) roasted hazelnuts (skinned if desired), coarsely chopped
Instructions
Line a small bowl with 3 layers of cheesecloth. Place the grated carrot in the center of the cloth, tie to form a bundle, and set the bundle in a bowl.
In a small pot, add the milk, cream, butter, sugar, turmeric, cardamom, cinnamon, and a pinch each salt and pepper. Bring to a gentle simmer over medium heat. Hold the carrot bag above the pot and squeeze, expelling most of the juice. Drop the bag into the milk along with any collected juice from the bowl, and simmer gently, stirring and pressing on the carrot bundle, for 3 minutes. Turn off heat and set the pot aside to infuse for 20 minutes.
Set a fine sieve over a large heatproof bowl. Strain the milk, and press the bag of carrot pulp against the sieve to extract as much juice as possible. Discard the pulp, and set the milk aside. (This can be prepared ahead and refrigerated for up to 2 days; rewarm gently before serving.)
In a small bowl, add the apricots, cherries, currants, maple syrup, lemon juice, olive oil, and 1 tablespoon hot water; toss to mix, and set aside to allow the fruit to plump slightly.
Pour the wild rice into a fine sieve and rinse under cold running water, mixing the grains until the water runs clear.
Drain well, then transfer the rice to a small pot. Add 2 cups cold water and 1 teaspoon salt. Bring to a simmer over medium heat, then cover the pan. Turn the heat to low, and cook until the grains of rice split and curl into a C shape, about 25 minutes (very fresh wild rice or particularly thick-hulled rice might take more or less time to cook). If any water remains at the bottom of the pot, drain and discard it.
Divide the rice among 8 shallow soup bowls, mounding it slightly in the center. Rewarm the carrot milk and pour it around the edges. Top with a generous spoonful of the plumped fruit mixture and a tablespoon of toasted hazelnuts, and serve warm.