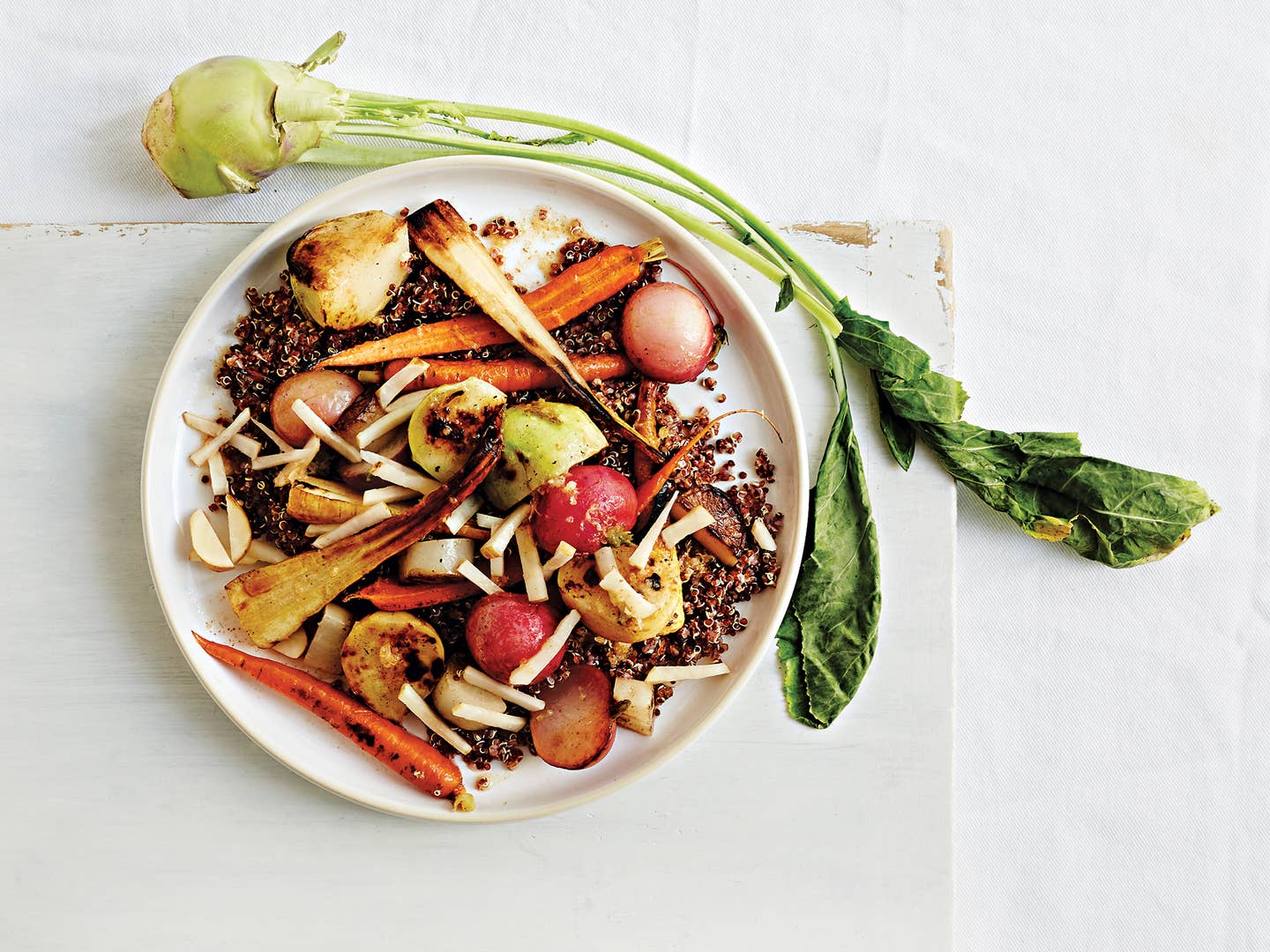 Techniques
How to Breathe New Life Into Winter Salads
Pickled sunchokes, fried ginger, and plenty of citrus add brightness to winter produce, no matter the weather
No chef wants to open a restaurant in winter. Instead, you want to burst on the scene, edible flowers at the ready, when the markets are overflowing with gorgeous produce. Unfortunately, I haven't been so lucky: The last three restaurants I opened were all supposed to debut in summer, but each was delayed until long after the fields had turned brown. And now, as I prepare to open a fourth restaurant in San Francisco, Nightbird, it's the same story all over again—another winter opening. I used to want to bang my head on the wall, but as a chef you learn to adjust. Winter dishes needn't be limited to comforting stews and hearty braises; we can make things that are light on their toes and don't leave you feeling weighed down after dinner.
Here's one trick: Use a ton of acid to add brightness and tenderize denser ingredients. In my beet salad, I use tangy yogurt and sweet orange juice to lighten things up. And for my fennel and citrus salad, a whole lemon is blanched and whizzed in a blender for a tart-bitter purée. I also put a twist on the standard chicory salad by topping it with a fried ginger-shallot crumble that adds both texture and spiciness.
But I haven't sworn off warm roasted root vegetables altogether, despite their perceived heaviness. Sometimes I'll use small ones, which are usually more tender and less fibrous than their older brethren. I like to blacken little daikon, kohlrabi, parsnips, and turnips in their skins in a pan, which lends a nice bitterness to the sweet vegetable juices that seep out during cooking. I place them on a bed of beautiful red quinoa, along with pickled shallots, and sprinkle on some lemon zest. It's a real soulful dish with plenty of flavors, colors, and textures at play.
There may be less variety in the market in this season, but it forces you to dig deeper and get more intimate with what is there. You can add pickles and citrus, crunchy ginger bits and yogurt—there's a whole bright world out there for winter produce.