Recipes
Chicory and Herb Salad with Apple, Pomegranate, and Creamy Miso Dressing
Serves

serves 6-8

Cook

45 minutes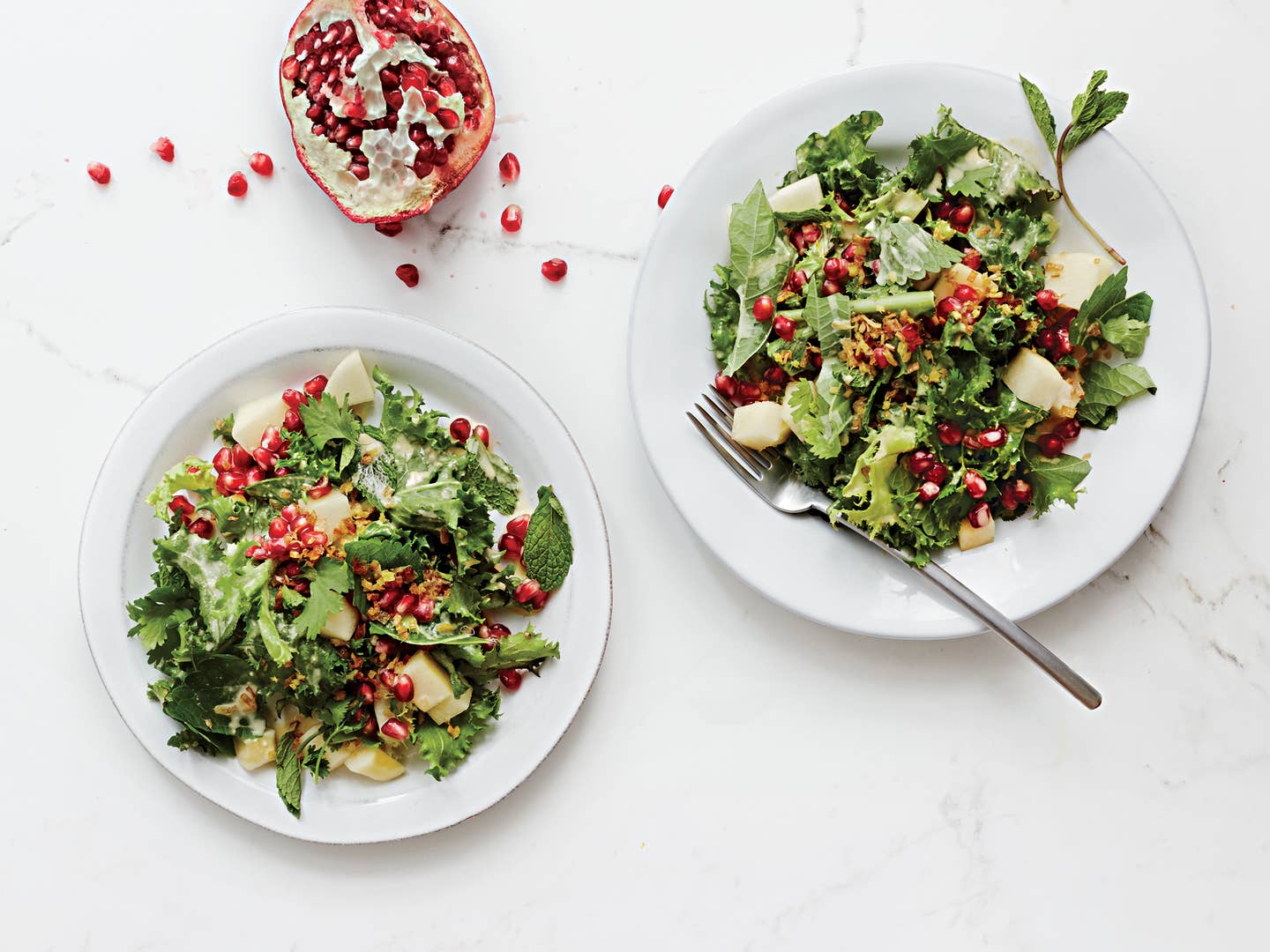 Shiso, mint, and cilantro perk up lightly bitter chicory in this invigorating winter green salad tossed with creamy miso dressing and pomegranate seeds. It gets a double dose of spice with ginger-beer-soaked apples and a mixture of fried ginger and shallots subbing in for croutons.
Ingredients
1 cup vegetable oil
3 shallots, minced
1 (4-inch) piece ginger, peeled and minced
1 tbsp. Dijon mustard
1 tsp. bottled yuzu juice
1 tsp. white miso
1 large egg, plus 1 egg yolk
1⁄4 cup red wine vinegar
1 tbsp. rice wine vinegar
1 clove garlic, minced
Kosher salt and freshly ground black pepper
1 cup olive oil
2 tbsp. grated Parmigiano-Reggiano
2 tsp. Asian chile oil
2 Fuji apples, peeled, quartered, cored, and cut into 1/4-inch cubes
1 (16-oz.) bottle ginger beer
1 cup pomegranate seeds
3 heads chicory, cleaned, trimmed, and torn into large pieces
1⁄2 cup loosely packed cilantro leaves
1⁄2 cup loosely packed mint leaves
1⁄2 cup loosely packed torn shiso leaves
Instructions
Step 1
In a small saucepan, heat the vegetable oil over medium-high. Add the shallots and ginger and cook, stirring, until lightly golden, about 5 minutes. Using a slotted spoon, remove the shallots and ginger and drain on paper towels; discard the oil.
Step 2
In a blender, combine the Dijon with the yuzu juice, miso, and egg and yolk and blend on low for 2 minutes. Pour in both vinegars and the garlic. Season with salt and pepper and blend on low until smooth, about 30 seconds more. With the motor running, slowly drizzle in olive oil until emulsified. Scrape the dressing into a bowl and stir in the Parmigiano and chile oil.
Step 3
Meanwhile, in a small bowl, combine the apples with the ginger beer and let stand for 10 minutes. Drain the apples and discard the ginger beer. Place the apples in a large serving bowl along with half the dressing and the pomegranate seeds. Add the chicory, cilantro, mint, and shiso and toss gently to combine. Sprinkle the salad with the shallot-ginger topping and serve with the remaining dressing on the side.