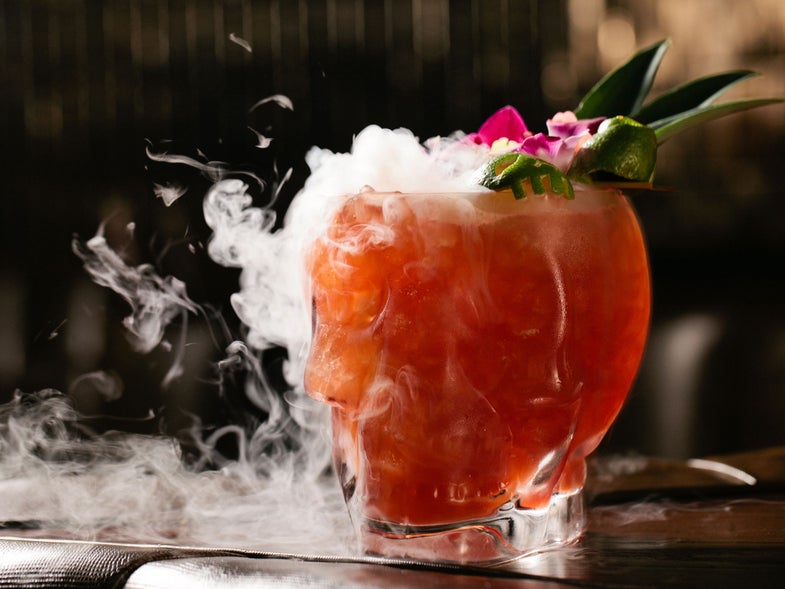 At Chicago tiki staple Three Dots and a Dash, beverage director Julian Cox prepares a riff on the traditional Zombie—first created by Don the Beachcomber circa 1934—using two types of rum, citrus juices, and an array of fall-forward flavors. Cox says, "Cinnamon, falernum, and pomegranate really pair well together and bring out the flavors of fall in this fun, festive cocktail!"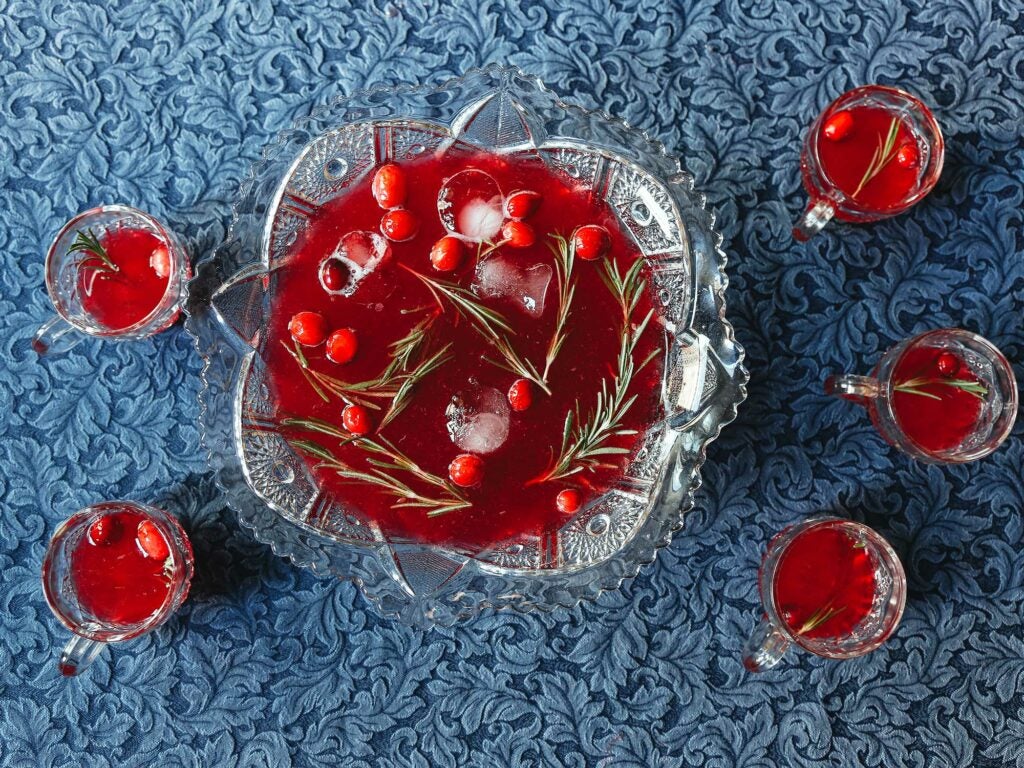 Yield: makes 8-10 cocktails
Time: 15 minutes
Ingredients
For the cinnamon-infused syrup:
1⁄2 cup granulated sugar
2 sticks cinnamon
For the punch:
1 1⁄4 cups fresh lime juice
3⁄4 cup fresh grapefruit juice
1 cup grenadine, such as Rose's
3⁄4 cup cinnamon-infused syrup
1⁄2 cup falernum
1⁄2 oz. absinthe
1⁄2 oz. Angostura bitters
1 2⁄3 cups overproof Jamaican rum
2 1⁄4 cups aged Jamaican rum
1⁄2 oz. 151-proof rum, for garnish
Cinnamon stick, for garnish
Pineapple crescents and leaves, for garnish
Grapefruit peel, for garnish
Orchids, for garnish
Lime hull with flesh and pith removed, for garnish
Instructions
Make the cinnamon-infused simple syrup: In a small pot, combine sugar, ½ cup water, and cinnamon sticks. Bring to a boil until sugar has dissolved. Let cool and strain before using.
Combine overproof and aged Jamaican rums, lime and grapefruit juices, grenadine, and cinnamon syrups in a large punch bowl. Add falernum, absinthe, and Angostura bitters.
Immediately before serving, add a liberal amount of crushed ice. Buzz mixture with cocktail blender and pour into prepared vessel, preferably a zombie skull.
Garnish with cinnamon sticks, pineapple crescents, pineapple leaves, grapefruit peel, and orchids.
Fill empty lime hull with 151-proof rum. Ignite before serving.