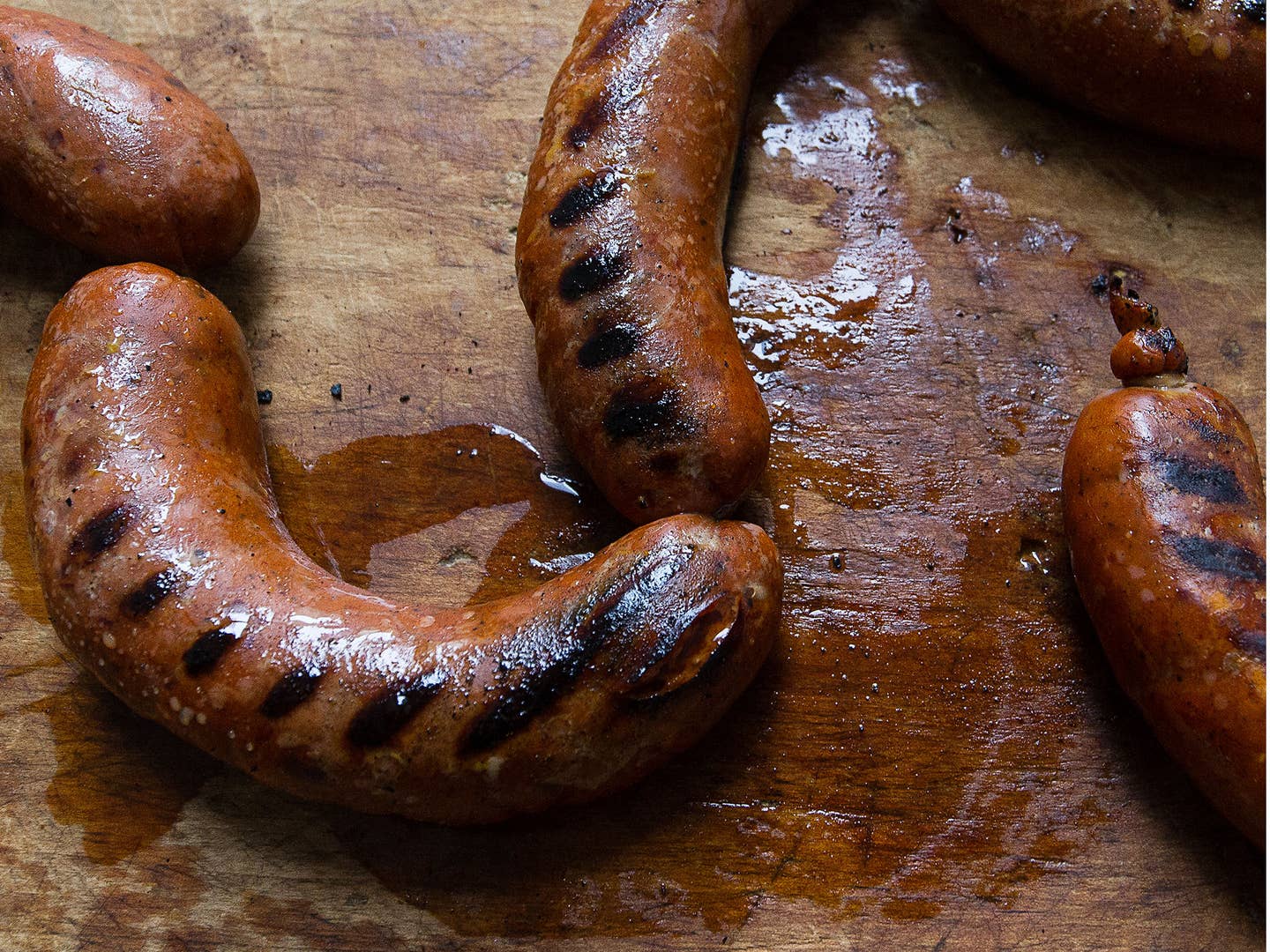 Recipes
No One Ever Said Chorizo Had to Be Made with Pork
Alex Stupak's shrimp version is a delicious play on the ultimate beginner's sausage
In Toluca, what many call the chorizo capital of Mexico, you'll find not just one form of the spicy sausage, but two. Both are heavily spiced, pork-based sausages laden with vinegar, but one, the better known, is stark red. The other is vibrant green, or, as Empellon chef Alex Stupak calls it, "the unusual green herbaceous vegetable cousin." Red chorizo calls for dried chilies and dried spices while the herbaceous cousin uses fresh. Both are heavy on vinegar, both for piquant acidity and to preserve the meat while it cures in Mexico's hot climate.
Stupak loves chorizo for its versatility and how easy it can be to make. Unlike most sausages, it doesn't need to be stuffed into casings. It doesn't need to cure in a carefully maintained room for weeks or months. And since it's more loose than densely packed, it doesn't require ice-cold fat and assiduous grinding technique to make it right. Mexican-style chorizo is the ultimate beginner's sausage: Just toss spices and vinegar with ground pork and let it sit until you're ready to cook.
Or skip the pork entirely. "I've made chorizo with duck, octopus, scallops, shrimp," Stupak explains. "For a basic adaptation, you can just sub the protein." Which is what he did at our 6th Annual Saveur Summer Cookout in June. The sausage you see in the photo above isn't made from pork; it's shrimp—lighter than pork, pescatarian-friendly, and perfect for using in other seafood dishes.
Stupak goes the red chorizo route for shrimp ("Shrimp are red," after all). A heavy dose of spices and smoky, guajillo chiles keep this chorizo true-to-form. But he does prefer to keep it encased rather than loose, as often found in tacos. So he stuffs this shrimp chorizo into casings, then slices it before cooking in a skillet for sandwiches.
That stuffing means you have to mind your vinegar. "Vinegar would inhibit the patties from binding," he explains. "So, to supplement that acetic acid flavor, we make a mayonnaise with lots of vinegar in it." Slather that mayo on a bun and lay the sausage slices on thick. It's still the chorizo you know and love, but a concept only someone like Stupak could dream up.