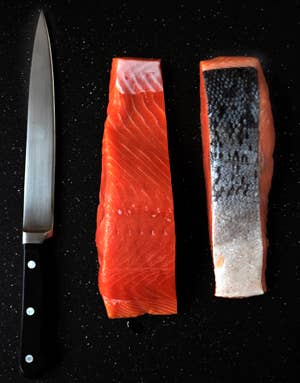 Every year, from May through June, king salmon (also known as Chinook) make their way from the Gulf of Alaska to their spawning grounds more than 300 miles up the Copper River. Along the way, local fishermen harvest the salmon, while Alaska's Fish & Game Department carefully monitors the salmon population to ensure that harvesting is done sustainably. Because the journey up the Copper River is particularly arduous—full of strong currents and cold temperatures—this region's native salmon have evolved into a particularly hardy lot, complete with an extra layer of fat that makes them not only rich in flavor and texture but also a healthy source of omega-3 fatty acids, vitamin D, and protein.
With salmon of this quality, we like to keep the preparation simple, to let the fish's distinctive, nutty flavor shine. Try grilling a boneless steak or broiling the fish whole along with fresh spring vegetables.
Freshly caught Copper River salmon is shipped all over America and is available in most grocery stores and fish markets in season. Look for the most recent catch date possible, and prepare the fish the same day you buy it.
The meat should be a rich red-orange and firm; when you press the flesh gently, it should spring back and not remain indented; and it should not smell overwhelmingly fishy.
You can order fresh Copper River king salmon from FishEx, or check your local fish or farmers' markets.