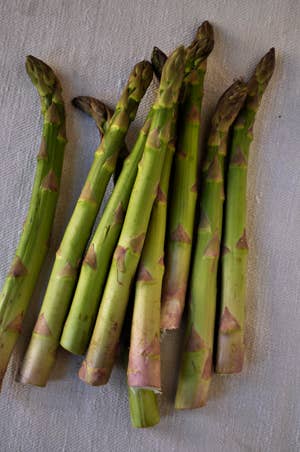 Get fresh, local asparagus while you can—the season lasts just two months. By March, fresh green asparagus is widely available on the West Coast and in the Southeast, and by April you'll find it in the Northeast. The climate in the Midwest is generally not conducive to growing asparagus, though a few farms produce it here and there.
Mildly sweet and fresh tasting, green asparagus can be prepared many ways; the key is not to overcook it: spears should be fork-tender but not mushy. We like to blanch asparagus and serve it on its own with a light vinaigrette, or with a butter-based sauce such as hollandaise.
Featured Green Asparagus Recipes
Look for firm, bright green stalks with tightly closed tips. The bottom ends of the spears should be fresh and moist, not dry and stringy.
Try to cook asparagus as soon as possible after purchasing it; if you need to store it, wrap the ends in a damp paper towel and seal the bundle in a plastic bag.
Before cooking, trim one to three inches from the bottom of each stalk—just bend the stalk near the base until the tough end portion snaps off. If the spears are thick, peel the tough skin near the base of the stalk.
You can buy imported green asparagus year-round at supermarkets. Check farmers' markets for local asparagus while it's in season.