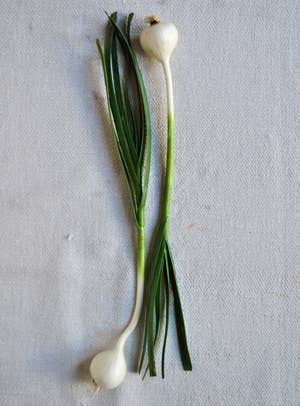 Traditionally harvested by farmers trying to thin their garlic crop, green garlic is prized for its mild, sweet flavor and fresh, crunchy texture. Green garlic can be found in farmers' markets for two months or so beginning in March (in warmer areas) and as late as May (in colder areas).
Lacking the papery membrane that encases mature garlic bulbs, green garlic is simple to use. Chop off the roots and the top green ends, and use the whole bulb and the tender white and green parts of the stalk. With an intensity of flavor that lies somewhere between those of scallions and leeks, green garlic can be used in many of the same ways you would use those vegetables. To remove some of the bite of green garlic, briefly boil it before using it. Then slice it on the bias, cook it in butter or olive oil, and use it as a simple topping for pasta, or mix it into soups or salads as a garnish. Green garlic also makes a delicious aioli.
Featured Green Garlic Recipe
Look for stalks that are bright green and firm.
Green garlic will stay fresh in the refrigerator for up to two weeks, wrapped in paper towels and sealed in a plastic bag.
Look for green garlic in supermarkets and farmers' markets.