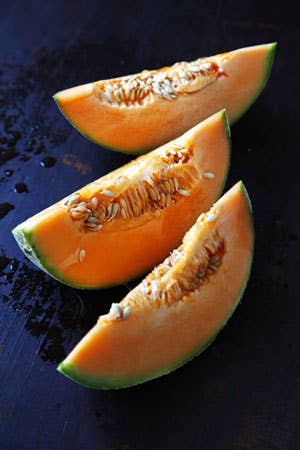 These sweet, juicy favorites range from the everyday to the exotic. While we all know the ubiquitous honeydew and cantaloupe, the warmer months are the perfect time to plunge your spoon into less-familiar varieties, such as the Sharlyn, an oblong yellow melon with pale green flesh; the Gaya, a tiny, white-fleshed melon with a taste reminiscent of both cantaloupe and banana; and the Charentais, a smooth-skinned derivative of the cantaloupe. Serve melons halved, with the seeds scooped out and the hollowed center filled with seasonal berries; sliced and wrapped with prosciutto for a savory kick; or pureed into a chilled soup or smoothie—ideal for lazy poolside days.
When purchasing, look for melons that are free of cracks, bruises, or soft spots, and heft them to find one that feels heavy for its size.
If the melon you've bought feels unripe, leave it at room temperature for up to four days to allow it time to ripen.
Once cut, melon should be placed in an airtight container and refrigerated. It can be stored in this manner for up to three days.
While honeydew and cantaloupe abound in the produce section of your supermarket, check your local farmers' market or gourmet food store from June through August for a larger selection of melon varieties. You might also scope out the selection at your local Asian grocer, or visit the locator on www.melissas.com to find vendors in your area.