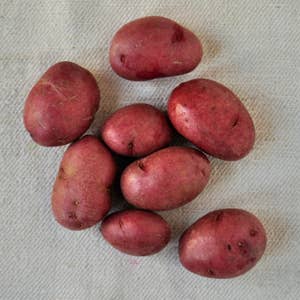 Don' t be fooled! Not every new potato is small and red. A new potato is one of any variety of the tuber that has been harvested from a plant whose foliage is still green (mature potatoes are harvested after the vine dies). New potatoes can be large and may be brown, yellow, or even purple. What these delicate vegetables have in common is that their skin is soft and thin (you should be able to scrape it away with a fingernail) and their flesh is especially tender.
Available in the spring and summer, new potatoes are waxy—that is, low in starch and high in moisture—meaning they're not well suited to baking or frying (they tend to fall apart too easily). The best options are steaming and boiling; they can also be roasted in a hot oven with olive oil, garlic, and rosemary. There's no need to peel them before cooking.
Featured New Potato Recipes
New potatoes are prone to sun damage; keep an eye out for green patches under the skin, which denote spoilage.
Potatoes this young and delicate don't store well, so buy only what you'll use right away.
You'll find new potatoes at farmers' markets and supermarkets in the spring and summer.