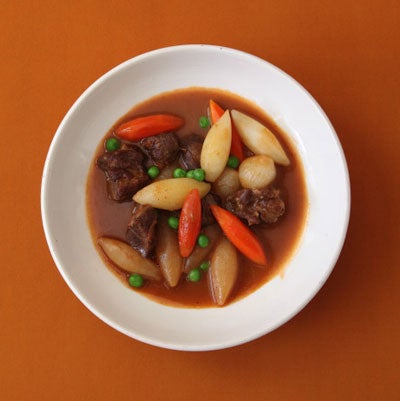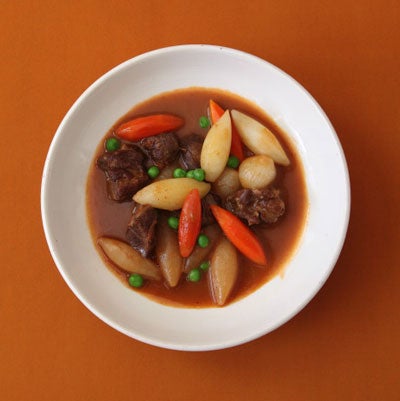 We based our version of this French lamb stew on a recipe used in courses at the International Culinary Center in New York City.
Lamb Navarin
This classically French lamb stew—packed with onions, peas, turnips, carrots, and potatoes—is based on the one taught at the French Culinary Institute.
Ingredients
2 tbsp. canola oil
1 1⁄2 lb. trimmed lamb shoulder, cut into 1″ cubes
Kosher salt and freshly ground black pepper, to taste
5 medium carrots (1 chopped, 4 peeled and cut into 2″ pieces)
1 medium yellow onion, chopped
2 cloves garlic, crushed
2 tbsp. flour
1 tbsp. tomato paste
4 medium turnips, peeled and cut into 2″ pieces
4 medium new potatoes, peeled and cut into 2″ pieces
3 tbsp. unsalted butter
2 tsp. sugar
12 pearl onions, peeled
1⁄3 cup fresh or frozen peas
Finely chopped flat-leaf parsley, for garnish
Instructions
Heat oven to 350°. Heat oil in a 6-qt. Dutch oven over medium-high heat. Season lamb with salt and pepper. Working in batches, add lamb and cook, turning once, until browned, 8–10 minutes. Transfer lamb to a plate; set aside. Add the chopped carrot and yellow onions and cook, stirring occasionally, until vegetables are soft and brown, about 10 minutes. Add garlic, flour, and tomato paste and cook, stirring often, until tomato paste begins to brown, about 2 minutes. Stir in 6 cups water and reserved lamb. Cover, bring to a boil, and transfer to oven; cook until lamb is tender, about 50 minutes.
Using a slotted spoon, transfer lamb to a plate and cover with foil to keep warm. Set a sieve over a 4-qt. saucepan and strain cooking liquid. Discard solids. Bring liquid to a boil over medium-high heat, skimming surface occasionally; cook until reduced to 2 1⁄2 cups, about 25 minutes. Set liquid aside.
Meanwhile, using a paring knife, trim each piece of remaining carrots, as well as the turnips and potatoes, into cocotte (elegantly tapered football shapes)—alternatively, cut them into a large dice. Set potatoes aside in a bowl of water. Heat a 12″ skillet over medium-high heat and add carrots, butter, sugar, salt, and 1 cup water. Partially cover and cook for 10 minutes. Add turnips and pearl onions, partially cover, and continue cooking until liquid has evaporated and vegetables are tender, about 10 more minutes. Uncover and continue to cook, swirling skillet, until vegetables are golden brown, about 3 minutes. Add 2 tbsp. water, swirl skillet to glaze vegetables, and remove from heat; set aside and keep warm.
Bring a 4-qt. saucepan of salted water to a boil. Add the reserved potatoes, reduce heat to medium-low, and simmer until tender, about 15 minutes. Using a slotted spoon, transfer potatoes to a bowl; set aside.
To serve, put the lamb, carrots, turnips, pearl onions, potatoes, and peas into the sauce and cook until hot, about 2 minutes. Divide the stew between bowls. Garnish with parsley.
Pairing Note: The Palmina Nebbiolo 2004 ($40) from California has soft tannins that pair well with the sweet vegetables in this stew. —Ania Zawieja