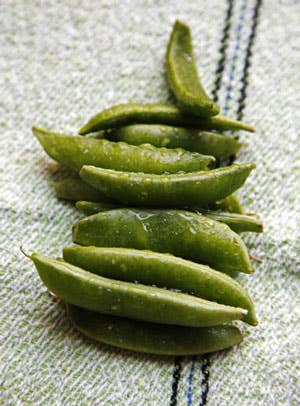 The name of these plump pea pods is more than appropriate: the delectable veggies can be consumed whole, pod and all, for a refreshing burst of verdant sweetness. Well suited to stir-fries, these peas are also delicious raw, whether eaten out of hand as a healthy snack or dipped in dressing as the prelude to a meal. Throw pods into Asian noodle dishes for a green touch, or toss them into salads for a crunchy, sweet surprise.
Featured Sugar Snap Pea Recipes
Take care not to overcook these peas; they're best left with a semblance of their snap intact.
Before using them in dishes or serving, peel away the stringy membrane running from top to bottom of each pod. This task is easiest after the peas have been quickly blanched and revived in icy water.
To test quality, snap a single pod to check for crunch. Limp snap peas are no good.
During the summer months, look for sugar snaps at your local farmers' market; they're available year-round in the produce section of most grocery stores.