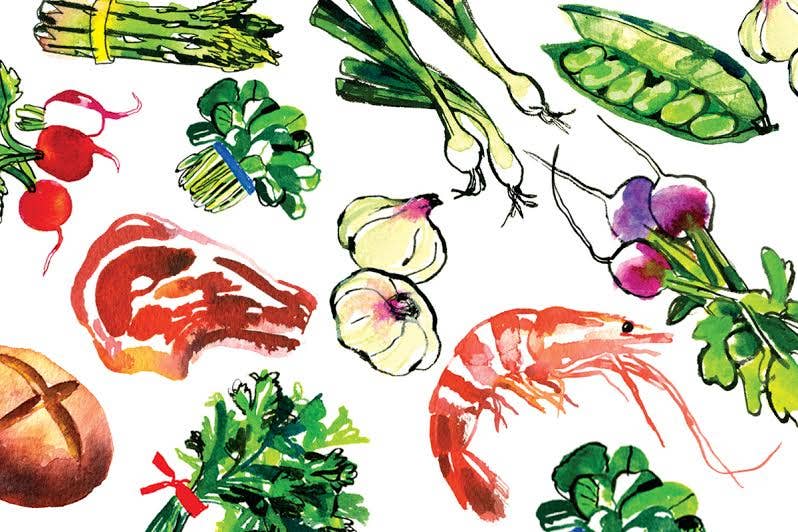 Techniques
Breakfast Meats
Whether cured, smoked, fresh, or fried, these thrifty cuts of meat add savory accents and substance to the breakfast plate.
Whether cured, smoked, fresh, or fried, it's usually highly seasoned, thrifty cuts of meat, some of them eaten at other times of the day as well, that add savory accents and substance to the breakfast plate.
Bacon—the cured belly, back, or side of a pig—comes in many incarnations, from American streaky bacons and heavily smoked country styles to paprika-coated Hungarian versions. The brine-cured, loin-cut meat that Americans refer to as Canadian bacon is called back bacon in Canada and the UK and rashers in Ireland; a uniquely Canadian variation, peameal bacon, is coated in cornmeal for extra crispness.
Sausage is another adaptable standby, from mild Irish sausage and English bangers to deeply savory American smoked sausage and breakfast links. They can be seasoned as highly as piquant Mexican chorizo or as mildly as sagey American breakfast patties. In the British Isles, blood sausage, also called black pudding, is made of pigs' blood thickened with oatmeal or barley; in other places, such as France and Spain, bread crumbs or rice is used. White pudding, an Irish specialty, is made with pork, lard, grains, and, traditionally, brains.
Offal makes a breakfast table appearance in many countries: scrapple is a Pennsylvania Dutch pudding of pork scraps, cornmeal, and herbs. Goetta, a German equivalent popular in the Cincinnatti area, combines offal and leaner cuts of pork and beef with oats. Both are sliced into patties and fried. In the American South, liver pudding is served, like other potted meats such as Spam and canned corned beef, pan-fried with eggs and potatoes or grits. Cretons, a pork pate, is eaten on toast in Quebec and in northern Maine.
Fresh or fried cold cuts are another common theme, from German smoked sausage, chunky pork jagdwurst, and fleischwurst to Armenia's air-dried-beef basturma and the salami-like pork roll.
In the heartiest breakfasts, meat moves to the center of the plate, as in the diner classic of griddled T-bone steak with eggs or country ham steak with red-eye gravy, which counts among its ingredients another morning staple: coffee.