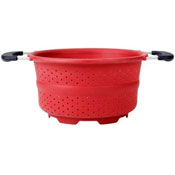 You can't walk through a kitchen store anymore without seeing silicone gadgets everywhere. Sometimes its use seems purely gratuitous, but silicone happens to be a great material for colanders. My favorites are the collapsible colanders made by Oxo, particularly the Silicone Cooking Colander, a 6.75-inch diameter, long-handled colander that can be immersed in boiling water to blanch or parboil vegetables or quickly cook small foods like shrimp and dumplings. It's heat-resistant to 600 degrees and fits inside most 3- and 4-quart saucepans. Oxo's larger, more conventionally designed 3.5 quart colander can be used for cooking, too; it has raised feet, so it also works well for rinsing and draining fruits and vegetables.
A common criticism of silicone is that it's too floppy, but these colanders not only collapse easily, they also keep their shape well when open. This is also the case with Rosle's award-winning collapsible colander with stainless steel handles and rims, which resembles Oxo's large colander but is somewhat pricier, and it's not as heat-resistant.
Also worth mention is Progressive International's over-the-sink collapsible colander with extendable handles, which is getting the thumbs-up from Amazon reviewers.